WELCOME TO ST. LAWRENCE COLLEGE
A Message from Glenn Vollebregt, President and CEO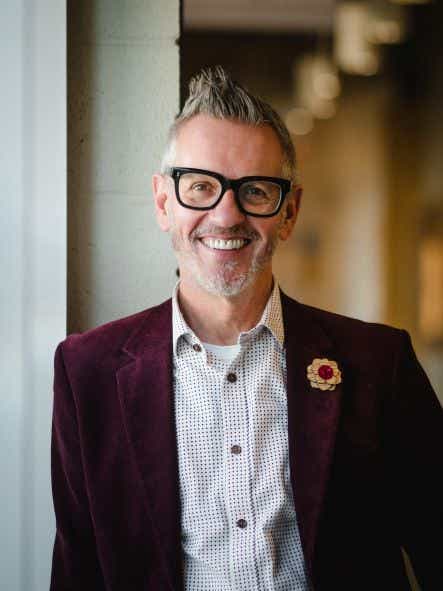 Serving SLC is an incredible honour, and I am fortunate to be surrounded by an amazing group of dedicated professionals who are as devoted as I am to our collective goal of putting our students first in all that we do.
Whether you're at SLC to study full-time, part-time, upskilling with one of our micro-credentials, or you are part of the employee team, we work hard to create a college where everyone feels welcome and knows they belong here.
In ten years as SLC's president and CEO, it has been an incredible journey for me, personally and professionally, and I want to share three things I have learned over the past decade:
Get out of your comfort zone. Put yourself in new situations that may feel uncomfortable. It doesn't need to be skydiving or scaling mountains; it could be as simple as raising your hand to deliver a speech when you have a fear of public speaking or joining a new group for a bike ride when you usually ride solo. The point is, challenge yourself and put yourself in new situations – it's how we grow as people.
Take care of your mental well-being and personal wellness. Create balance in your life and recognize when you are being stressed. Have outlets that help you deal with life's pressures. Each of you will have different methods to handle stress. For me, I try to keep a regular fitness routine. Whether it is cycling, running, playing tennis with my son, Josh, or doing yoga and HIIT workouts with my wife, Theresa, or taking our dog, Lily, out for a walk, I'm always getting some type of exercise. It helps me deal with the daily complexities that come my way.
If you're in a meeting and you're the smartest person in the room, you need to find another room. Fortunately for me, this rarely happens, and I always get to stay in the room. My point is, always listen and learn from others. There are some truly brilliant and inspiring people in this world. Surround yourself with them!
I hope to meet as many of you as I can as I walk our hallways. As always, please feel free to reach out to me, and to my team. We're all here for you.
Glenn Vollebregt
President and CEO
Communications from the President's Office
Frequent communications are sent to our students by email, and these are posted on our website as well. You can find the most recent communications below, as well as an archive of COVID-19 communications here.
President's Advisory College Council
The President's Advisory College Council reports to the President and CEO and provides a means for employees and students of St. Lawrence College to offer advice and feedback on matters of importance.
The President's Advisory College Council:
Promotes communication and consultation and demonstrates the values of St. Lawrence College;
Represents the college community and includes representatives from the student body, faculty, administrative staff and support staff; and,
Is a forum for receiving input/feedback and forwarding the input and feedback, along with any council recommendations, to the appropriate decision making body within the College (i.e. Academic Council, CLT, CET).
The President's Advisory College Council (PACC) provides a vehicle for staff, faculty, and students to be consulted and provide input on the following matters related to St. Lawrence College including student life/services, college services, technology integration, campus sustainability matters, broad college system issues, college promotion, and educational services.
As agreed to at the December 19, 2019 Board of Governors meeting, all St. Lawrence College employees and students are considered members of PACC thus allowing all stakeholders the opportunity to share feedback and ideas with the President.
Meetings of PACC will take place regularly and through channels ranging from open forum events such as College Conversations and meetings with Student Government. Regular surveys and opportunities to share feedback following such events will also be available.
As per the Ministry of Colleges and Universities Governance and Accountability Framework, College Boards of Governors are to ensure that an advisory college council is established, the purpose of which is to provide a means for students and staff of the college to provide advice to the president on matters of importance to students and staff. The board of governors is to ensure that the structure, composition, terms of reference and procedures for the council are established in by-law. A report from this advisory council shall be included in each college's annual report.