WE'RE OVER 120,000 STRONG!
We are a network of over 120,000 St. Lawrence College graduates, living in 75 countries around the world. St. Lawrence College alumni make incredible contributions to communities, industries, and individuals every day.
We're Connected: Join Currents SLC, the hub for grads, careers, mentoring, and more. You can promote your post-grad life, share and view career opportunities, and share events and memories. Join now
We're Volunteers: Every year, over 200 alumni volunteer their time as guest speakers, competition judges, and workshop leaders in support of the current student body and their fellow grads.
We're Mentors and Mentees: Everybody can use a little guidance—a trusted person who has been where you are and can share advice and experience. More than 60% of the grads on Currents SLC have indicated they're willing to help.
We're Supporters: Alumni support today's students and tomorrow's leaders through charitable donations. Revenue Canada Registration Number 10802 7202 RR 0001 Give Now
We're Lifelong Friends: Stay connected with your classmates as you pursue your post-grad life. Update your alumni record or Plan a Reunion
We're storytellers: Share your story and stay up to date on what our alumni are doing around the world. Read about their journeys, challenges, and successes through Alumni Communications
We're Proud to be SLC: The future of SLC is important to us. That's why we maintain strong connections with our alumni, staff, faculty, and friends of the College.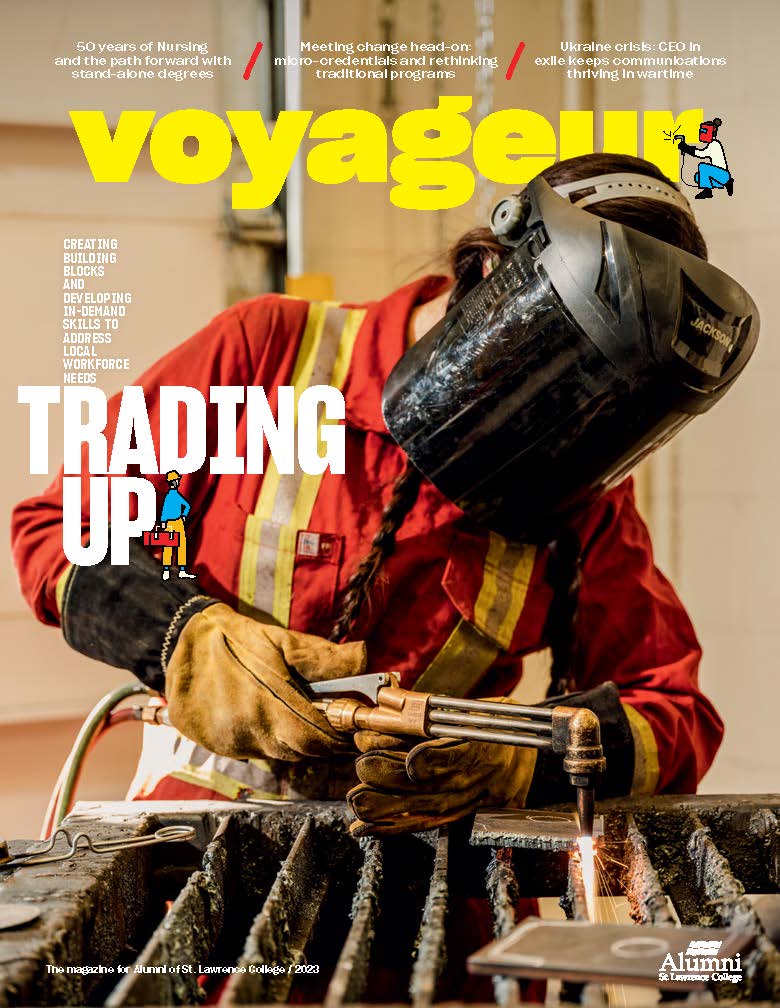 Update Your Alumni Records
As a graduate of St. Lawrence College, you are automatically a member of the SLC Alumni family! To take advantage of the great opportunities and benefits of being SLC Alumni, please update your contact information and preferences.
ABOUT The Alumni & DEVELOPMENT OFFICE
The Alumni & Development Office is the alumni engagement and fundraising department at St. Lawrence College.
The Alumni and Development Office's mandate is to keep alumni connected with the College and with each other and to secure philanthropic support to advance the College's strategic priorities. The department's mandate is to:
Promote philanthropic opportunities that support SLC's priorities and programs
Offer alumni engagement programs and exclusive alumni benefits and services
Support students and faculty members to engage alumni volunteers in student and academic programming
Engage and steward alumni volunteers and donors for their contributions to SLC
How can you help? Consider making a gift to support an area that is important to you.
Contact Us
100 Portsmouth Ave.
Kingston, ON K7L 5A6
Phone: 1.800.228.4664
Revenue Canada Registration Number 10802 7202 RR 0001
General Alumni and Development Inquiries:
Phone: 1.800.228.4664
Email: alumni@sl.on.ca


Liz Gorman
Director, Development and Alumni Relations
St. Lawrence College


Tanya Knox
Gift and Administrative Coordinator
613-544-5400 ext. 1387
tknox@sl.on.ca
Jessica Kostuck
Associate Director, Development
613-544-5400 ext. 1343
jkostuck@sl.on.ca
Check out Our Socials