Overview
The Wind Turbine Technician program will provide students with in depth knowledge and hands-on experience of the electrical and mechanical aspects as they relate to wind turbines. You will also learn fiberglass repair techniques as they relate to wind turbines. You will receive safety training for working at heights and in confined spaces. In order to complete this program, you must have no fear of heights and you must be physically fit.
Students who are interested in the electrical field and who successfully complete the program may be exempt from the in-school portion of the industrial electrician and construction and maintenance electrician apprenticeship certification.
Program Details
Start Date
May, September
Credential
Ontario College Diploma
Open for international students
Special May Intake - International Students Only

Program Highlights
Unique Learning Opportunities
With growing demand for sustainability on Earth, the wind turbine technician is essential in achieving that sustainability. For over 10 years St. Lawrence College has provided this green energy program, and in those 10 years, it has evolved into a robust and career hungry program.
Electrical theory and practical skills that provide you additional electrical pathways.
A growing electro-mechanical industry that aligns with the wind turbine curriculum.
Industry partners are always interested in meeting students either on campus or at wind farm facilities. The program offers multiple field trips to wind farms and/or similar industry workplaces.
Program Outline
2020-2021
Upon completion of this course, students are able to obtain information from architectural, structural and electrical blueprints, specifications, building codes and apply the Canadian Electrical Code to complete an electrical installation for a single-family dwelling. In addition, students identify and interpret alphanumerical lines and use the metric and imperial scales and are able to convert between them, draw and label a panel schematic for a single-family dwelling. Students prepare a material take off for a single-family dwelling using drawings, specifications and prepare sketches to solve and document construction problems and solutions.
In this course, students apply electrical trade-specific safety rules as described in the Occupational Health and Safety Act. Students safely perform installation procedures of electrical devices, cables and conduit, and gain experience in wiring residential circuits, signal circuits, and relay circuits. Learners produce single line wiring diagrams and lab reports.
In this course, students learn common terms used in instrumentation systems and work with the Metric and Imperial system of measurement for pressure and temperature. Students convert between the four temperature scales and describe and apply Thermocouples, Thermistors, and Resistance Temperature Detectors (RTD) in theoretical and practical environments. Learners identify deformation elements and determine the accuracy of pressure measuring equipment, as well as explain relationships between gauge and absolute pressure and vacuum. Students will describe the operation, construction, and applications of typical industrial pressure sensors and instrumentation symbols.
In this course, students are introduced to basic logic gates, the standard resistor colour code, semiconductor diodes, opto-couplers, and transistors switches and amplifiers. Students learn to identify, explain, and apply basic electronic fundamentals in both theoretical and practical environments.
This is a course designed to help students adapt to the rapidly changing workplace. It provides an historical overview of our working society and how it has evolved. Issues such as employment equity, harassment, regulation of health and safety, unionization, professional organizations and codes of ethics are discussed. Students also identify strategies to meet the needs of current employers and to make interview processes work to their advantage.
This course provides students with an understanding of the basic principles of electrical theory in order to analyze and design electrical circuits. Topics covered include atomic structure, static electricity, sources of Electromotive Force, batteries, simple electrical circuits, conventional and electron flow, the principles of voltage, current, resistance, work, power and energy. Flux density, reluctance, permeance, permeability, magnetism, magnets and magnetic flux are also be covered. Ohm's and Kirchhoff's Laws are used to analyze series, parallel, combination and three-wire distribution circuits and the effects of electricity upon the human body.
This course is designed to provide the necessary mathematical skills relevant to the requirements of industry. Technical applications are emphasized with topics including: use of a scientific calculator, operations with real numbers, algebra, ratio and proportion, measurement conversion, vector additional and trigonometry.
The object of this course is to introduce the Canadian Electrical Code Book (CEC) as it applies to electrical installations. Students develop an understanding of the layout of the Canadian Electrical Code Book in order to locate specific code rules. Students interpret and apply the rules and tables referencing the CEC book appendices and diagrams as necessary.
In this course, students thoroughly describe Direct Current (DC) motors and generators. Students learn the basic fundamentals of magnetism and magnetic induction, and how these effect conductors and coils. Learners explain single phase Alternating Current (AC) theory and how AC current re-enacts in non-resistive circuits. Students are introduced to vectors and phasors and apply these concepts to calculate reactive single phase AC circuits.
In this course, students gain experience connecting AC and DC motors, applying various starting and control methods such as manual and magnetic "across-the-line" and reduced voltage starting, as well as forward and reverse control techniques and various other control applications.
In this course, students explore various "level and flow sensing" instruments by performing measurements using transmitters. Learners broaden their understanding of process and instrument diagrams, and reinforce their knowledge in hydrostatic pressure principles as well as venturi type applications. In addition, students examine specific gravity concepts and load cells.
In this course, students continue to learn the fundamentals of Electronic Circuitry. Learners use an oscilloscope to test circuits and explore electronic devices, such as rectifiers, silicon controlled rectifiers, diacs, triacs, field effective transistors (FETS,) and operational amplifiers (OP-Amps).
In this course, students interpret the ULC standard for the installation of a complete Fire Alarm System by connecting, testing, and troubleshooting a non-addressable fire alarm system. Learners use various types of input and output devices as well as ancillary and supervisory circuitries. Students identify and describe basic operations of wet and dry sprinkler systems and other forms of suppression systems used in the industry. The learner works with other types of communication systems, such as fiber optic, intrusion, nurse call, paging, institutional clock, and home automation systems. Students connect, program, test, and troubleshoot a basic intrusion system.
In this course, students demonstrate a basic understanding of hydraulic systems. Students describe components and basic control principles used to build common industrial systems, and then assemble, operate, and troubleshoot them.
In this course, students develop the knowledge base and hands on experience to perform maintenance on mechanical systems in a thorough and professional manner. Learners use professional tools and procedures, Amatrol workstations, and modules to assemble, inspect, repair, align and test gears, bearings, shafts, and associated hardware. Tool safety, identification, and proper use is key to repairing any machine. Students learn about current Fasteners and how to apply them to maintain a machine. In this course, students gain the groundwork for maintaining mechanical equipment in an industrial environment.
This course introduces students to programmable logic controllers (PLCs) and their uses in industrial automation. In this course students state the functions and applications of Programmable Logic Controllers (PLCs). Students learn to determine the language and addressing requirements of a PLC and demonstrate the programming of common relay instructions, timers, counters, mathematic functions, and word comparisons within a PLC. Students learn proper methods of safe, acceptable programming practices including clear documentation and identify methods of installing a PLC system and perform hard wiring of PLCs to equipment. Students also demonstrate methods of testing PLC inputs and outputs and design programs to operate machines in a desired manner using many of the internal functions of a PLC.
This course provides students with an understanding of the operation of AC and DC variable speed drives, as well as their installation and programming. Students demonstrate how to select the correct sized motor, drive, wiring and protection for an application, how to install a variable speed drive system, program and tune it. Topics covered include the examination of the electronic circuits used to construct AC and DC variable speed drives, feedback circuits, and examination of programmable drive parameters and how they affect drive operation.
In this course, students apply knowledge of transformers to test for polarity, impedance, winding ratio, and insulation resistance. Learners connect three-phase transformers in wye and delta configurations and connect three-phase Resistive Inductive Capacitive (RLC) loads to transformers in balanced and unbalanced configurations. Various requirements of safety relay schemes are discussed and practiced. Students identify parts and connections for a three-phase wound rotor motor and describe the effects of differing resistance in the rotor circuit.
In this course, students focus on explaining open and closed loop process control and the equipment used to provide this. Students demonstrate the ability to design, assemble and tune control loops, including the ability to calibrate and troubleshoot problems.
The course examines the wind industry in Canada as a social trend focused on an environmentally sustainable future. Social issues that both support the development and expansion of the wind industry and those that deter its development (such as the not-in-my-backyard (NIMBY) syndrome) are examined. Course content includes a general review of different types of commercial wind turbines, site selection criteria, current installations, popular debates regarding turbines, the history of wind power, and topics dealing with the current job market.
This course expands knowledge of the Canadian Electrical Code (CEC) by exploring trade specific sections while reinforcing previously gained knowledge from your CEC Level 1 studies. Students become proficient in locating, interpreting and applying Code Rules in the following sections: motor protection, multi-unit residential dwellings, commercial applications, and hazardous locations.
Upon completion of this course, students are able to determine utility location and site features using site drawings, methods of construction using architectural and structural drawings, and the electrical characteristics for commercial facilities. Topics covered include the layout of mechanical equipment and systems, commercial distribution and service equipment. Wiring and branch circuits for lighting and equipment are also covered. Students prepare a material take off for a commercial installation, using drawings, specifications, and applying the Canadian Electrical Code (CEC). Students prepare sketches to solve and document construction problems and solutions, as well as prepare as-built drawings and develop basic single line, schematic, and wiring diagrams.
In this course, students discover the advantages of three phase circuits over single phase circuits, and compare and analyze three phase Wye and Delta systems including calculate voltage, current, power, and power factor. Students describe three phase series and parallel RLC circuits; connect wattmeter's, power-factor meters, and phase-angle meters in a three-phase system; list different types of transformers and their applications and associated losses; explain the principles of three-phase open delta connections; describe the theory of operation and the synchronizing of alternators; illustrate by calculation the principles for single- and three-phase power conversion; describe the construction, operation, and troubleshooting procedures for single- and three-phase AC induction motors; identify connections for multiple voltages and speeds for AC motors; describe the construction, operation and troubleshooting procedures for AC wound rotor motors; describe the construction, operation, power factor correction, and troubleshooting procedures for three-phase synchronous motors; state the types of insulation classifications and applications using AC motors; and describe motor specifications and procedures for adjustments and lubrication.
In this course, students learn about the installation details for an industrial construction project from a complete set of architectural and electrical drawings and specifications. Topics covered include the layout of single and three phase systems for feeder and branch circuits from utility supply to utilization points. Students apply the grounding and bonding requirements for high-voltage indoor and outdoor substations and vaults using the Canadian Electrical Code (CEC). In addition, students identify precautions for installing stress cones, the requirements for terminating shielded and concentric neutral high-voltage cables, and the testing methods and safety requirements for testing high-voltage cables. Students prepare a material take off using drawings, specifications and prepare sketches to document construction projects. Students learn to prepare as-built drawings and interpret basic single line, schematic, and wiring diagrams.
This course expands understanding of the Canadian Electrical Code (CEC) by exploring trade specific sections while reinforcing your previously gained knowledge from your CEC Level 2 studies. Topics covered include motor overcurrent and overload protection, conductor sizing and protection for transformers, welders, capacitors and high voltage installations.
In this course you will practice to disassemble and assemble all components that are installed in a Wind Turbine nacelle. You will document the procedures using appropriate terminology and graphics to write accurate and complete reports. You will learn the safe use of the hydraulic torque tool and bolt stretching tool as well as you will be introduced to the vibration analysis tool. You will learn to take oil samples effectively and to follow manufacturers' directions. You will demonstrate respect to your team members and work in a safe manner at all times. You will learn the importance to maintain a clean work area, follow safe hoisting and rigging procedures and adhere to WHMIS and OHSA rules.
Prerequisite(s): WTEC400
In this course, students identify and explain Wind Turbine components and operational characteristics in respect to power production in Wind Turbines. Learners identify and analyze all electrical components and their respective functionality as found in modern Wind Turbines. Students immerse themselves in hands on experience with the complex electrical systems that are a part of all modern Wind Turbines. Learners design, construct, and troubleshoot simulated Wind Turbine control systems. Students install wiring and troubleshoot motor and transformer connections in laboratory exercises as they relate to wind power and grid connections. Learners demonstrate their knowledge of schematics, wiring diagrams, ladder diagrams, PLC programming, sensors, switches, process control, relays and contactors, electrical and electronic components, circuitry, and troubleshooting, and apply their knowledge to the electrical systems in Wind Turbines.
In this course, students learn the various construction and repair methodologies utilized in today's Rotor Blade Industry. Learners practice assessments of rotor blade damages. In order to substantiate findings, students efficiently and safely take digital photographs, and produce accurate detailed reports and pictures for maintenance records. Learners demonstrate chemical, physical, and technical understanding of the various substances found in the construction and repair of rotor blades. Students are introduced to vacuum infusion techniques as used in the industry. Student practice personal safety and proper handling and disposal procedures. Student produce a fiber glass mold in order to perform rotor blade repair work.
In this course, students learn the importance of SCADA (Supervisory Control and Data Acquisition) systems as they relate specifically to a Wind Turbine Park site. In addition, students learn how to read wind forecasts, power production and integration into the grid, and the impact on Wind Turbines. Learners gain insight into the day-to-day tasks of the O&M (Operations and Maintenance) team and the expectation of a Wind Turbine technician. Students practice technical documentation skills and environmental safety as well as the importance of daily safety awareness in each class.
In this course, students learn Wind Turbine specific applications as they relate to hydraulics. Learners analyze brake systems, pitch systems, and other actuators found in Wind Turbines. Students acquire appropriate maintenance and troubleshooting techniques for active and passive types of hydraulic systems. Learners practice safety regulations as prescribed by the OHSA (Occupational Health and Safety Act) and follow best practice techniques from industry.
In this course, students practice Wind Turbine safety training. Learners explain and demonstrate safe climbing, emergency ladder rescue, and ladder descent. Students explain and demonstrate proper use of PPE (Personal Protective equipment), PFPE (Personal Fall Protective Equipment), and emergency ladder rescue safety devices by identifying the correct inspection procedures, handling, and application for many commonly used devices. Learners describe rigging and hoisting, and how to lift heavy components in a controlled fashion while maintaining a safe work environment. Students will identify and explain hazards in the industry, and explain how to prevent or eliminate those hazards by using different mitigation techniques.
Requirements
Admission Requirements
Ontario Secondary School Diploma (OSSD) with the majority of Grade 11 and 12 courses at the C, U or M level including the following prerequisites:
Grade 12 English at the C or U level
Grade 12 Math at the C or U (or MCR3U or MCF3M); MCT4C Recommended
For OSSD equivalency options, see Admission Requirements.
If you are missing prerequisite courses, enroll in the Career/College Prep program - free for Ontario residents who are 19 years or older.
Fees
2020-2021
Tuition
Program Fees
Ancillary Fees
Total
CAD
Tuition
Program Fees
Ancillary Fees
Total
Tuition fees are subject to change pending confirmation of provincial Ministry Funding rates for 2021-2022.
Tuition
Program Fees
Ancillary Fees
Total
CAD
Tuition
Program Fees
Ancillary Fees
Total
Tuition fees are subject to change pending confirmation of provincial Ministry Funding rates for 2021-2022.
Kingston
Our Kingston campus has seen significant renovation over the past few years, including a brand new Student Life and Innovation Centre that houses a new gymnasium, fitness centre, pub, and more.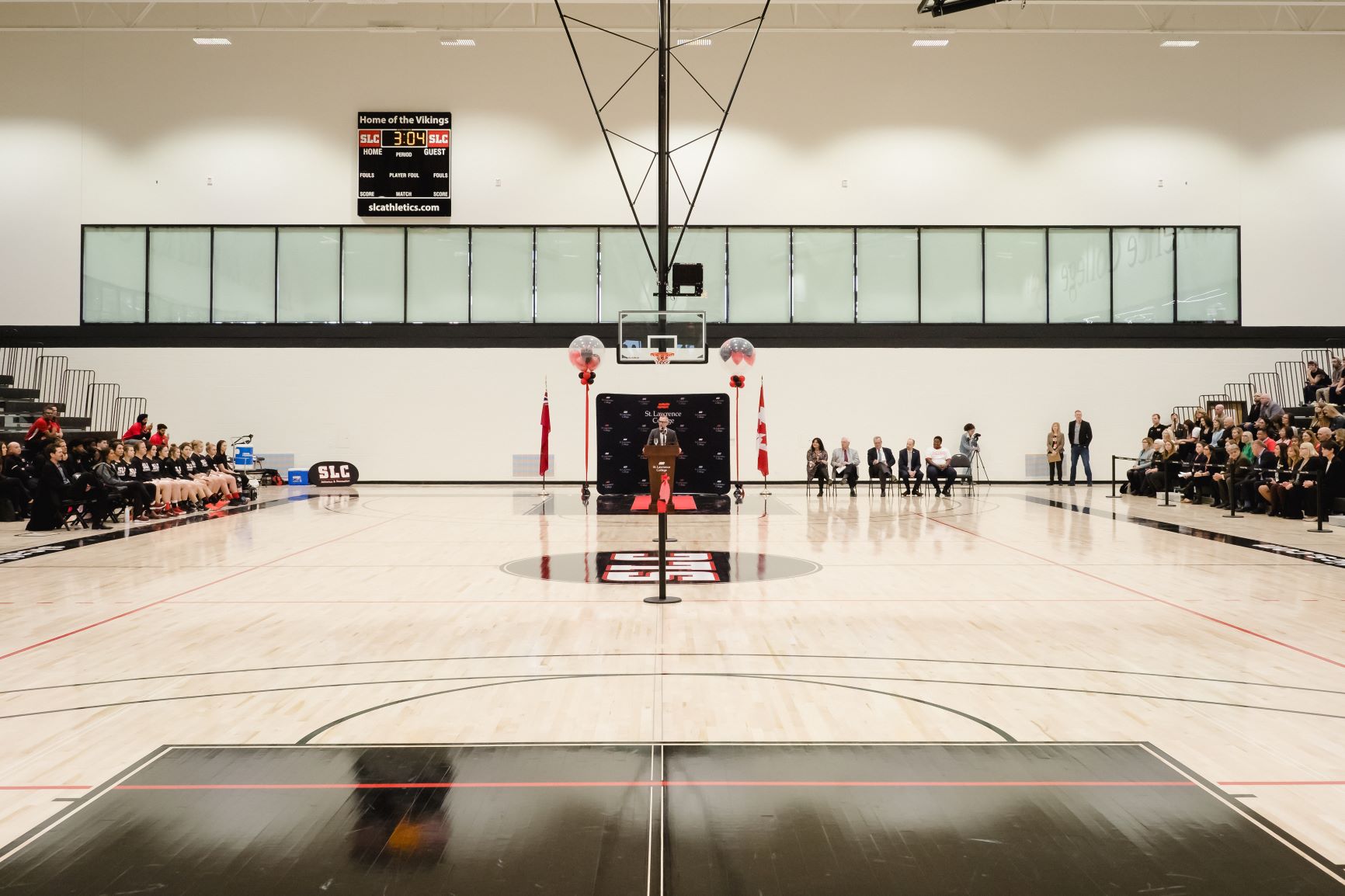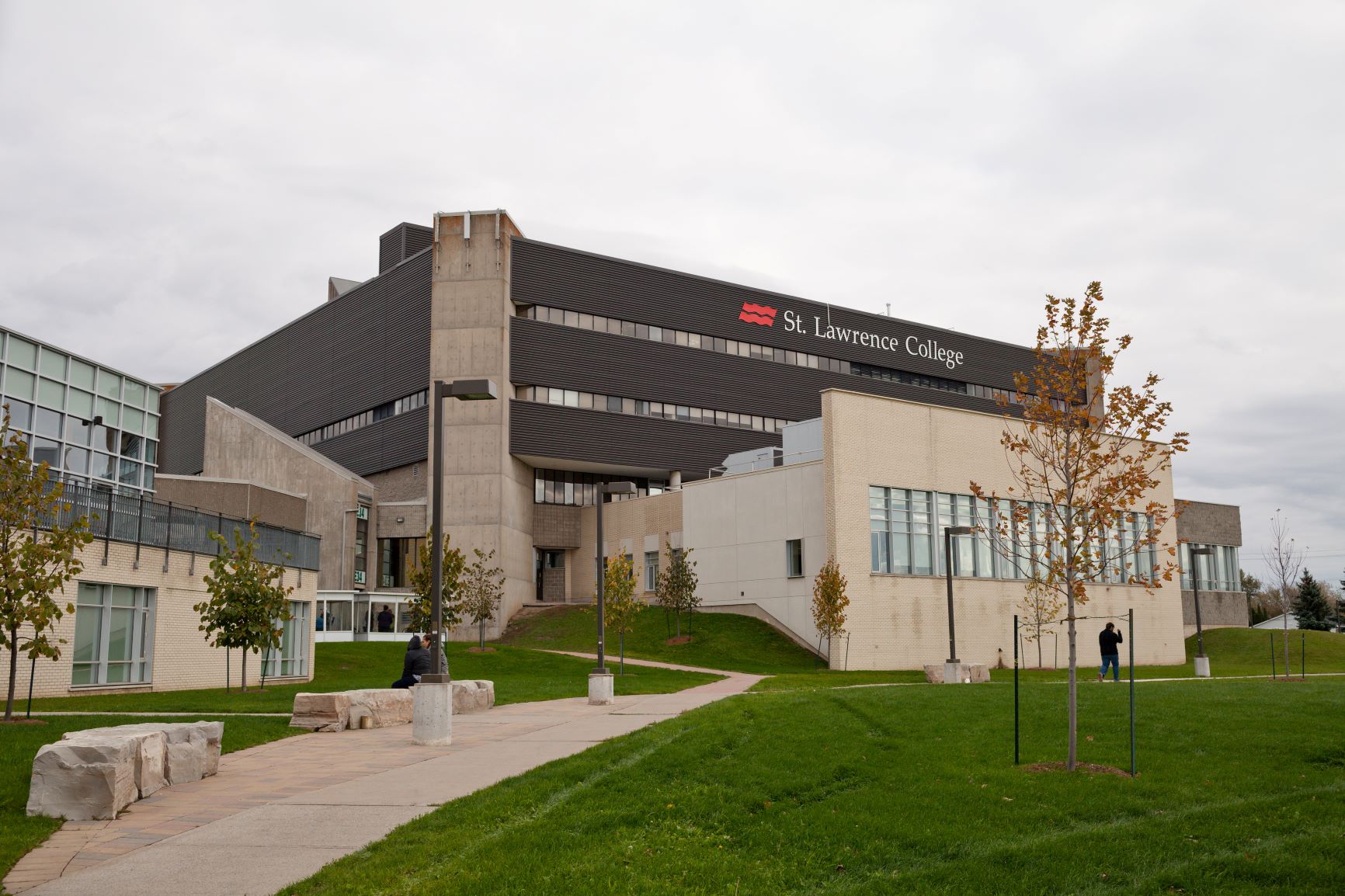 Kingston Campus
Career Opportunities
The Wind Power Industry is one of the fastest growing industries in Canada. The demand for trained and certified Wind Turbine Technicians is also growing rapidly. Our program is becoming the go to place for Employers to find new talent.
As a Wind Turbine Technician you will be at the forefront of a new and growing industry. You will be working with modern technology in a demanding environment. It will be your responsibility to install and carry out scheduled preventative maintenance on large scale wind turbines as a member of a maintenance team. This will include performing inspections, taking measurements and providing documentation. You will be called upon to diagnose and repair any faults and as such contribute to the ongoing safe operation of the wind turbine and the electrical grid.
You will be engaged in a green energy career, contributing in a significant way to improving our environment and providing clean electrical power to Canadians.
Employer Testimonials
"When I was hired by BluEarth as operation director and I visited one of our remote sites in Northern Alberta for the first time, I was pleased to see that the three technicians who managed that site were all St. Lawrence College Graduates and doing a great job." – Employer, BluEarth
"We've always found high quality technicians ready for field work immediately out of St. Lawrence College. The faculty and staff have worked hard to engage employers to develop a practical curriculum that meets the needs of the wind industry. " – Employer, Surespan Wind Energy Services
"We have hired several graduates from the WTT program and they have all been exceptional team members with a solid basic understanding of how a wind turbine works. Its great that they also have a detailed knowledge of how to work with electrical systems safely. We always look forward to hiring St. Lawrence graduates." – Employer, NorthWind Solutions
Other Information
Information about Placement:
Participating employers seek summer students between semester 2 and 3. Successful candidates travel across Ontario and Canada to receive hands-on work experience within the wind turbine field.
Employer testimonial
Summer work is great to support, helping open opportunities for individuals to develop their career path. With hands on experience, they can now feel confident when returning to school for the 2nd year. Now with turbine experience, they can feel confident with a positive edge on applying to full time employment whether that be with OEM Providers, Contractors and Owners Operators alike." – Employer, Siemens Gamesa Renewables Energy
Previous participating employers:
Siemens Gamesa Renewable Energy
Enbridge
CNC Energy Solutions
CSS Wind Inc.
Surespan Wind Energy Services
Spark Power Corp
BluEarth Renewables
Enercon
Program Contacts
Program Contact
Ryan Goff
rgoff@sl.on.ca
613.544.5400, ext. 1413

Admissions Information
Contact a member of our recruitment team
ask@sl.on.ca
1.800.463.0752 and ask for Recruiting

International Students Contact
international@sl.on.ca
+1 613.544.5400 ext. 5514