Overview
Graduates from our Energy Systems Engineering Technician and Technology (ESET) programs work in exciting new careers as Renewable Energy System Designers and Clean Energy System Project Managers and Installers. In addition, our graduates have expertise in building energy management and building energy systems, where they find rewarding employment as Energy Managers and Energy Auditors.
Our many successful graduates illustrate how every year, businesses, governments and consumers are becoming more concerned with the financial and environmental costs of energy usage. Our ESET graduates are filling the growing needs of this marketplace for capable people with the knowledge and skills to design and implement renewable energy systems as well as to audit energy use in commercial and residential buildings and make recommendations to reduce energy demand, emissions and cost.
Program Details
Credential
Ontario College Advanced Diploma
Open for international students
Program Highlights
Our St. Lawrence College facilities include some of Canada's most complete laboratories for students to learn how to size, design, and install solar photovoltaic, solar thermal and other sustainable energy systems, for both grid connected and off-grid applications. St. Lawrence College also has a 250kW grid connected rooftop solar array where we walk the talk on the value of renewable energy systems.
In addition to our regular program coursework, over the past few years, we have been able to leverage a variety of programs to provide work experience for students in Texas, Jamaica, and within our own College Sustainable Energy Applied Research Centre (SEARC). Many students have also gone on to Bachelor's degree programs at a variety of Universities in Canada and abroad.
(To further research job categories in the ESET sector, search LinkedIn and use keywords, "renewable energy" and, "building energy auditing, efficiency")
Please contact us with any questions or for a tour anytime. We would be proud to show you our Energy Systems training facilities.
Specialized laboratory facilities at the College are available for training in building automation systems, heating, ventilation and air conditioning (HVAC) equipment, and grid connected solar electric systems.
The College's Sustainable Energy Applied Research Centre (SEARC) is a group of energy industry and faculty researchers. Closely linked to the Energy Systems Program, SEARC's mission is to provide applied research services to small and medium-sized enterprises in the renewable energy industry within the Eastern Ontario region. SEARC provides select Energy Systems students with unique opportunities for part-time employment working on real world problems.
RESCo Energy Benefits from St. Lawrence College Grads
"As one of Canada's largest Solar EPC's, our design team is highly regarded for its ability to integrate solar into building energy systems. This expertise relies heavily on the graduates of St. Lawrence College and their unique ability to design at the application level. As both an engineering company and a licenced electrical contractor, we bring great value to the industry by designing for installation, and solving clients' aspirational challenges by bringing together the areas of theory and practicality. The St. Lawrence College grads seem particularly wired to accomplish just that."
Fidel Reijerse
President
RESCo Energy Inc.
Program Outline
2023-2024
This course is designed to help students develop and practice the communication skills needed to succeed in college and workforce environments. Emphasis is placed on improving foundational communication strategies-reading, writing, listening, and speaking—and on developing research and critical thinking skills.
This course will give the student a thorough understanding of current conventional energy systems at the residential & small facility level. It will deal with strategies and equipment used in standard heating, cooling and lighting systems. The course will also deal with overall energy usage within a facility; both by the above systems and by other major appliances and equipment. This analysis will be used to identify various conventional means of energy conservation.
This course is designed to give the student an introduction to renewable energy technologies. These will include technologies for both heat and electrical production. Established and emerging technologies will be dealt with in both a theoretical and practical format.
In this course students develop practical skills for the correct use of tools, safety equipment and a variety of test equipment. Basic fabrication and assembly skills are also practised using bolts and hand tools, wiring, pipe and pipe threading, and copper and plastic piping systems.
This course is designed to introduce the student to the fundamental relationship of voltage and current in circuits containing resistance and/or capacitance and/or indictors with D.C. sources. Included in the course is a comprehensive lab component which introduces the student to the standard lab equipment used in measuring fundamental D.C. circuit parameters. The application of the devices is stressed to ensure the student has the necessary background to recognize: (a) the device and its operation in a larger circuit and (b) the probable cause of a fault within the circuit.
This course provides instruction in the fundamental concepts and operations of algebra and trigonometry: linear, quadratic, and trigonometric functions, graphs and equations. Students study operations with algebraic expressions and equations in preparation for further topics in applied mathematics. An emphasis is placed on building fluency with foundational skills through practice and conceptual understanding.
This course is an in depth study of pressure and temperature instrumentation. It covers the theory and mathematics relating to the conversion of parameter to electrical signals and the selection of appropriate equipment for a given application. The laboratory projects will allow the student to install, connect, investigate, calibrate, and repair a variety of sensors and related equipment used in typical industrial applications.
This is a second semester course in residential, small commercial and industrial building systems, which is necessary to achieve a Diploma as an Energy Systems Engineering Technician or Technologist. The course covers fundamentals of HVAC systems and allows students to understand the principles for these systems. The course is presented in theory and lab segments building upon ESET 130. Each lab will be done on a first come first serve basis due to equipment limitations. Labs will be done with partners. The expectation that all 12 labs will be cycled through by end of semester. Airflow lab will require 2 classes to complete. There will be a lab makeup period the last week.
Prerequisite(s): ESET130
This course is designed to give the student an introduction to thermodynamics. These will include first law and second law of thermodynamics and their application to energy systems and process. Heat transfer through walls and windows will be discussed and the fundamental principle of a heat exchanger will be treated.
Energy Systems Technicians and Technologists frequently encounter, or are required to interpret technical drawings and related documents for energy systems and buildings. This course develops skills required to recognize, obtain, and utilize information from a variety of sources to produce a technical drawing. This course also develops basic technical drawing interpretation skills.
This course is designed to introduce the student to the fundamental relationship between voltage and current in circuits containing resistance, and/or capacitors, and/or inductors with A.C. source. Included in the course is a comprehensive lab component that introduces the student to the standard lab equipment used in measuring fundamental A.C. circuit parameters. The course will also introduce the student to heavier power circuits and devices. Course topics include working safely with high voltage and current, power generation and motors, transformation and motors, transformation and distribution, switching and protection, electrical code and conventions, circuit documentation and interpretation.
Prerequisite(s): IETT410
This course introduces vectors and the complex number system, including conversions between polar and rectangular forms. Fundamental statistical concepts are introduced to inform technical evaluation. Students manipulate and solve exponential and logarithmic functions in order to apply in technical lab and theory. The course concludes with an introduction to differential and integral calculus.
Prerequisite(s): MATH2
This course covers the use of Microsoft Office as commonly found in a technology environment to prepare basic written documents and to solve numeric problems as well as using applications to build models for assisting in solving technical problems.
Prerequisites: None
In this course semi-conductor devices are studied by examining their behaviour in electronic circuits. The student is directed toward an intuitive rather than a mathematical understanding of semi-conductor behaviour. Circuits examined include rectifiers, power supplies, filters, regulators, amplifiers, and semi-conductor switches. In this course an understanding of electronic devices such as diodes, bi-polar junction (BJT) transistors, Field Effect Transistors (FET) and Metal Oxide Silicon (MOS) is gained. Methods of AC rectification and filtering are learned. The characteristics and applications of diodes and BJTs are learned. DC biasing and switching configurations of transistors is covered.
Prerequisite(s): IETT410 + ESET320
This course is designed to provide the student with the knowledge of documentation systems used for specification and presentation in the Instrumentation and Control industry. The student will gain familiarity with and be able to produce a number of standard documentation tools such as ISA symbols, P&ID diagrams, Wiring Diagrams floor plans and Installation Drawings. The student will develop an intermediate level of capability with a CAD (Computer Aided Design) application, typically AutoCAD or one of its derivatives to produce industry standard documentation.
Prerequisite(s): ESET260
This course will build on knowledge of hvac systems from ESET 130 and ESET 230, and add principals of building science and construction techniques to provide the foundation for real world energy auditing of buildings. The tools of energy auditing will introduced, including inspection, measurement, blower door testing, and finally software modelling. The control of heat, humidity, and airflow in buildings will be carefully considered. The course will begin with an emphasis on single family residential buildings, and conclude with a look at commercial buildings, which will continue in third year with ESET 630. Labs will involve field trips to buildings for hands-on audit experience, and computer modelling. The final project will be an extensive audit on a building, and preparation of a client report.
Prerequisite(s): ESET130 + ESET230
This course will continue from the first semester ESET 140 course to take an in-depth look at various renewable methods of electrical power generation. These include photovoltaic generation systems, wind generation systems, fuel cells, and small Hydro-electric systems. The student will make equipment selection based on specific requirements and interconnect equipment and control devices to develop complete generation systems.
Prerequisite(s): IETT410 + ESET140
In this course, students will explore ways of communicating technical information to specialists and to laypersons using common professional formats. Students will also create a resume and deliver an oral presentation. Students will work individually and in teams. Assignments and discussions will emphasize effective collaboration, audience analysis, appropriate formats and tone, clarity of communication, and the mechanics of correct syntax, grammar, punctuation, and spelling. Attention will also be given to general reading, editing, and collaboration strategies.
A course designed to introduce the student to electrical supply and power circuits and devices found in light to medium structures from homes to small business, commercial and industrial sites. Course topics include the following: working safely with high voltage and current, power generation, transformation and distribution, switching and protection, electrical code and conventions, circuit documentation and interpretation. The course will be presented from the prospective of providing the necessary background for identifying and calculating electrical loads, effectively measuring the consumption and/or production of electrical power, and calculating the energy efficiency of particular loads.
Prerequisite(s): ESET220 + ESET320
Applied Thermodynamics 2 is a fourth semester course covering the theory and applications of the first and second laws of thermodynamics. The course is intended to provide fundamental knowledge in thermodynamics. It is necessary for technicians and technologists working with heat engines, heat pumps, energy audits, and other applications involving thermodynamic processes where theoretical and actual efficiency and gas properties are involved in determining process parameters.
Students will learn the concepts of heat-work equivalence, energy balance, and thermodynamics of the Carnot cycle. These concepts will be applied to the understanding of heat engines (e.g. Otto and Rankine Cycle), refrigerators and heat pumps. Concepts will be presented in the lectures and further reinforced via weekly labs using a variety of equipment and computer simulations. The laboratories are designed to reinforce classroom learning with practical exercises aimed at: Reviewing the definitions of heat, work, specific heat and the first law of thermodynamics Using the kinetic theory of gases and the ideal gas equations to solve gas related problems Developing an understanding of isothermal, isobaric, isochoric and adiabatic processes Using the gas laws in practical gas related problems Examining the processes and efficiencies of the Carnot cycle Using computer models of various thermodynamic cycles
Prerequisite(s): ESET250
This course is designed to give the student an understanding of the various control mechanisms used in heating, ventilating, cooling, lighting, water supply and electrical production systems. These will range from the simplistic control switch to the moderately complex including electrical-electronic systems. Emphasis will be placed on the selection and configuration of the appropriate control system for a specific application, be it heating, cooling or alternative energy production. Emphasis will be on equipment found in residential and small commercial buildings. Data logging devices and their application will be introduced.
Prerequisite(s): ESET220 + ESET230 + ESET320
This course will continue from the first semester ESET 140 course to take an indepth look at various renewable methods of heat generation. These include: solar hot water, solar air, ground source heat pump, and biomass, with an emphasis on solar hot water. The student will learn to select equipment based on heat requirements, building codes and site issues. Labs will involve hands-on equipment use and installation.
Prerequisite(s): ESET140
As energy conservation and alternative energy production become a greater priority throughout the world, governments are playing a larger role in steering the transformation of how our energy is produced and consumed.
This course content allows students to become more aware of the type of involvement government and regulatory agencies have in the energy field and the influence these organizations have on the clean energy industry and the future job market in clean energy. Students are introduced to the theories and types of regulations and policies that apply to energy efficiency and renewable energy projects, mostly from a Canadian perspective. As some of our energy legislation is based on examples from other countries, international energy policy examples are also explored.
The broad and evolving area of federal, provincial and municipal government incentive programs for energy conservation, renewable energy use, and green-house gas emission reductions are discussed. The role of regulatory bodies in the renewable energy sector and the licensing of energy efficiency and renewable energy practitioners are reviewed.
This course focuses on the design of complete renewable energy systems to meet client needs. Emphasis is given to the process of designing rather than just knowledge of the technology. Working in teams, students perform all aspects of a project design including customer needs assessment, technology selection, detail component specification, and cost-benefit analysis. Lecture and lab topics support typical detailed design activities and introduce students to mechanical design including forces, stresses, fasteners, and the sizing of pumps, piping, and heat exchangers. Normal business processes associated with design activities such as understanding a customer's `Request for Proposal' and legal liability are included.
Prerequisite(s): ESET442 + ESET441
This course gives the student awareness and skills related to all the major activities that take place in the operation and maintenance (O&M) of a commercial scale PV facility. The major components of the course are a balance of visual, mechanical and electrical inspection techniques, followed by methods for routine maintenance and correction of any defects that are discovered. Emphasis is placed on the proper selection and use of Personal Protective Equipment (PPE), safety procedures, and associated electrical hazards such as arc flash. Proper use of instrumentation such as I-V curve tracers, IR cameras, and insulation resistance (ground fault) testers is practiced.
Prerequisite(s): ESET441
In this course students manipulate climate data for energy modeling and develop an hour by hour simple building energy model using spreadsheets. The course then covers the entry of model data into typical commercial software. Typical entry data describes building construction and HVAC system details as well as sustainable energy features such as passive solar, and solar photovoltaic technology. Parametric analysis is used to determine optimal configurations for minimum energy use in buildings and maximum energy output in renewable energy systems. Finally, students combine efficiency and renewable energy measures to design buildings that have net-zero energy consumption.
Prerequisite(s): ESET431 + ESET441
Students are introduced to the REVIT platform for building information modeling (BIM). The technical drawing skills developed in ESET 260 are extended in the use of REVIT drawing tools. Students modify and use REVIT components to create complete buildings. Completed models are used to run energy simulations.
Prerequisite(s): ESET260 + ESET360
This course examines data communication and computer interfacing for building automation. Topics include binary code, various number systems, and networking using common communication protocols. Students use commercially available HVAC controllers to gain knowledge of the BACnet communication protocol.
Prerequisite(s): ESET410
In this course students undertake a substantial energy auditing project for an external organization. The external organization acts as the client and the students provide a service at a level similar to that expected from practitioners in the field. The project is substantial in the sense that it requires significant work to assess client requirements, to gather background data, and to report findings in a professional manner. Working as a team, students interact with faculty, outside professionals, and the client organization to gather data and create a preliminary building assessment.
Prerequisite(s): ESET431 + ESET410
This is an advanced course in energy control systems. The course examines programmable, micro-processor based HVAC control systems and large scale distributed control systems for energy management in buildings. It gives students the detailed knowledge required to recommend control strategies and control system upgrades to save energy in commercial buildings. The lab portion of this course provides hands-on practice connecting and assembling common electrical components of control systems, including programming HVAC field controllers.
Prerequisite(s): ESET410 + ESET568
In this course students complete an energy audit of an institutional, commercial or industrial (ICI) facility. The energy audit involves further analysis of energy usage and development of suggestions for saving energy and/or costs. Recommendations for the project client may involve the preliminary specification of energy systems equipment. The final project report also includes an analysis of the financial costs and benefits of the proposed changes. The course is organized to mimic the team based structure that students are likely to find in the commercial energy auditing or engineering services business. Students are required to develop project schedules and to report their progress. Report results are communicated to the client in a professional presentation.
Prerequisite(s): ESET630
This course develops awareness of the standards used to define energy efficient building in the residential, commercial, institutional and industrial sector. Standards currently in use in provincial and federal will be explored. Typical standards and design approaches that will be presented include LEED™, ASHRAE90.1, Passive House, BOMA Best, Net Zero Energy and the National Energy Code of Canada for Buildings (NECB).
In this course, students practice the skills to develop and execute a project management plan. Microsoft Project is the primary tool used in this course, complemented by other software tools such as Microsoft Planner and Excel. Each student completes a project management plan that is reasonable, cost effective, flexible and adaptable should obstacles be encountered. Other aspects of project management addressed include stakeholder engagement, scope of work, contracts, team leadership, and compliance with relevant legislation.
The work placement course in the Energy Systems Engineering Technology program is the final component of the student's college learning experience. This course gives the student the opportunity to be involved in learning and work activities that relate to careers in Energy Systems. It is intended that the course contribute to the student's professional growth and development as an Energy Systems Technologist. The workplace experience is important to both the student and to future employers. Placement in a real work environment provides the student with an opportunity to understand the significance and importance of their classroom learning. Employment opportunities are available from organizations that have indicated a commitment to technical and professional learning.
Requirements
Admission Requirements
Ontario Secondary School Diploma (OSSD) or equivalent including the following prerequisites:
Grade 12 English at the C or U level
Grade 12 Math at the C or U level (or MCR3U); MCT4C Recommended.
For OSSD equivalency options, see Admission Requirements.
If you are missing prerequisite courses, enroll in the Career/College Prep program - free for Ontario residents who are 19 years or older.
Placement
Energy Systems Engineering Technology students have a one-month placement at the end of the third year. Students find their own placement. The faculty must approve. Some recent ESET placements include:
Quantum Renewable Energy, Kingston
Caneta Energy, Mississauga
Utilities Kingston, Kingston
Limestone Board of Education, Kingston
McKinnon Breweries, Bath
City of Kingston, Kingston
J.L. Richards Engineering, Ottawa
Lightenco, Ottawa
Red Squirrel Conservation Services, Kingston
Kingston General Hospital, Kingston
Student Placement Facilitator (SPF) Support
Confirmation of placement
Complete SLC placement Requirements
6 training modules
Student Declaration/Oath of Confidentiality
Student COVID-19 Waiver
Student Placement Facilitator will notify the student of Agency-specific requirements e.g.:
Immunizations (hospital/LTC)
CPIC - VULNERABLE SECTOR if required by site
Questions:
Website: www.placementatslc.ca
Fees
2023-2024
Tuition
Program Fees
Ancillary Fees
Total
CAD
Tuition
Program Fees
Ancillary Fees
Total
Fees are estimates only. Tuition is based on two semesters.
Tuition
Program Fees
Ancillary Fees
Total
CAD
Tuition
Program Fees
Ancillary Fees
Total
Fees are estimates only. Tuition is based on two semesters.
Kingston
Our Kingston campus has seen significant renovation over the past few years, including a brand new Student Life and Innovation Centre that houses a new gymnasium, fitness centre, pub, and more.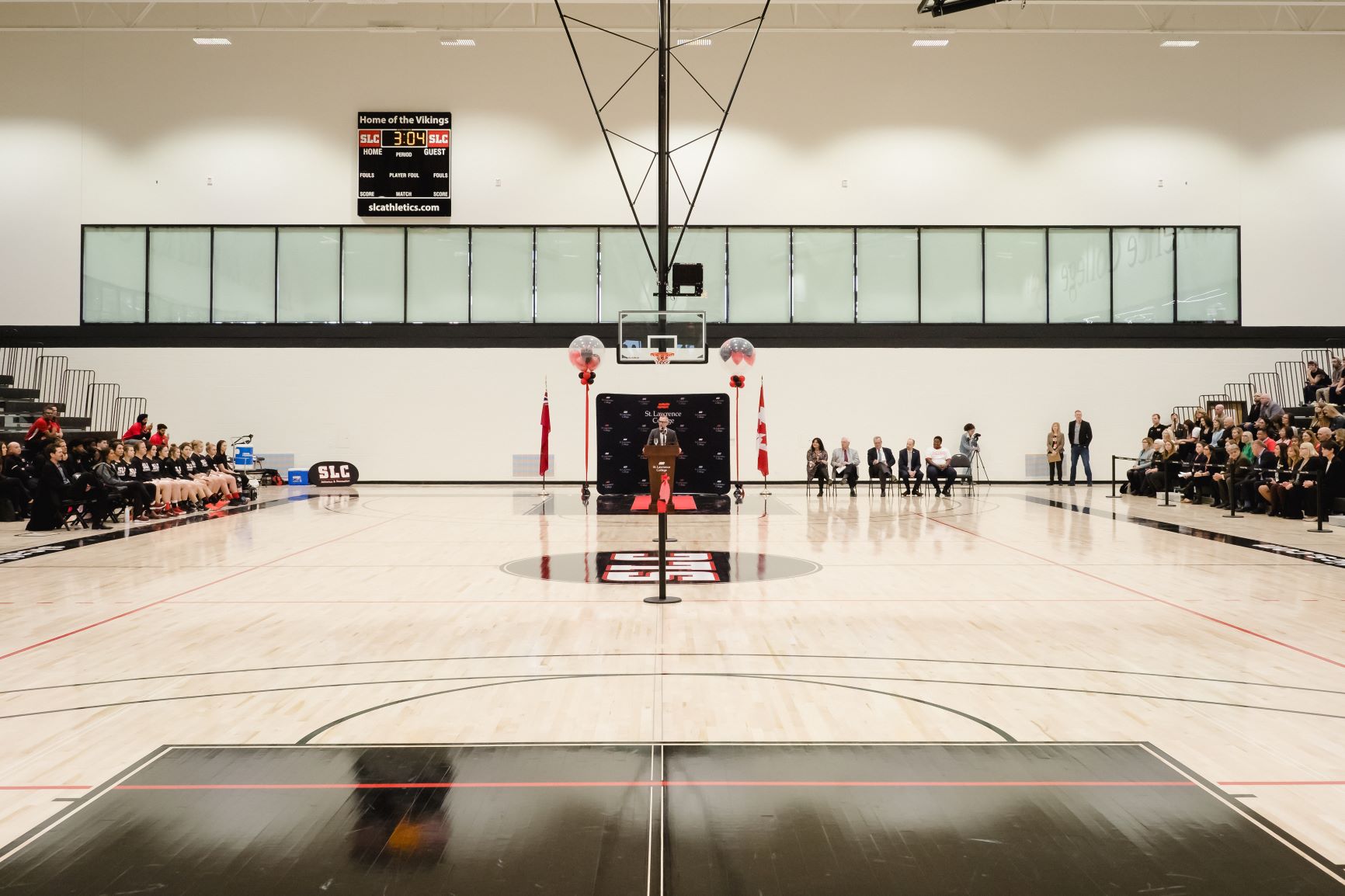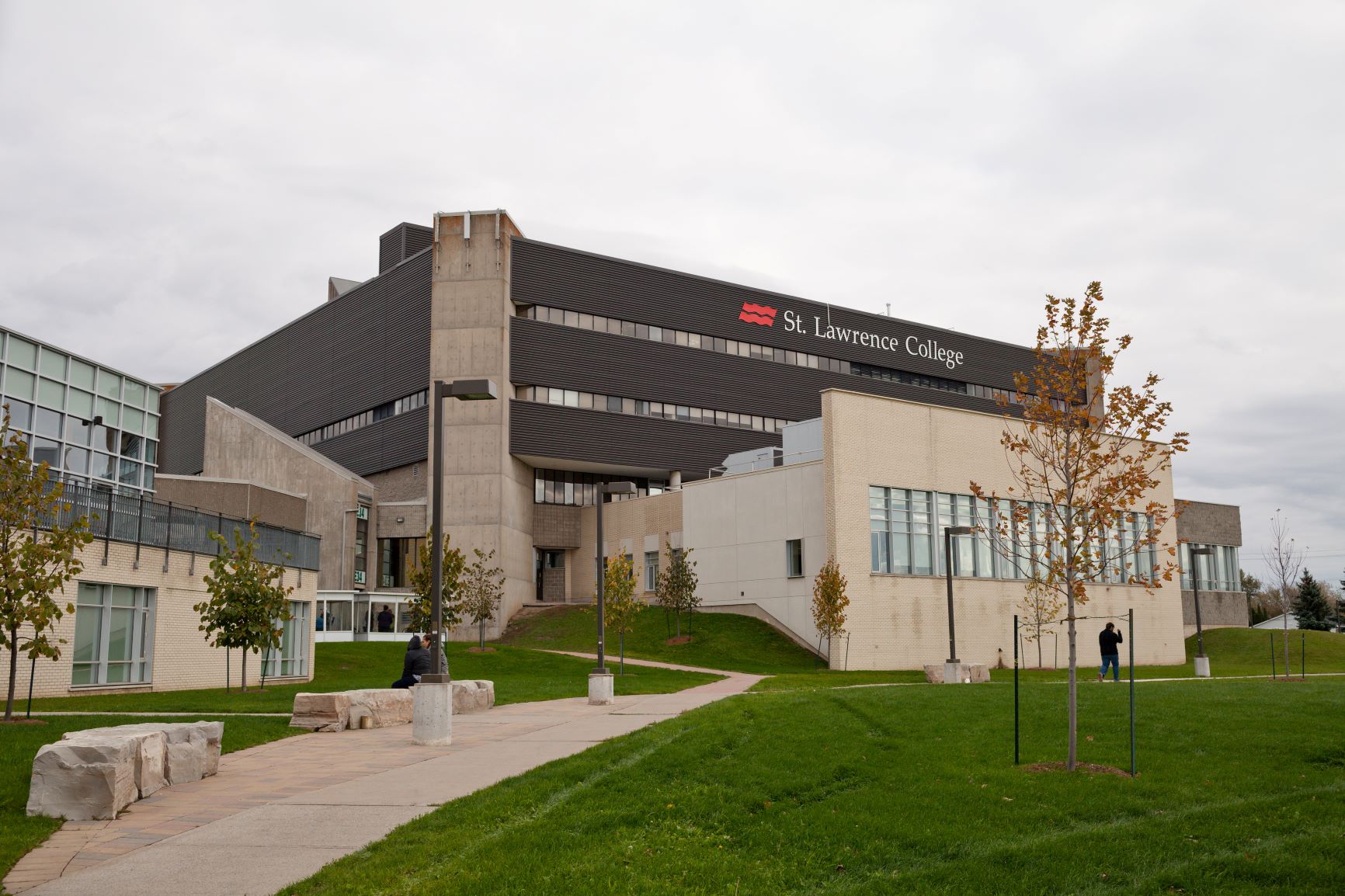 Kingston Campus
Career Opportunities
Here is a sampling of the many job titles our ESET graduates have:
Green Building Project Associate - Halsall Associates
Energy & Environmental Technologist - Limestone District School Board
Assistant Energy Manager - 3M Canada
Solar Division Manager - Greenside Electric
Building Performance Technologist, Corporate Facilities Energy Specialist, City of Kingston
Energy Systems Engineering Technologist - Quantum Energy
Energy Conservation Programs Coordinator - City of Kingston
Building Automation Service Technician - Siemens Building Technologies
Energy Performance Contract Coordinator - Defense Construction Canada
Energy Auditor
Solar Installer
Energy Manager
Testimonials
"My experience at ESET has led me to a challenging and rewarding job with an international engineering firm. I work in all facets of sustainability; from building design and construction, renewable energy system implementation, LEED facilitation to energy auditing. "
"I am currently employed with WSP Global as a Project Associate, working on LEED, energy modeling and retro-commissioning projects. I can honestly say that I would still be working unskilled entry-level jobs without the ESET program and its great staff. The hands-on labs and small class sizes provided me with an awesome opportunity to develop and hone my skills"
"I'm now working at Utilities Kingston, in the Conservation department. There's no question that my education at SLC helped me get where I am today. I strongly believe that the month-long placement I completed at the end the third year ESET program kick-started my career in conservation."
"I am currently working for a small company in Toronto called MultiLogic Energy Solutions. The company mainly deals in efficient lighting and controls, as well as electric heating controls in the multi-residential industry."
Other Information
Additional Costs
Books, lab kits and supplies (estimate):
First year: Fall $600, Winter $400.