Overview
This three-year program has an excellent nationwide reputation for producing highly skilled graduates who fit easily into a biomedical research setting or a veterinary clinic setting. Our graduates leave with excellent scientific training as well as the practical laboratory and veterinary technical skills needed in today's workplace.
Program Details
Credential
Ontario College Advanced Diploma
Program Highlights
Graduates are eligible for registration with the Ontario Association of Veterinary Technicians (OAVT) as well as the Canadian Association for Laboratory Animal Science (CALAS/ACSAL). Students are eligible to write the Veterinary Technician National Exam (VTNE) and CA­LAS/ACSAL national registry examinations in their graduating year.
St. Lawrence College is licensed under the Animals for Research Act (ARA) by the Ontario Ministry of Agriculture, Food and Rural Affairs (OMAFRA). As well, we maintain our Good Animal Practice (GAP) certification with the Canadian Council of Animal Care (CCAC). In accordance with this, we have an active Animal Care Committee (ACC), and live animal use for teaching purposes is documented in ACC-approved Animal Use Protocols (AUP).
St. Lawrence College Veterinary Technology Program is fully accredited by:
Canadian Veterinary Medical Association
Ontario Association of Veterinary Technicians
College of Veterinarians of Ontario
Program Outline
Note: Additional course requirements often occur outside of scheduled class time. Some courses may occur at the Kingston Humane Society or other off campus locations.
2023-2024
This course will introduce the principles of animal behaviour with an emphasis on companion animals. Normal behaviour is described, including communication, social hierarchies, biological rhythms, sexual development, maternal behaviour, and learning principles. Abnormal behaviour will then be introduced, with the emphasis on typical behavioural problems and behaviour modification techniques, including pharmacological intervention. Large animal behavioural issues and environmental enrichment are also discussed.
This course is an introduction to the responsibilities of the veterinary technologist in a small animal practice. Areas of study include: record-keeping, vaccination, parasite control, pet identification, physical examination, whelping and neonatal care.
This course is designed to teach students how to apply critical thinking concepts to ethical problems. Initially, students learn various aspects of critical thinking and evolve form the knowing stage of critical thinking to the evaluation stage of critical thinking. Students also have an opportunity to explore the ethical process and are exposed to the philosophical aspects of ethical reasoning and progress towards problem solving strategies in relation to controversial issues.
This course is designed to provide the necessary scientific mathematical skills for students in the first semester of Veterinary Technology and Medical Laboratory Science programs. Biological and laboratory applications are emphasized with topics including: use of a scientific calculator, conversion of units, calculation of drug dosages, solutions, dilutions and nutritional requirements, dimensional analysis, absorption calculations, graphing of data, linear regression techniques and the use of algebra and logarithms in laboratory calculations and formulas.
This is a combined lecture/laboratory course dealing with the biology and identification of animal parasites (including arthropods, protozoa and helminths) and fungal parasites of veterinary importance. Emphasis is placed on the life cycles, laboratory diagnosis and control of these common parasites.
In this course, students learn the definitions and uses of professional language used in the field. Learners will explore word parts and develop the ability to determine the meaning of frequently used veterinary terms. Students practice the use of professional language in workplace conversations/contexts.
In this laboratory-based?course, students?learn the use and maintenance of common laboratory tools, equipment, and techniques. Learners focus on laboratory safety including the?Workplace?Hazardous Material Information System (WHMIS),?preparation of solutions, etc. Students acquire the knowledge and the skills to operate basic laboratory equipment and handle a variety of reagents.
This combined lecture/laboratory course studies anatomical features and physiological functions for the following systems in mammals, avians, reptiles, and amphibians: endocrine, muscular, skeletal, nervous, cardiovascular, digestive, urogenital, respiratory, lymphatic, and integumentary.
This course examines various aspects of operating a veterinary hospital. Theseaspects relate to facility design, economic issues, organizational and managementpractices as well as client interaction and working as a member of a team inaddition to professional accountability.
This course is an introduction to the responsibilities of the veterinary technologist in a small animal practice. Areas of study include: record keeping, vaccination, parasite control, pet identification, physical examination, whelping and neonatal care. At the Kingston Humane Society, students develop hands-on techniques related to these areas of study. They observe animals, practice restraint, perform health checks, clean ears, give injections, and take blood samples. They treat sick animals, maintain kennels and carry out basic animal husbandry.
Prerequisite(s): ANIM 101, ANIM 102, ANIM 104, MATH 150
This course covers the use of Microsoft Office as commonly found in a technology environment to prepare basic written documents and to solve numeric problems as well as using applications to build models for assisting in solving technical problems.
Prerequisites: None
This is a course designed to help students adapt to the rapidly changing workplace. It provides an historical overview of our working society and how it has evolved. Issues such as employment equity, harassment, regulation of health and safety, unionization, professional organizations and codes of ethics are discussed. Students also identify strategies to meet the needs of current employers and to make interview processes work to their advantage.
In this theory and laboratory course, learners use a systems approach to explore animal anatomy and physiology. In this course, students learn how body systems are controlled, their relationship to each other, and the principles behind homeostasis so that they can relate these normal processes to disease states and maintaining animal health.
The course is a continuation of ANIM 204. Students continue to gain practical experience at the Kingston Humane Society, practicing techniques, such as injections, blood sampling, intubation, grooming procedures, urinary bladder catheterization and administration of medications.
Prerequisite(s): ANIM 204, ANIM 108, BIOL 201
This is a lecture/laboratory course. The lecture component will introduce the student to the laws and regulations governing animal care, animal use, basic principles of animal health monitoring and disinfection of animal housing. Self-study materials will supplement this component of the course. The laboratory component will emphasize the handling, restraining and injection techniques of the laboratory rat and mouse. Basic rabbit handling will be covered. Included in this course is an introduction to the use of anesthetics and euthanasia. This material will be reinforced by a requirement to rotate through the college animal colony in a work-study capacity.
Prerequisite(s): ANIM 204
This course will encompass theory and laboratory practice of hematology and clinical chemistry including urinalysis with an emphasis on normal cases. The students will become proficient in performing urinalysis, both macroscopic and microscopic analysis. The student will also develop skills in performing a complete blood count and differential in both small and large animals. Theory covered will include hematological cell development, as well as the processes to evaluate pancreatic, liver, kidney, and endocrine function.
Prerequisite(s): ANIM 108
Students will learn the theory and practical application of veterinary anesthesia in a variety of species. Students will learn uses, effects, adverse effects, indications, and contra-indications of commonly used sedatives, injectable anesthetics and inhalant anesthetics. Students will learn parameters to monitor during the pre-, intra, and post-operative period. Students will learn to recognize different risk factors in patients, recognize anesthetic emergencies, and to take corrective pre-emptive action. Assessing pain and pain management options will be covered.
Prerequisite(s): ANIM 108 + MATH 150
The course considers general aspects of pharmacology, including mechanism of absorption, distribution, metabolism, excretion and actions of drugs. It also covers in more detail specific groups of drugs that are important in veterinary medicine, such as antimicrobials and anti-parasitics. Applying basic mathematics, students will be able to perform various calculations commonly needed for dosage and dispensing medications. Veterinary pharmacy management is also addressed, including legislation affecting the storage and dispensing of pharmaceuticals in order to help ensure that a veterinary practice meets its legal responsibilities.
Prerequisite(s): ANIM 108 + MATH 150
This course familiarizes students with the nutritional needs of dogs, cats, laboratory animals and livestock. While the major focus of the course is on feeding the healthy dog and cat, the dietary needs of dogs, cats and livestock with specific organ disease are also covered. Students are introduced to common toxicities and deficiencies encountered in veterinary medicine.
Prerequisite(s): ANIM 102
This lecture/laboratory course trains the student to apply microbiological knowledge and manipulative skills to the isolation, sensitivity testing and identification of significant veterinary pathogens, and their differentiation from the normal microbiota found in a variety of samples.
Prerequisite(s): BIOL 153
This is a lecture/laboratory course in which students gain proficiency in lab animal handling, anaesthesia and surgical techniques. The anaesthesia component of the course is supported by a weekly lecture that covers: specific agents, monitoring, analgesia, stages of anaesthesia, common emergencies, principles of wound healing and suturing. The labs in this course allow students to develop competence in handling and restraint of mice, accepted injection techniques and sites, blood sampling techniques, as well as euthanasia methods. Lab animal surgical skills are developed in labs using the rat as the model. These skills include: anaesthesia, surgical incision, suturing, arterial and venous cannulations, castrations and ovariectomy, nephrectomy, and tracheotomy following accepted procedures. The aim of this course is to develop practical principles at the same time as technical competence.
Prerequisite(s): ANIM 1000, ANIM 2601
This is the first of a two part lecture-laboratory course designed to introduce surgical nursing concepts for the veterinary technician and practice anesthesia of the small animal patient in a hospital setting. In Surgical Nursing 1 students will be learn the different roles they may play in the hospital setting. The focus will then switch to the surgical patient and students will learn and practice all steps associated with the surgical patient from pre-operative care, preparation and admitting, to intra-operative care and monitoring to post-operative and pain management of the patient. The students will learn to use and maintain equipment used for monitoring, as well as the name and use of surgical instruments in addition to the cleaning, packing and sterilization of these instruments. In applying this broad knowledge base, students will be able to apply and expand upon theory and techniques learned in previous courses.
Prerequisite(s): ANIM 206 + ANIM 2500 + ANIM 2601 + ANIM 2700
This course will be a continuation of ANIM 2500, with an emphasis on abnormal hematology and clinical chemistries. Students will cover theory of blood transfusions, blood cell lines, and pathogenesis of abnormal blood cells as well as investigation of abnormal urinalysis. Cytology of tissues and fluid samples will be introduced.
Prerequisite(s): ANIM 2500
Students will review anesthetic techniques and protocols, with an emphasis on small animals. Students will learn advanced monitoring of the anesthetized patient and be able to apply anesthetic protocols and monitoring techniques in ANIM 301. Students will also learn the theory of CPR, which they will practice in ANIM 3000. Students will learn nursing techniques as they relate to emergency and critical care patients, including triage, nursing the intensive care patient and will delve into a variety of more common veterinary emergencies which require special nursing techniques. The student will become familiar in recognizing critical patients, the monitoring and nursing care needed to stabilize those patients and any special equipment needed to care for these patients.
Prerequisite(s): ANIM 2601 + ANIM 2700
This course introduces the application of statistical methods in collecting, tabulating, analyzing, presenting and interpreting date to students in Veterinary Technology programs. The course includes the use of descriptive statistical methods to summarize the present data, the application of inferential statistical processes to make decisions about populations from sample date, and the use of correlational techniques to determine if multiple variables are related.
Prerequisite(s): MATH 150 + COMP 75
The course familiarizes students with important aspects of equine and food animal care. Areas of study include: basic husbandry, breed identification, terminology, physical examination, vaccination, parasite recognition and control, reproduction, neonatal care, and common diseases. While the primary focus is on equine and traditional food animals, such as bovine, swine, poultry and small ruminants, brief consideration is given to the husbandry and care of non-traditional livestock, such as camelids (llamas), cervids (deer), and ratites (emu).
Pre-requisite: ANIM 206
In this laboratory and lecture course, students work in a simulated companion animal veterinary clinic. Students learn practical skills used in the nursing care of small animals. The laboratory is designed to give the student a hands-on approach to these techniques. A large portion of this lab and lecture course will concentrate on the practical application of radiographic principles in taking diagnostic-quality images and the processing of radiographic film.
This is the follow up course to Surgical Nursing 1 (ANIM 202). Students continue to practice all aspects of hospital care of the surgical patients. Students will rotate though different duties to practice all aspects of caring from pre-operative care, to patient selection, anesthesia of the surgical patient, surgical assisting and post-operative care.
Prerequisite(s): ANIM202, ANIM205, ANIM2501
A laboratory and lecture course designed to simulate a work situation in a small animal clinic, with an emphasis on small animal dentistry and dental radiology. The laboratory is designed to give the student a "hands-on" approach to the techniques used in veterinary dental prophylaxis, working on models and recovery patients.
Prerequisite(s): ANIM 205, ANIM 202
This lecture/laboratory course provides an introduction to advanced handling and manipulation techniques of laboratory animals. Content includes specialized housing of immunodeficient rodents, transgenic animal production, biohazard containment and hands-on experience with modern bleeding techniques in rodents and rabbits, in addition to embryo transfer and advanced surgical procedures in rodents.
Prerequisite(s): ANIM 200, ANIM 202
This is a laboratory-lecture integrated course where participants will learn and apply the theory and techniques associated with the isolation, purification, quantification, manipulation and characterization of nucleic acids. Topics include extraction of genomic DNA, restriction endonuclease digestions, polymerase chain reaction (PCR), genotyping, molecular diagnostics, nucleic acid blotting assays, protein isolation and characterization, immunoblotting, ELISA and bioinformatics. GLP (Good Laboratory Practices) will be an underlying theme throughout the course and will be evaluated via laboratory notebooks, scientific reports and practical examinations designed to assess effective laboratory skills.
Prerequisite(s): ANIM 1000
This course will introduce the student to the fundamental abilities of the immune system by expanding on previous biological concepts. The theory will be used to support the understanding of immunological assays used in clinical and research settings. Clinically-significant disorders of the immune system of animals and their diagnosis will be discussed.
Prerequisite(s): MICR 212
This course covers broad topics related to animal disease, such as epidemiology, silent infection, hereditary diseases, zoonoses, and reportable diseases. Students also learn how information obtained from history examination and clinical testing is integrated int he diagnostic process. In distinguishing between the various origins of disease, students gain an understanding of disease and control and the importance of measures such as husbandry, genetic counselling, testing and vaccination to contain disease. There is a brief overview of the diseases seen most commonly in lab zoo populations and wildlife. A portion of this course is dedicated to wildlife rehabilitation.
This laboratory course will provide the student with the theory behind and will allow the student to perform routine fixation, decalcification, processing, embedding, cutting and staining of paraffin wax processed tissue.
Prerequisite(s): ANIM 2501, ANIM 200
This course is designed to prepare you for your work placement next semester. You will be guided through the process of preparing the paperwork necessary for submission to your chosen placement site. Placement options and opportunities will be discussed. The components of a good resume and cover letter as well as interviewing skills and professional deportment will all be reviewed.
Prerequisite(s): Successful completion of all prior courses and labs.
This course introduces students to necropsy techniques suitable for dogs, cats and the smaller laboratory animal species. The emphasis is on accurate observations and recording, as well as on the ability to distinguish between normal and abnormal. Interpretation of observations is not required as this necessitates experience and a knowledge acquired in the field. A common sense approach to prosection, sampling and labelling samples is the ultimate goal. Students are also required to demonstrate good sanitation and disinfection procedures, as well as appropriate disposal of biohazardous material.
Prerequisite(s): ANIM 102, ANIM 2501
This course provides each student with experience in a veterinary practice and a research facility. All students will complete eight (8) weeks of work experience during semester 6. Students will be evaluated by on-site supervisors and must receive satisfactory evaluations in order to meet the requirements of this course. In addition, students must complete daily logs of their activities while on placement and submit these to the Work Experience Coordinator at the college.
Prerequisite(s): All Semester 5 courses in VT Program.
Requirements
Admission Requirements
Ontario Secondary School Diploma (OSSD) with the majority of Grade 11 and 12 courses at the C, U or M level including the following prerequisites:
Grade 12 English at the C or U level
Grade 12 Math at the C or U level; MCT4 recommended
Grade 12 Chemistry at the C or U level (or SCH3U)
Grade 11 or 12 Biology at the C or U level
For OSSD equivalency options, see Admission Requirements.
If you are missing prerequisite courses, enroll in the Career/College Prep program - free for Ontario residents who are 19 years or older.
This is a HIGHLY COMPETITIVE program. To be included in the competitive ranking, applications must be complete including all transcripts and proof of enrollment by February 1. Meeting minimum entrance requirements does not guarantee admissions to the program. Please see the Highly Competitive Program Chart for more details.
Health Requirements
Immunization - Communicable Disease Requirements
Completion of the Immunization - Communicable Disease Form is mandatory for your clinical/practical placement. THIS FORM AND RELATED IMMUNIZATIONS ARE YOUR RESPONSIBILITY. Note that immunizations take time and planning, so please review immunization and placement timelines and plan accordingly.
Download your Immunization - Communicable Disease Form
Questions regarding the completion of this form can be submitted to Immunizations@sl.on.ca
Important:
The SLC Campus Health Centre is available to administer the rabies vaccine for all students in SLC Veterinary programs. Please contact the Kingston Campus Health Centre to book your appointments, or for more information on scheduled rabies vaccine clinics for your program.
Kingston Campus Health Centre
Phone: 613-544-5400 ext. 5521
Email: HealthCentreK@sl.on.ca
Room 01220
As a Full-time SLC student, you are automatically enrolled in a student insurance plan. To learn more about how this applies to your immunization requirements please visit www.wespeakstudent.com (domestic) or www.guard.me (international).
Placement
Students spend the entire final semester on placement. The 14 weeks are divided into three separate placements. A 5 week clinical rotation, a 5 week laboratory rotation and a 4 week alternate rotation.
Faculty must approve
Student Placement Facilitator (SPF) Support
Confirmation of Placement
Immunizations
Complete SLC placement requirements
6 Training Modules
Student Declaration/Oath of Confidentiality
Student Covid 19 Waiver
Questions: placements@sl.on.ca
Website: www.placementatslc.ca
Fees
2023-2024
Tuition
Program Fees
Ancillary Fees
Total
CAD
Tuition
Program Fees
Ancillary Fees
Total
Fees are estimates only. Tuition is based on two semesters.
Kingston
Our Kingston campus has seen significant renovation over the past few years, including a brand new Student Life and Innovation Centre that houses a new gymnasium, fitness centre, pub, and more.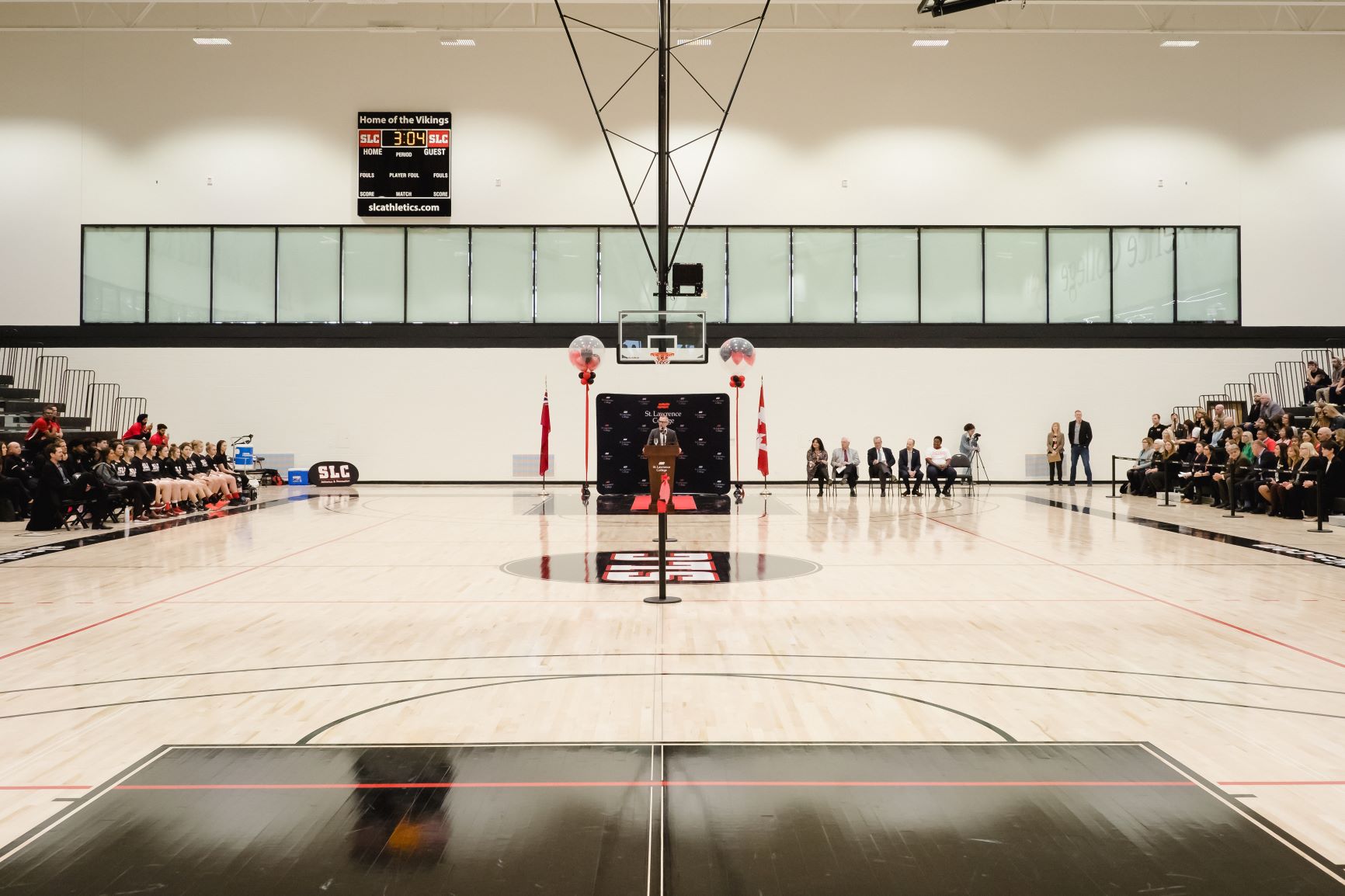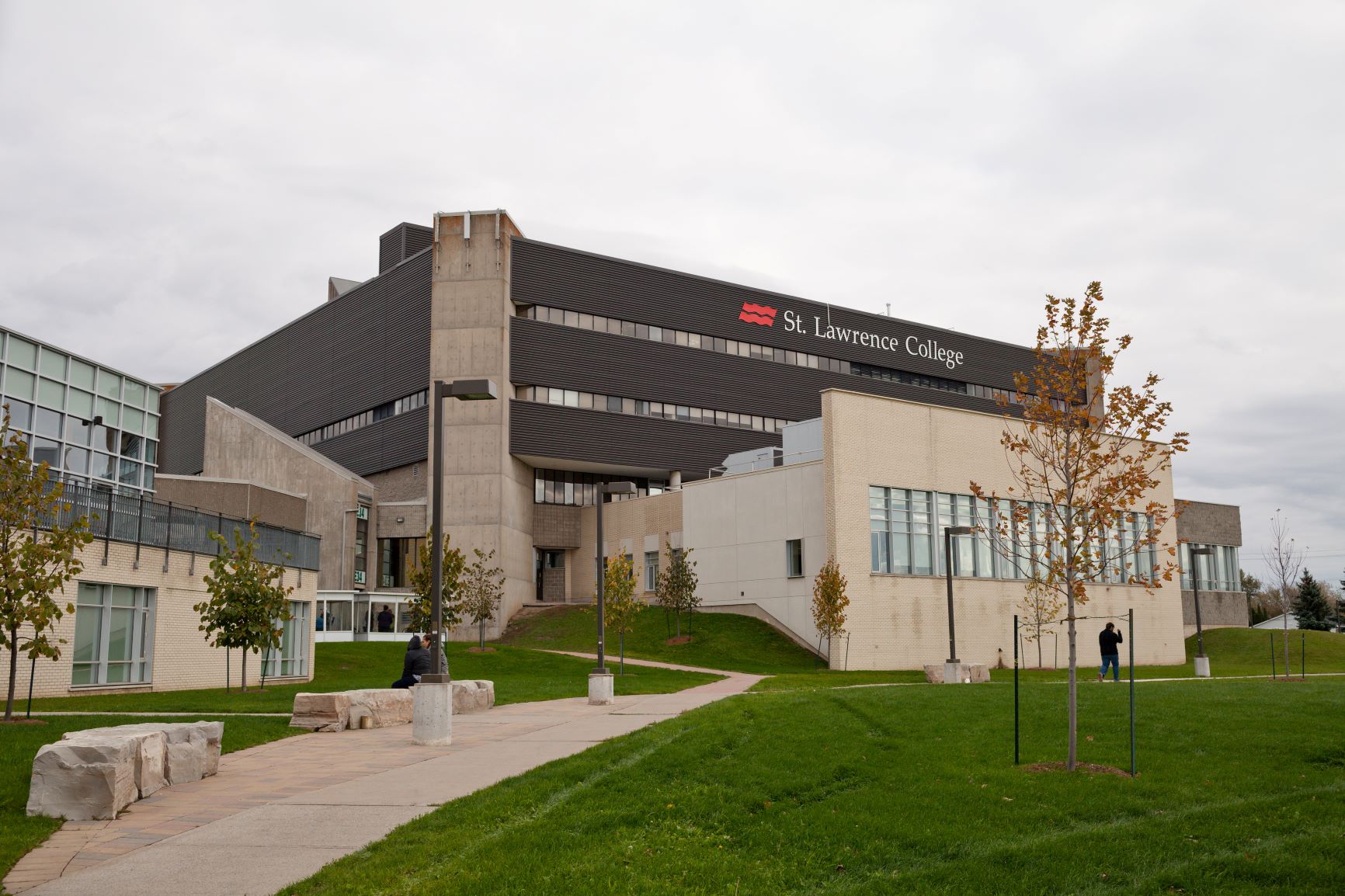 Kingston Campus
Career Opportunities
While most graduates find employment in veterinary hospitals and research labs; many have chosen careers in pharmaceutical and pet-food sales, animal shelters, zoos and wildlife research stations. Many have found employment in animal care services at universities across the country or work alongside some of Canada's leading biomedical researchers. Others have found employment at veterinary colleges or have created their own businesses.
Testimonials
"I really enjoyed my time at SLC. I met amazing people—teachers as well as students. The program exceeded my expectations and prepared me for a career in veterinary medicine. I would absolutely recommend this program!"
"Very effective Veterinary Technology program with particular specialization in laboratory animal medicine that absolutely started my career on the right path that no other two-year program in Ontario would have offered."
"I chose St. Lawrence College's Veterinary Technology program because of its reputation within the vet community. The faculty demonstrates real passion for the field and caring for each student. At St. Lawrence College you are not a number, you are a person with success in your future."
"The Veterinary Technology program at SLC was and still is one of the best in the country. I'm proud to say I was there in the program's earliest days."