Overview
This is a one-year hands-on program focus­ing on the skills required to work in careers involving animal care. Students spend a large portion of their time working with animals. Students develop safe handling skills and learn how to perform physical examinations and treatments. The students operate the SLC "Scruffy Dog Salon" where they groom dogs under the supervision of experienced groomers. Lab time is also spent learning surgical sup­port techniques and basic clinical laboratory procedures which aid in the diagnosis and treatment of disease in domestic animals.
The program is structured around four areas:
Animal Diseases, Care and Restraint, and Grooming
Laboratory and Surgical Support Preparation and Maintenance
Front Office Management and Marketing
Support Studies
Students learn about animal health and disease, behaviour, handling and general care (involving cats, dogs, exotic pets, wildlife and livestock), dog grooming, and basic laboratory procedures. Students also study computer operations and office procedures, and they practice communication and mar­keting techniques.
The skills graduates bring to their place of employment will help to increase both the quality and scope of the services provided to animals and their owners.
Program Details
Credential
Ontario College Certificate
Program Outline
2023-2024
This course introduces the student to important aspects of a large animal veterinary practice. Areas of study include: basic husbandry, breed identification, terminology, physical examinations, vaccinations, parasite control, reproduction, and disease control.
This course introduces the basic care and husbandry of a variety of exotic animals sold as pets in Ontario and the basic skills of wildlife rehabilitation. For the wildlife portion of the course, lab exercises with wildlife specimens supplement the lectures. Students are introduced to such topics as: Ministry of Natural Resources rules and regulations; International Wildlife Rehabilitation Council standards of care and basic skills; Rabies Vector Species (RVS) such as raccoons, foxes, bats, skunks, coyotes; and specific requirements for native Ontario wildlife species that are commonly presented to a wildlife rehabilitation centre, shelters or veterinary clinics.
This course introduces students to fundamental computer applications relevant to the veterinary environment. The use of medical data management software is an essential skill for veterinary professionals. Students become familiar with current veterinary specific software. Key skills acquired include scheduling and booking appointments, client file setup, updating medical records, estimate and invoice generation and completion of transactions.
In this course, you will learn the medical terminology used in the veterinary setting. This course will include such topics as: understanding the meaning of common suffixes and prefixes, and correct usage of common medical abbreviations and symbols. You will learn how to translate the veterinary medical language into English and English into the veterinary medical language.
This course will introduce you to basic grooming theory and bathing, including the selection of appropriate shampoos and conditioners. You will learn to identify the features of the canine and feline breeds. You will also participate in demonstrations of basic grooming techniques on owned pet dogs.
This course will be divided into two separate units: Unit (a) Pet Health will be completed first, followed by Unit (b) Animal Behaviour.
Unit (a)
This portion of the course presents the nature of the work done in a small animal veterinary clinic. Topics focus on cats and dogs and include physical examination techniques, principles of preventive pet health care including vaccination protocols and parasite control, commonly encountered pet diseases including zoonoses, emergency and nursing care, and regulations governing veterinary practice. A basic introduction to anatomy and physiology is added as well, in order to enable you to understand the mechanisms involved in health and disease.
Unit (b)
The second portion of this course is an introduction to the basic principles of normal and abnormal canine and feline behaviour.
This is a laboratory course in the Veterinary Assistant Program. You will gain experience in humane handling, restraint and treatment of dogs and cats with an emphasis placed on the rules of sanitation and safety.
This course introduces you to the veterinary surgical suite environment and the principles of sanitation and disinfection. You will learn to recognize and prepare common surgical instruments, surgical packs and suture materials. Other subjects in this course will include patient care and recovery, first aid, record-keeping, and care and maintenance of the microscope. You will also have an opportunity to provide general husbandry to the cats and dogs being boarded at the SLC clinic.
This course starts with a review of basic mathematical skills, e.g. fractions, percent, scientific notation, metric system, which are then applied to problem solving appropriate to the Veterinary Assistant student. Topics also include: drug dosages, dilutions, nutrition calculations (daily and maintenance energy requirements), percent applications, and introductory statistics.
This course is divided into two units:
a) The first unit in this course is designed to help you understand the ethical considerations involved in working with animals in various settings. You will gain an understanding of how professional and veterinary ethics have evolved, and how the workplace has adapted to these changes.
b) The second unit focuses on preparing you for the job market. You will be made aware of the skills necessary to secure your work placements and a career of your choice.
In this course, you will explore and develop the skills needed to provide front office support in a veterinary clinic environment. You will be introduced to the theory and practical techniques related to office functions such as: customer service, reception, appointment scheduling, billing procedures, inventory control, record management, and marketing. Veterinary computer software will be used for office procedures and medical record-keeping. You will learn effective writing and verbal communication skills required in the office environment. You will also learn about the elements of starting your own business. Throughout the semester, you will work in teams to prepare a fundraising campaign in support of a non-profit, animal-related organization.
Prerequisite(s): ANIM 43
This course will introduce you to the principles of basic obedience training of dogs. You will learn about the calls and signals used when training dogs. The effects on training of breed type, environmental stressors, K9 body language are explored as they relate to successful dog training.
This course is a thirty hour lecture series introducing you to various aspects of the Ontario Society for the Prevention of Cruelty to Animals Act and the Criminal Code of Canada. Topics include but are not limited to the history of the OSPCA, Activism vs. Welfare, Codes of Practice, recognition of distress in animals, hoarding, and the correlation between animal abuse and violence to people. A segment on animal shelter practice management will also be included.
This course will introduce you to the rules and regulations involved in the care ofexperimental animals. Information on animal housing and husbandry practices willbe presented to you.The lab component of the course will provide you with the opportunity to practicethe general handling techniques required to safely and humanely restrainlaboratory rats, mice and rabbits.Colony duty requires you to complete a rotation performing husbandry tasks withthe in-house lab animals.
This course is delivered in a one hour lab and one hour pre-lab lecture format. You will become acquainted with the common laboratory specimens used for diagnosis and you will learn how to safely handle and dispose of these specimens. Some basic laboratory techniques will also be practised. Emphasis will be placed on laboratory maintenance practices. Other topics to be covered include: the concepts of microbial agents of disease; transmission of disease; physical and chemical control; cleaning, disinfection, antisepsis and sterilization techniques; quarantine practices; and biohazard management in animal facilities.
As a student in this course, you will be a team member of the Scruffy Dog Salon, a working lab that services privately owned animals. You will learn the proper techniques used for bathing , brushing and combing out dogs. You will also become familiar with the scissoring techniques to be used on the various breeds of dogs.
Prerequisite(s): ANIM 119 + ANIM 24
This course is a continuation of ANIM 41. You will continue developing your restraint techniques and performing health check-ups and treatments during the labs at the Kingston Humane Society. The material learned in the previous semester's labs will be reviewed and reinforced while new topics will be introduced. These include: cleaning and treatments of the eye and ear, radiographic identification and processing, and familiarization with commonly used veterinary drugs.
Prerequisite(s): ANIM 41 + ANIM 119
This course covers the basic concepts of nutrition and provides students with sufficient understanding to advise clients on the nutritional needs of small animals at various life stages. Students learn how to assess the quality of a diet.
PRE-REQUISITES: MATH 121.
This course is a thirty hour lecture series introducing you to various aspects of small animal medicine. Topics include pharmacology, parasitology, radiology, and dental health.
Prerequisite(s): ANIM 119
This course is designed to prepare you for your work placement next semester. You will be guided through the process of preparing the paperwork necessary for submission to your chosen placement site. Placement options and opportunities will be discussed. The components of a good resume and cover letter as well as interviewing skills and professional deportment will all be reviewed.
Prerequisite(s): Successful completion of all prior courses and labs.
All students are required to complete 120 hours of work experience. You will be evaluated by on-site supervisors and must receive satisfactory evaluations in order to meet the requirements of this course. You are responsible for setting up your own work experience with the help and approval of the program coordinator. You are expected to absorb all costs related to the work experience.
Requirements
Admission Requirements
Ontario Secondary School Diploma (OSSD) with the majority of Grade 11 and 12 courses at the C, U or M level including the following prerequisites:
Grade 12 English at the C or M level
Grade 11 Math at the C, U or M level
For OSSD equivalency options, see Admission Requirements.
If you are missing prerequisite courses, enroll in the Career/College Prep program - free for Ontario residents who are 19 years or older.
Health Requirements
Immunization - Communicable Disease Requirements
Completion of the Immunization - Communicable Disease Form is mandatory for your clinical/practical placement. THIS FORM AND RELATED IMMUNIZATIONS ARE YOUR RESPONSIBILITY. Note that immunizations take time and planning, so please review immunization and placement timelines and plan accordingly.
Download your Immunization - Communicable Disease Form
Questions regarding the completion of this form can be submitted to Immunizations@sl.on.ca
Important:
The SLC Campus Health Centre is available to administer the rabies vaccine for all students in SLC Veterinary programs. Please contact the Kingston Campus Health Centre to book your appointments, or for more information on scheduled rabies vaccine clinics for your program.
Kingston Campus Health Centre
Phone: 613-544-5400 ext. 5521
Email: HealthCentreK@sl.on.ca
Room 01220
As a Full-time SLC student, you are automatically enrolled in a student insurance plan. To learn more about how this applies to your immunization requirements please visit www.wespeakstudent.com (domestic) or www.guard.me (international).
Other Requirements
At least 2 pair of scrubs, any colour or pattern, but pants must be full length.
One pair of safety glasses/goggles with a side wall feature.
Indoor lab-appropriate footwear…foot enclosed, no heel, non-skid sole
Some early morning and late afternoon kennel work may be required for some of the course requirements.
Students will be required to organize their own travel to sites off-campus, such as the Kingston Humane Society.
Travel time will be built into the student schedule.
Kingston Transit has routes which travel to Kingston Humane Society and routes that stop at the Kingston Campus. A bus transfer may be required. More information on student bus passes and information on how to purchase them can be found at: https://saslc.ca/transit-1
Placement
Student finds placement
Faculty must approve
Student Placement Facilitator (SPF) Support
Confirmation of Placement
Immunizations
Complete SLC placement requirements
6 Training Modules
Student Declaration/Oath of Confidentiality
Student Covid 19 Waiver
Questions: placements@sl.on.ca
website: www.placementatslc.ca/
Fees
2023-2024
Tuition
Program Fees
Ancillary Fees
Total
CAD
Tuition
Program Fees
Ancillary Fees
Total
Fees are estimates only. Tuition is based on two semesters.
Tuition
Program Fees
Ancillary Fees
Total
CAD
Tuition
Program Fees
Ancillary Fees
Total
Kingston
Our Kingston campus has seen significant renovation over the past few years, including a brand new Student Life and Innovation Centre that houses a new gymnasium, fitness centre, pub, and more.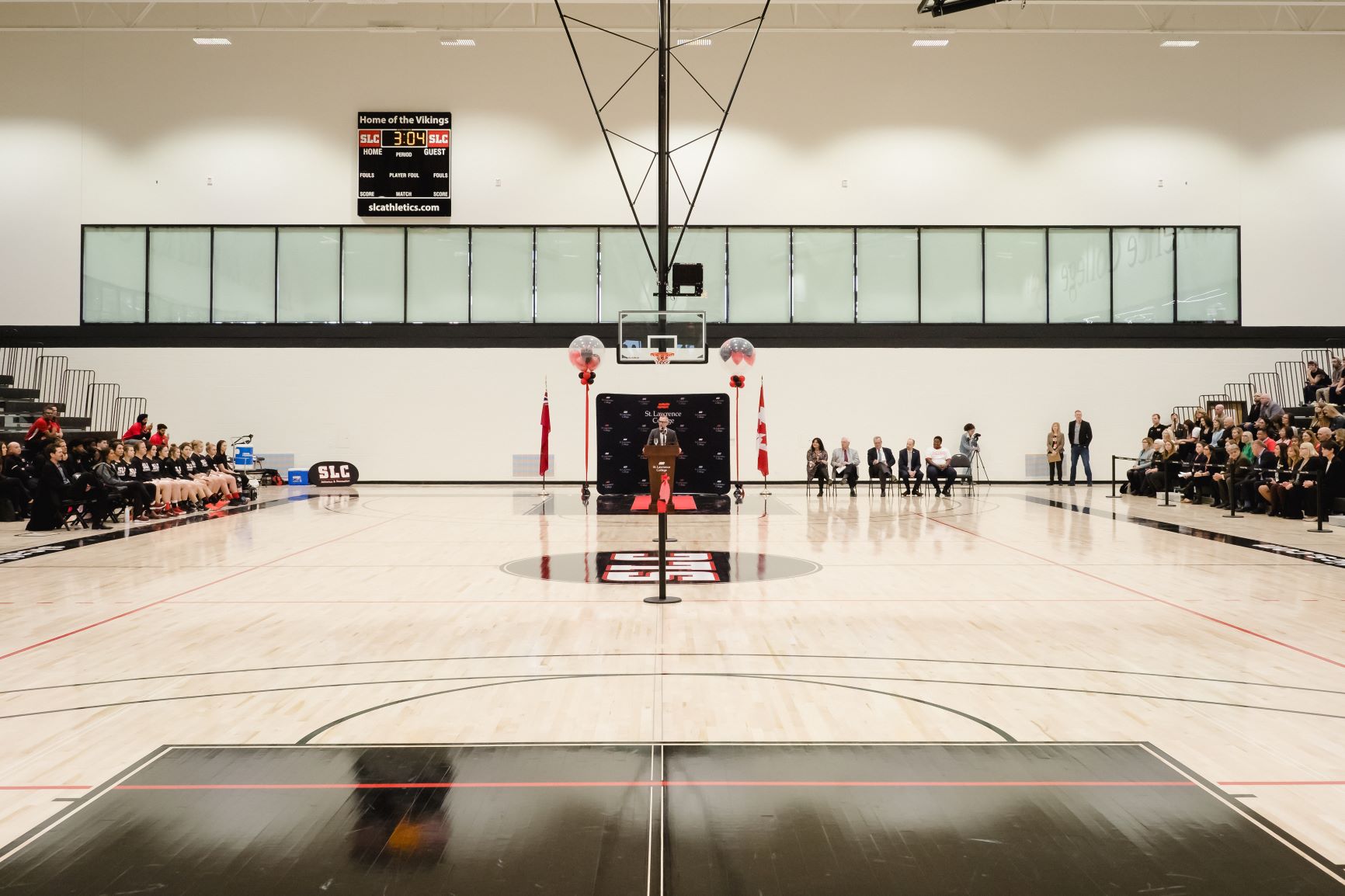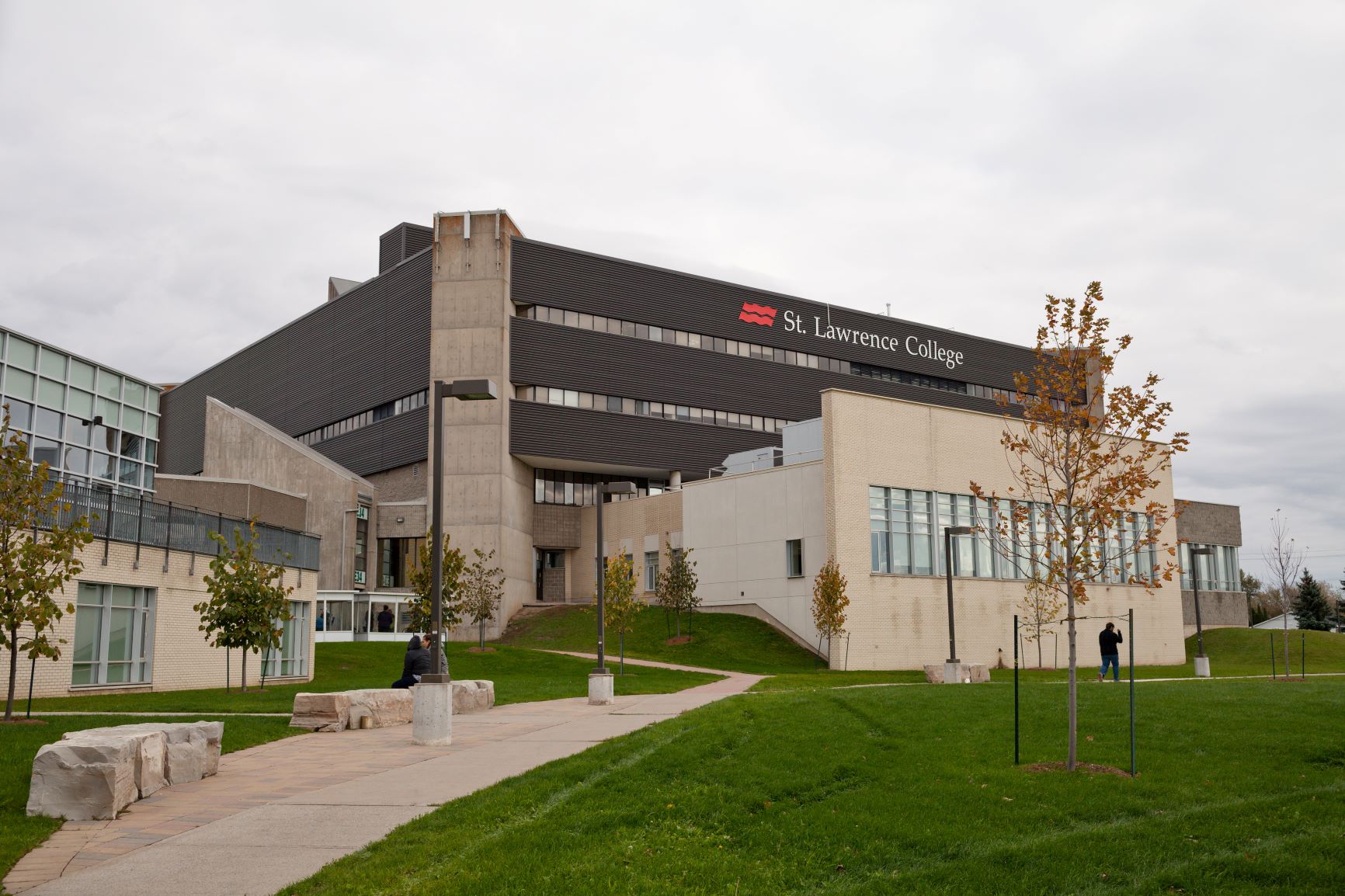 Kingston Campus
Career Opportunities
Veterinary Assistants are employed in a variety of animal care environments; these include veterinary clinics, animal shelters which may lead to a career in animal cruelty investigations, pet stores, research colonies, grooming salons, and wildlife facilities. Some Veterinary Assistant graduates choose to open their own businesses such as boarding kennels, dog daycares or pet sitting services.
St. Lawrence College Veterinary Assistants are an asset to any organization that require staff with strong work ethic, education and hands-on training.
Joan Tremblay, Veterinary Technician, Facility Manager, Queen's University, Kingston
Testimonials
"I want to thank you, and all the other profs at the program. I beat out 3 other students and countless other applicants for the job. Your program threw me ahead of the pack with the amount of technical knowledge and the work ethic you guys instilled in us. I loved our program and will be recommending it to anyone interested in the field."
Program Contacts