Overview
Build on the degree you have already received by taking a focused law enforcement diploma program in eight months. You'll benefit by learning employability skills that will help prepare you for a career. Through various courses, you'll have an opportunity to participate in volunteer and field related activities.
Employment opportunities for qualified candidates will be significant. All law enforcement agencies are experiencing a continuing need for recruitment as attrition due to retirement continues to occur.
Program Outline
2023-2024
This course provides an introduction to the democratic system of governing in Canada along with an overview of organizational theories as they pertain to delivering publicly funded services. The course examines the organization of our government, federal, provincial, and municipal, and examines the main function of each. Students explore and analyze the political processes in Canada along with contemporary issues affecting our political system and the organizational administration workings.
This course focuses on the theories and models of community mobilization and engagement and the role of the community in reducing and preventing crime using proactive crime prevention strategies. Students learn how police use mobilization and engagement with communities to promote the safety, security, and well-being of its citizens. Through this course, students demonstrate their understanding of community mobilization and engagement by applying basic proactive crime prevention strategies.
This course provides the student with an in-depth analysis of offences within the Criminal Code of Canada. The student locates and analyzes selected offences against the person, property and public order. Case law relating to these offences is examined by applying the fundamental principles of criminal law. The student identifies and applies potential defences to these criminal offences found in the Criminal Code of Canada.
This course examines a number of pertinent areas of policing and police powers including sections of the Charter of Rights and Freedoms that impact Canadian criminal procedures, citizen and police powers of arrest, release authorities, and police discretion. Through a variety of teaching strategies including practical scenarios, students have the opportunity to examine the procedures involved in arrest, release, and use of discretion.
This course focuses on interviewing and investigation principles and procedures. Students learn to recognize and develop the observational and communication skills needed to conduct a basic interview with victims, witnesses, suspects and the accused. Students study problem solving methods, various interviewing techniques, and learn the basic investigative sequence that is applicable to any investigation.
Prerequisite(s): COMM204
Based on the skills and knowledge gained in Lifestyle Management 1 and 2, this course centers on the practical application of physical occupational requirements. Students apply the fitness concepts both learned and experienced to develop and improve the physical components of fitness related to the occupational field of law enforcement. Students are exposed to a variety of physical evaluations used in law enforcement including the PREP and PARE. In addition, students develop a better understanding of stress and its influence on officer performance and mental health. Through practical applications, theory, and self-evaluation, students identify the physiological response of the human body to stress and the impact it has on fitness, job performance, decision-making, and individual wellness.
This course introduces students to an overview of the nature of mental illness and mental health. In addition to examining various types of mental illness, students evaluate current issues in the mental health field and identify the role of law enforcement in assisting with mental health problems.
This course is designed to develop the ability of the participant to intervene in conflict and crisis situations with competence and confidence. The conflict situation is examined from its inception through intervention by police. Various problem-solving skills and non-violent intervention techniques are discussed along with intervention strategies directed toward specific incidents. The student is taught to recognize behaviour patterns that may lead to violent encounters and the appropriate legal responses to these encounters. These responses emphasize officer safety through awareness and preparation.
This course enables the student to explain and analyze the philosophical, contemporary, and historical perspectives of young people in conflict with the law in Canada. The Youth Criminal Justice Act, the Child and Family Services Act, and other relevant legislation are examined from the perspective of both the young person and the involved agencies.
This course allows learners to acquire the knowledge and skills necessary to locate, interpret, and analyze provincial legislation. Students have the opportunity to practice enforcement procedures in relation to a variety of provincial offences. The course emphasizes the importance of working collaboratively with other provincial and municipal agencies when enforcing provincial statutes.
This course provides the student with an in-depth analysis of offences within the Criminal Code of Canada and other relevant federal statutes. Case law relating to these offences is examined by applying the fundamental principles of criminal law. The student identifies and applies potential defences to these criminal offences found in the Criminal Code of Canada and other relevant federal statutes. The student examines the role of law enforcement in the investigation and prosecution of selected criminal and federal offences.
Prerequisite(s): POFP302
This course is a continuance of Police Powers 1. It focuses on police powers of search and seizure, police governance, accountability, management and labour issues, law and legal issues related to the use of force, and officer safety.
Prerequisite(s): POFP303
This course focuses on the procedures for collecting and presenting evidence in a court of law. Students acquire the skills and knowledge required to conduct a preliminary analysis of a crime scene. Students learn how to properly identify, collect, document, and preserve evidence so that it may be used as part of a police investigation and may be presented as admissible evidence in the court of law. Students learn court procedures related to evidence.
Prerequisite(s): POFP304
This course exposes learners to federal and provincial traffic law and provides them with an understanding of policy and procedures relating to other traffic-related matters including traffic stops, accident scene management, the direction of traffic, policy relating to suspect apprehension pursuits, and police powers of search, seizure, and arrest as they apply to traffic situations. In addition, learners apply acquired knowledge by investigating and reporting on traffic-related incidents.
This course is designed as a continuation of the need for a lifelong commitment to fitness to enhance the opportunity to achieve success in the physical occupational requirements in law enforcement. Students have the opportunity to apply previous experiences and knowledge to further develop the physical literacy required in law enforcement occupations. Students also continue to build on their understanding of the human body's response to stress by examining methods that would minimize its negative effects. Through practical scenarios, theory, and self-reflection, the student develops techniques and strategies to build resiliency to stress for improved performance, mental health, and overall wellness.
Prerequisite(s): POFP308
This course focuses on helping students assess potential career choices available to them upon graduation in relation to their personal skills and abilities. Students learn the importance of establishing a professional image, as well as how to prepare a cover letter, resume, and develop references. Students are introduced to a variety of law enforcement entry exams and have an opportunity to complete practice tests. Students prepare for employment opportunities by implementing strategies and practicing assessment methods used by employers.
Requirements
Admission Requirements
Bachelor's Degree in Criminal Justice, Criminology, Psychology (Social Science), or Sociology.
Other Requirements
The program will prepare graduates to successfully complete the PREP (Physical Readiness Evaluation for Police) test, a standardized entry requirement for all provincial and municipal Police Services.
Applicants are expected to have the physical and mental health needed to:
a) successfully cope with the program of instruction
b) meet the public health requirements of any law enforcement or volunteer agency to which they might apply.
It is highly recommended that applicants check the Essential Hiring Requirements of the police service to which they have an interest in employment. In addition, a vision and hearing test is strongly suggested. This information is required to assist applicants to understand the requirements of the employer and how their results compare with these requirements.
In order to be considered for employment by a police service an individual who has been criminally convicted under a federal statute (other than the Youth Criminal Justice Act or the Y.O.A.) must obtain a pardon prior to submitting an application. There may be a fee for the criminal history check.
Please Note: To participate in learning activities with policing agencies, a criminal background check will be required. If you have come in conflict with the law by con­travening a federal statute(s) you may not meet the security clearance(s). Meeting the behavioural standard will be the responsibil­ity of the student.
Fees
2023-2024
Tuition
Program Fees
Ancillary Fees
Total
CAD
Tuition
Program Fees
Ancillary Fees
Total
Fees are estimates only. Tuition is based on two semesters.
Kingston
Our Kingston campus has seen significant renovation over the past few years, including a brand new Student Life and Innovation Centre that houses a new gymnasium, fitness centre, pub, and more.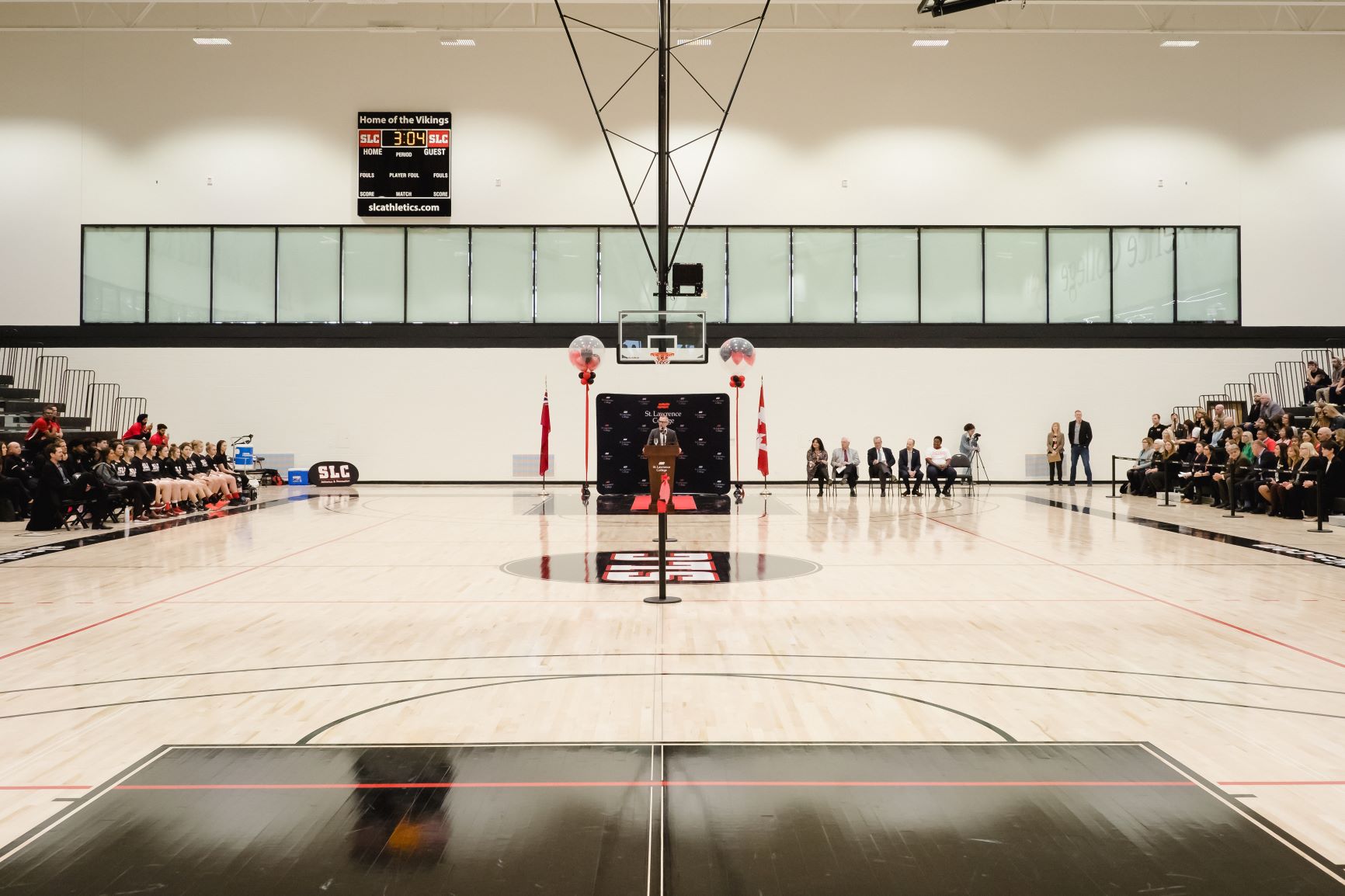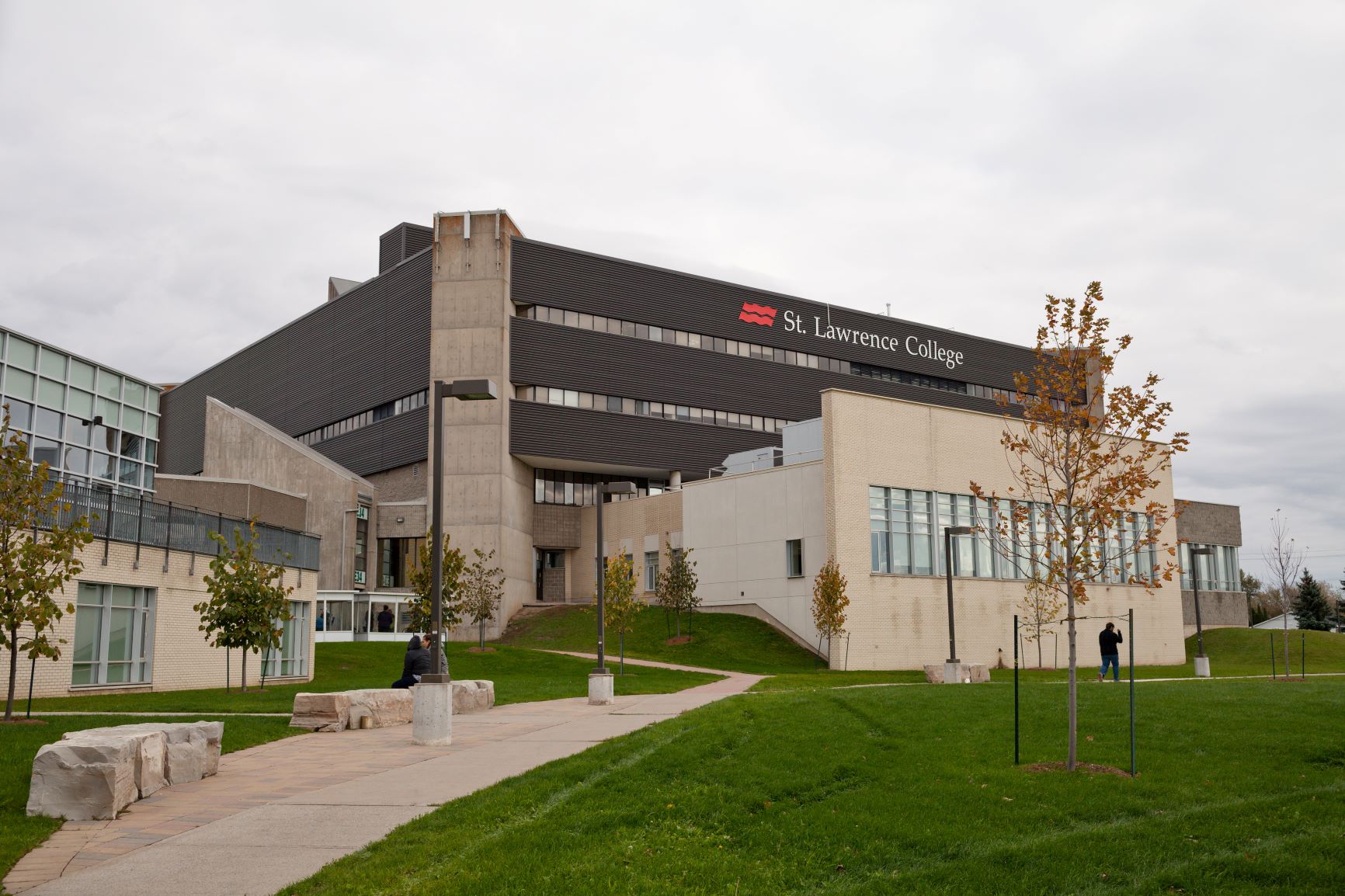 Kingston Campus
Career Opportunities
The Police Foundations Program can assist you in developing and enhancing your knowl­edge, skills, and abilities for a career in polic­ing and law enforcement. The hiring trend for qualified police and law enforcement candidates is unprecedented in this decade. The policing and law enforcement commu­nity (Federal, Provincial and Municipal) and Canadian Border Services have identified a substantial need to hire officers for the next three to five years. The Police Foundations Program provides an excellent base for ca­reers with Policing Services, Canada Border Services, Military Police, Ministry of Transpor­tation, Private/Corporate Security, and various correctional institutions.
Other Information
Programs at St. Lawrence College are delivered using a variety of instruction modes. Courses may be offered in the classroom or lab, entirely online, or in a hybrid mode which combines classroom sessions with online learning activities. Program delivery can be run weekdays, weekends or evenings. Upon registration, each full-time student is provided a St. Lawrence College email account which is used to communicate important information about program or course events.