Overview
Business is increasingly globalized and the cross-border nature of markets, clients, competition, and suppliers is the new reality. Whether you are a seasoned professional looking for a shift in perspective, an entrepreneur with international goals, or a recent college or university graduate looking to focus your career direction, IBM provides a solid foundation in business as an international pursuit. Graduates gain knowledge and expertise in intercultural communication and negotiation skills, international marketing, human resource management, logistics and supply chain management, international business law, finance, and ethics and sustainability.
Program Details
Start Date
May, January, September
Credential
Ontario College Graduate Certificate
Open for international students
Program Highlights
Experience Applied Learning through:

Small class sizes with committed business and teaching professionals
Case studies and simulations of real-world international business challenges and opportunities
Networking with business professionals, locally and internationally
Program Outline
2020-2021
The course content covers such topics as the development of marketing plans to achieve business targets and, the implementation and coordination of international marketing activities for products and services. Learners will be exposed to the principles of marketing functions and the distinctions between domestic and international marketing. They will also discuss such activities as adapting and/or developing products and services for the foreign market and the sales and marketing activities to be most successful in the target markets.
This course presents the basic legal principles of carrying on international business. It covers the legal implications of international business activities, discusses the legal aspects related to intellectual property, competition and antitrust laws, public trade law and legal issues related to e-commerce in international business. Most of the material in this course is presented with an international scope and does not solely approach the issues from a Canadian perspective.
The course content for this topic covers the context in which international trade takes place and the opportunities and challenges it represents for business. In addition, you will find a complete discussion ethical issues businesses face today. Topics such as a code of conduct for international trade professionals, human rights, ethical practices, diversity in the workplace and the environment, will be of particular interest. Cultural aspects of international business and the importance of e-commerce for facilitating international trade are also addressed in this course content.
This course will cover a comprehensive assessment of international market entry options for the export of products or services and optimal market entry strategies. The learner will be able to assess barriers to market entry, differentiate between market entry strategies, recommend potential international partners through consultations and analysis of strengths and weaknesses and negotiate partnership agreements.
This course provides the student with the technical skills to be effective in an integrated communications field. Students will learn the file management, development and security facilities in a digital landscape. This course provides instruction and practice in college and workplace communication skills, with an emphasis on the development of strategies to organize and express ideas in a clear, correct, mechanically sound, professional manner. Through a series of writing and presentation tasks, students will use email, memoranda, short reports, and presentations to create focused messages, with appropriately researched and documented facts, for a variety of audiences. Course work will also provide opportunities for the development of students' grammar skills, study skills, listening skills, and reading skills. Students will develop skills specific to international communications including appropriate technological tools to enhance the cross­ cultural business environment.
The learner will identify, develop and assess strategies for business development opportunities in the import and export of products and services in the global market.
The course content provides insight into global supply chain activities including production and inventory management processes and regulatory and security requirements. Other topics within the course material are: the key elements of a logistics plan and how it impacts the business plan, the advantages and disadvantages of various transport modes, the roles and value of outside service providers in a supply chain strategy, order processing, inventory management, the mitigation of barriers and other points of interest.
This course addresses financial methods and tools used to conduct international business transactions successfully. Risks such as commercial and country are discussed as are risk-mitigating techniques, their use and legal implications. Learners will acquire a broad overview of the nature and scope of trade finance—in particular, the 'Four Pillars' of trade finance, i.e., payment facilitation, risk management, financing and provision of information related to a transaction. The impact of technology on trade finance and the importance of export credit agencies and international financial institutions in international trade are other topics of interest within this course content.
This course builds on the foundations in the Global Business Environment through detailed exploration of international business ethics and strategic decision making. Learners will develop business strategies and plans that will address environmental, cultural and societal issues of operating in a foreign market. Emphasis will be placed on the use of Corporate Social Responsibility practices for long term business success.
Expansion of globalization requires Human Resource professionals to demonstrate understanding of the complexity of conducting HRM programs in international, cross-cultural and different legal and economic contexts. The course content covers such topics as examining organizational and employee perspectives on the design and delivery of international HRM programs. Learners will be exposed to the strategies for global recruitment and selection, cross-cultural adjustment and repatriation, performance management, and human resource challenges and associated risks.
This course explores the challenges faced by people engaged in international careers and culture. Being overseas can stimulate a life-long desire to experience other countries and cultures, understand employment in international fields, and develop job hunting skills and future careers. The course identifies the biggest challenge faced in global careers today is life and work imbalance, followed by limited language skills, networking, maintaining personal relationships, adaptability, underemployment, dealing with different cultural etiquette, protocols, ethical standards and legal practices. The course also examines values and value orientations in relation to current international career events by establishing a link between theoretical knowledge and applied skills to the international and the domestic multicultural, multi-ethnic business environment.
The need of qualified project manager is increasing who can accomplish the international projects with global participants successfully. In this course, you will learn implementation and evaluation of team projects by applying project management principles including cross-cultural communication skills; leadership, group dynamics, conflict resolution, negotiation techniques, different time zones and make recommendations to accomplish the project's goal and objectives. The course will cumulate in the completion of a comprehensive an international business and marketing plan with follow-up audit of a project - risks, logistics, and challenges to assess whether the goals are met.
Requirements
Admission Requirements
A two- or three-year college diploma or undergraduate university degree (Bachelor's) in any field of study is required.

Applicants must submit transcripts verifying previous academic qualifications and experience from recognized institutions. All documentation must be submitted in English. If the original documents are not issued in English, please provide official translated copies.

Applicants must be fluent enough in English to understand the instructors and technical language used during each course. An acceptable score on an English proficiency test is required to be considered for admission.


Popular tests to demonstrate proof of English proficiency:
TOEFL iBT – A minimum score of 83
IELTS Academic – A minimum score of 6.5 overall with minimum 6.0 in each section
CAEL – Overall score of 60
Duolingo – A minimum score of 115 is temporarily accepted for admission
The full list of tests acceptable as proof of English proficiency is available here.
Fees
2020-2021
Tuition
Program Fees
Ancillary Fees
Total
CAD
Tuition
Program Fees
Ancillary Fees
Total
Tuition fees are subject to change pending confirmation of provincial Ministry Funding rates for 2021-2022.
Tuition
Program Fees
Ancillary Fees
Total
CAD
Tuition
Program Fees
Ancillary Fees
Total
Tuition fees are subject to change pending confirmation of provincial Ministry Funding rates for 2021-2022.
Kingston
Our Kingston campus has seen significant renovation over the past few years, including a brand new Student Life and Innovation Centre that houses a new gymnasium, fitness centre, pub, and more.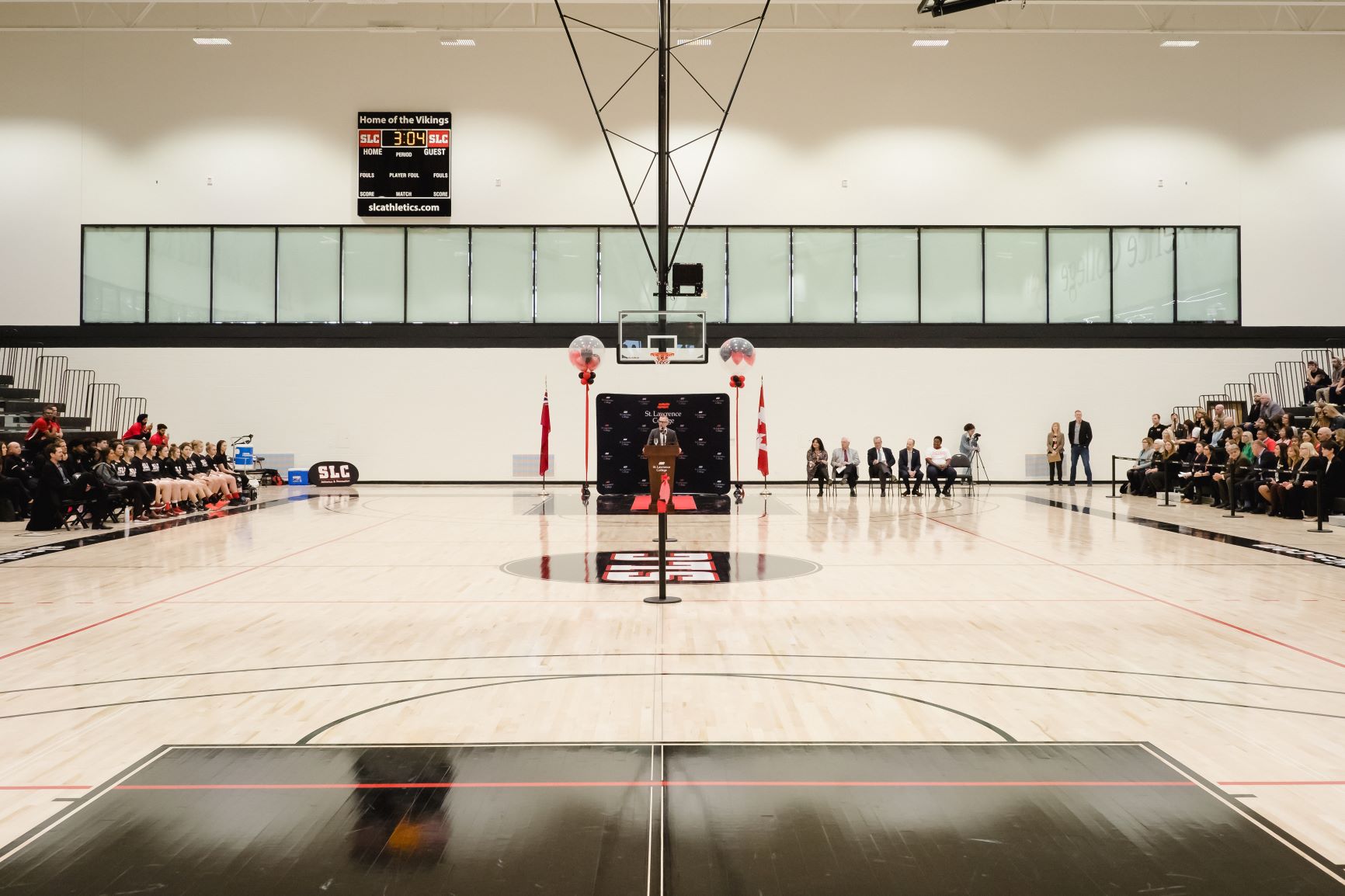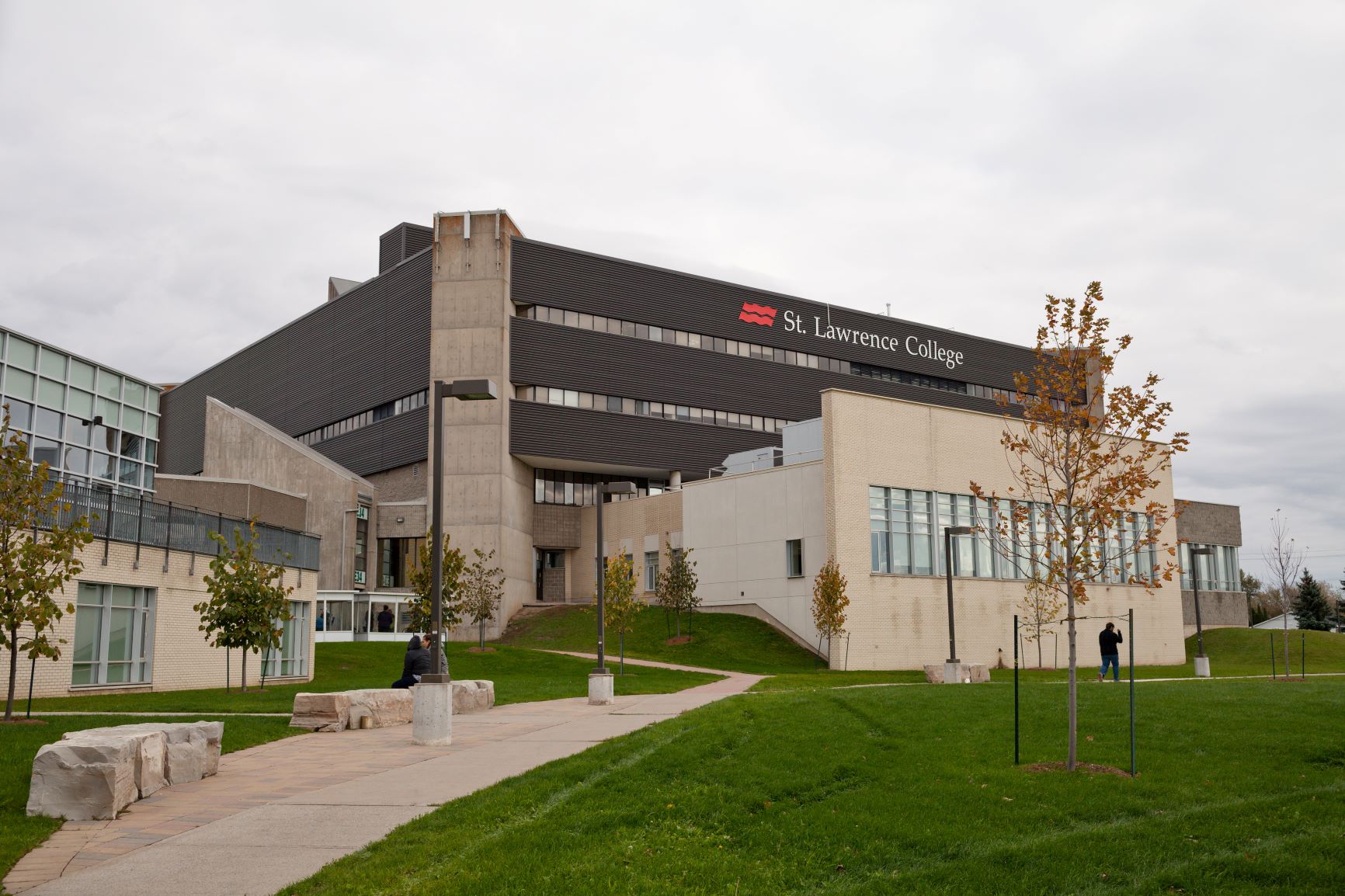 Kingston Campus
Career Opportunities
Graduates seek opportunities in a range of public and private sectors, locally and internationally, such as private businesses, manufacturers, transportation and trade, insurance, banking, start-ups, government departments and ministries, regulatory bodies, professional organizations, international agencies, and non-governmental agencies (NGOs). Careers include:
Sales Representative/Manager

Marketing Manager

Project Manager

Logistics and Operations Manager

Human Resources Manager

Import/Export Coordinator

Entrepreneur/Business Owner

Business Development Advisor

International Business Affairs Officer

Business Analyst

Customs Broker

International Account Representative/Manager