Overview
The Health Care Administration International Stream program is a business program that will provide health care practitioners with business and leadership fundamentals. The program is geared toward international students who have previous education and work experience in health care who wish to develop their managerial and leadership skills.
Program Details
Start Date
May, January, September
Credential
Ontario College Graduate Certificate
Program Length
(2 years) Four Consecutive Semesters
Open for international students
Program Highlights
The international program is a four-semester graduate certificate which has been designed to transition students to learning in Canada, becoming familiar with the Canadian Health Care system, and making international students career ready. The curriculum is geared toward providing a wide base of business skills in a health care context such as financial, communication, human resources, leadership, operations, and critical thinking. Graduates of the program would be suited for careers in entry or middle management positions in a wide variety of health care settings such as clinics, hospitals, and private facilities. The program is delivered over four 14-week semesters.
Program Outline
2023-2024
This course is designed to enable students to explore areas of vocational interest using environmental scanning. Students use research skills and community interaction to identify roles of interest and goals for academic and professional success. Students compare their own values, skills, traits and characteristics to the needs of organizations.
Being able to communicate effectively is necessary for professional practice and academic research. This course includes varied forms of communication, including stakeholder interactions and knowledge translation. Students explore the importance of academic integrity in the creation of documents that follow recognized citation formats and by conducting effective research processes that support document production
Students integrate expanded computer applications in health care. Students communicate, present, produce and interpret documents, manage data, understand database systems essential in a professional medical environment.
Students examine elements of the Canadian Health Care system, exploring definitions of health and how it is measured. Students analyze the constructs, elements and operations of Canada's, and regional, current health care system. Emerging trends, technological and pharmacological advances, ways that professionals influence change will also be explored.
Human relations involves examining the effects of bias, stereotypes and stigmatization as well as the development of successive generations of leaders and mentors. Students will explore working in interdisciplinary teams and examine working in health care as an individual and also as part of a group.
Students examine Canadian government systems; at the federal, provincial, and municipal levels; to understand the impact of regulatory oversight and political influences on health care and the work of health care professionals.
This course will provide students with basic financial skills required to manage within a healthcare organization. Students will use analytical and critical thinking skills to solve financial problems typical in health care. A focus of the course will be on the financial decision making in order to effectively manage organizational resources and implement strategic decisions.
This course will provide students with the skills to communicate effectively in a professional health care environment. Students will produce and communicate correspondence that reinforces strategic and operational goals of the organization. Students will be required to use a variety of research tools and technologies (including social media) to prepare and communicate effectively with a variety of stakeholders.
This course will provide technical skills development in the use of computer applications such as word, excel, access, powerpoint, and enterprise systems. Students will learn how to use these applications to improve communications, support strategic and operations goals, improve human relations and organizational culture. Students will also learn the importance of developing and maintaining a secure information system to protect client confidentiality.
This course will provide an introduction to the theories and practices of effective health care leadership. Students will apply theory and research skills to explore and resolve organizational challenges and support strategic goals. Students will explore the impact of leadership on decision-making, ethics, human relations, and organizational culture.
This case based course will allow students to research, reflect, and communicate ethical decision making as applied to operational and strategic goals in a health care environment. Students will be required to look at ethical decision making from a variety of stakeholder perspectives.
This course will provide an overview of the current legal landscape within Canadian Health Care with emphasis on Ontario. Students will explore the impact of legal decisions on the provision of service delivery, labour relations, policy, and other managerial functions. Students will also explore the role of institutional governance, accreditation, and risk management in health care.
This course provides an overview of the current federal and provincial policy impacting the operation and service delivery of health care in Ontario. Students will become familiar with the internal and external factors impacting policy decision making and implementation.
This course will teach students the process of critical thinking and decision making and will apply these skills to solve management and leadership problems in health care. Students will use quantitative and qualitative data to support decision making. Students will practice managerial and leaderships skills that support effective problem solving.
This course will explore the impact of managerial decision making on operational effectiveness. Topics included are project management, facilities management, supply chain, and effective service delivery. Students will become familiar with the environmental factors that affect health care operations and determine the impact on organizational resources.
This course will provide an introduction to the concepts of Quality, Quality Assurance, Quality Improvement, Process Excellence and Risk Management specifically applied to Healthcare in the Canadian Context.
This course will provide students the opportunity to develop the necessary skills to manage staff, create a positive organizational culture, lead within a unionized workplace. The course will provide an overview of the Human Resources areas that most significantly impact a health care administrator, such as health and safety, training and development, and labour relations.
This course will provide an overview of the techniques used to collect, analyze, and report quantitative and qualitative health care data. Students will be required to use research and critical thinking skills to interpret and present data. Students will be able to apply statistical analysis to support decision-making for strategic, organizational and quality improvement.
This course is an analysis of innovation and change management frameworks in a rapidly changing business environment. Students explore the concepts and methodologies related to innovation and change management. Students learn about best practices for organizational change and creating cultures of innovation. Topics covered include the reasons for change, factors that influence change, and how change affects all aspects of business.
Students conduct an in-depth analysis of a current managerial situation facing health care administrators. Students apply strategies to influence the impact of the situation on human resources, organizational culture, leadership, finances, operations, policy, and strategic and operational goals.
Requirements
Admission Requirements
Two or three year College Diploma or University Degree.
Other Requirements
It is recommended that students have education and/or work experience in a Health Care industry.
Technical Requirements
When computers are required during in-person class hours for computer-based courses (eg. COMP1015, COMP5000), students will be working in computer labs.
In order to attend virtual or alternate delivery classes, work in teams in virtual workspaces, or complete homework outside of campus and on-site computer lab hours, students will be required to have the following technical equipment:
Windows Personal Computer (laptop or PC) (Mac computers are not compatible with all software applications)
MS Office (included with St. Lawrence College fees)
Webcam and microphone
High-speed internet connection
Students in Hyflex classes (those being delivered both face-to-face and virtually at the same time) may also require a computing device to connect with Microsoft Teams from time to time. This may be done through a smartphone or laptop.
Fees
2023-2024
Tuition
Program Fees
Ancillary Fees
Total
CAD
Tuition
Program Fees
Ancillary Fees
Total
Fees are estimates only. Tuition is based on two semesters.
Kingston
Our Kingston campus has seen significant renovation over the past few years, including a brand new Student Life and Innovation Centre that houses a new gymnasium, fitness centre, pub, and more.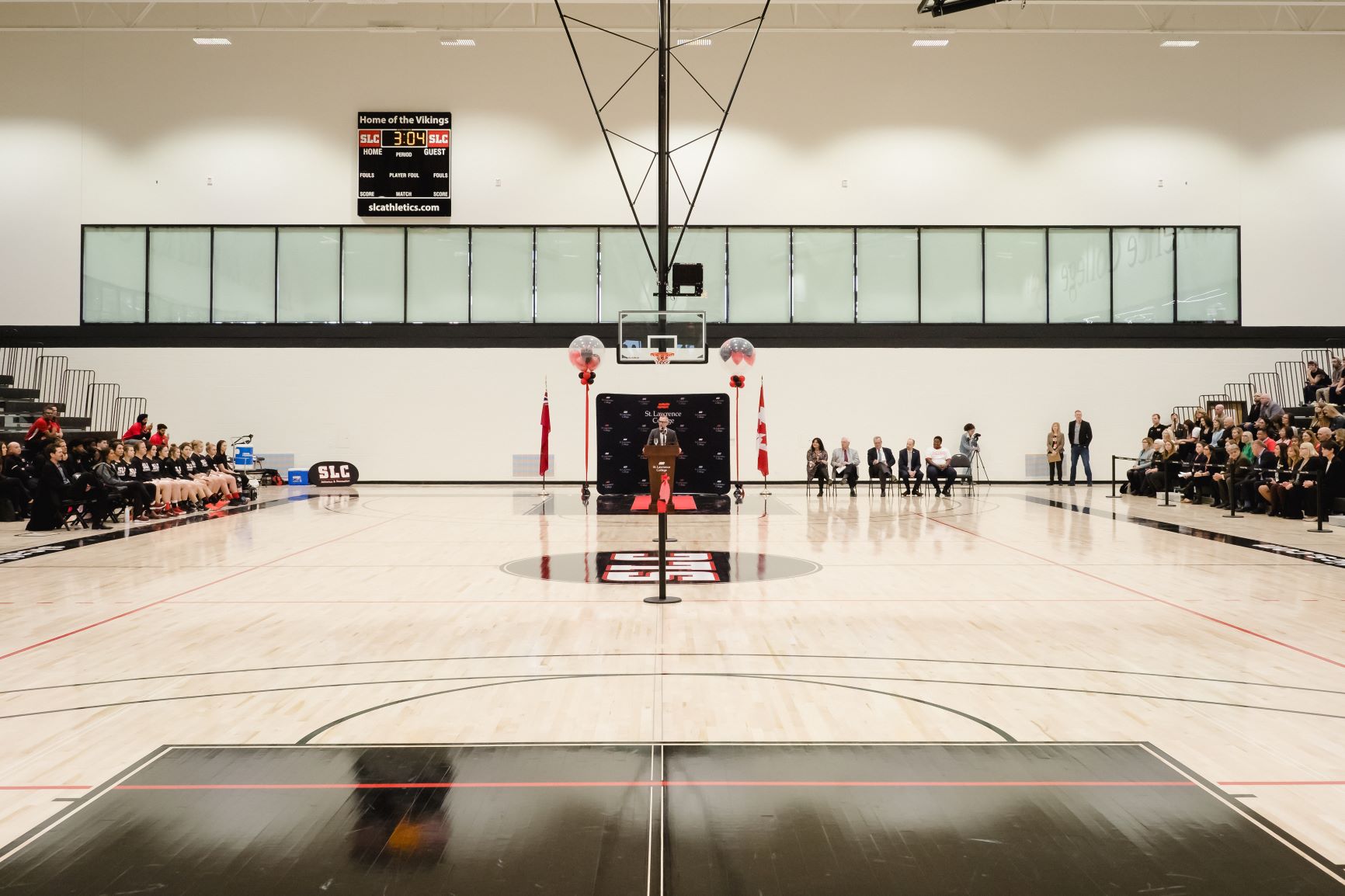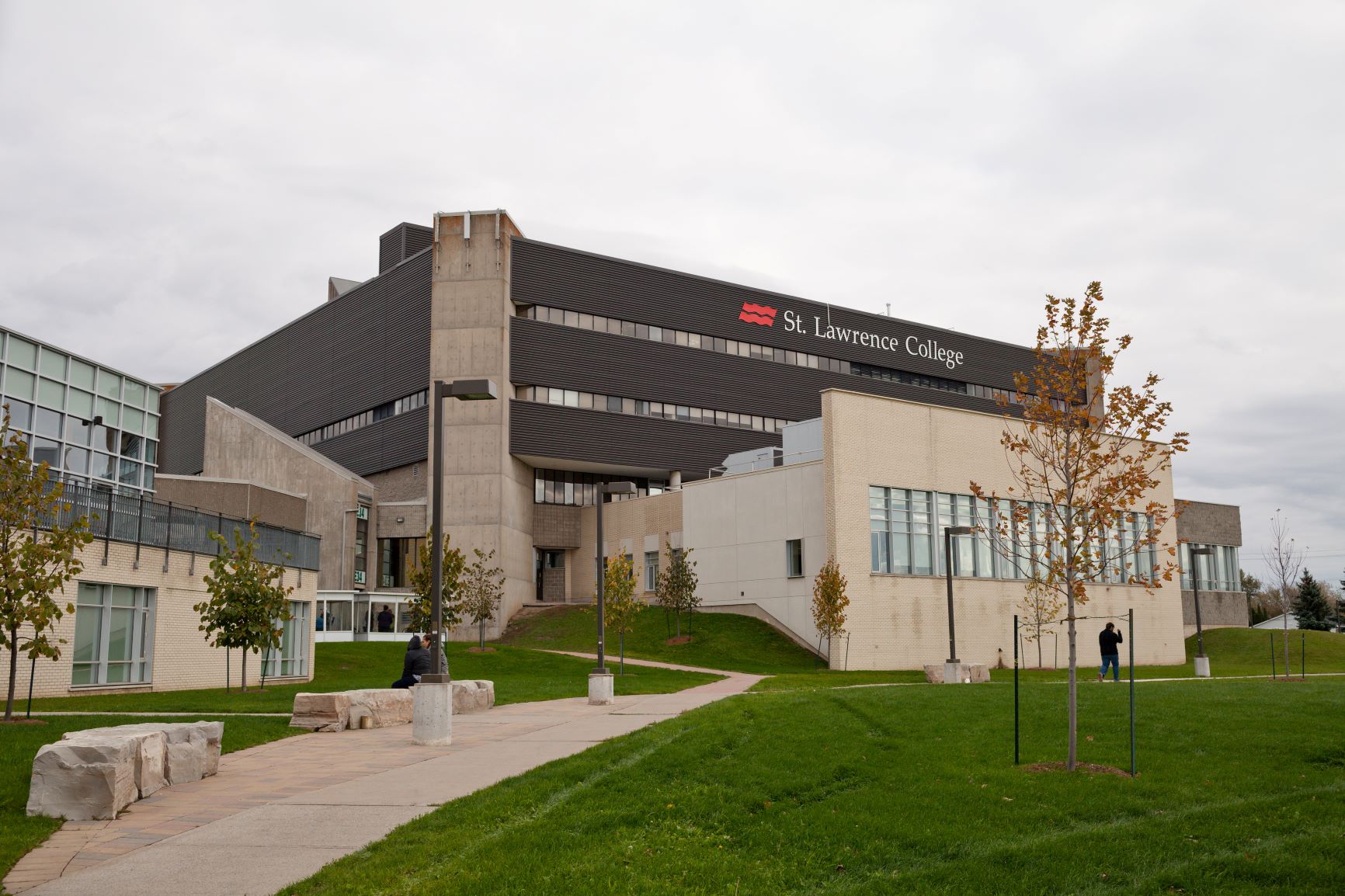 Kingston Campus