Overview
The General Arts and Science (Certificate) program offers a foundational year for students preparing for the workforce or for future study. Students in the Trades stream participate in core Arts and Science courses including applied communications, computers, mathematics, and professional effectiveness in conjunction with a series of hands-on carpentry, automotive and welding shops. Additionally, students are exposed to online education by way of a general education elective.
General Arts & Science is a flexible program. Course sequence can change subject to student goals and class availability.
Program Details
2 semesters in 1 year (504 hours)

Program Highlights
If you've been told to "get into the Trades" but are not sure what that means, the General Arts and Science Pre-Trades program might be just what you need. Learn about the wide array of building trades programs, with hands-on training from our SLC Trades professors and instructors. This stream gives the student a clearer idea of what trade they may want (or just as importantly - not want) to pursue.
If you are a current student selecting a course and need more information? Visit here.
Program Outline
2023-2024
This course provides instruction and practice in college and workplace communication skills with an emphasis on the development of strategies to organize and express ideas in a clear and professional manner. Course work also provides opportunities for the development of students' grammar, research, analytical, reading, and listening skills.
This introductory course provides the student with the information required for the safe use of hand tools and portable and stationary power tools. Careers in the construction industry are reviewed and an overview of the residential construction process from the footings and foundation to shingles is provided.
This is a course designed to help students adapt to the rapidly changing workplace. It provides an historical overview of our working society and how it has evolved. Issues such as employment equity, harassment, regulation of health and safety, unionization, professional organizations and codes of ethics are discussed. Students also identify strategies to meet the needs of current employers and to make interview processes work to their advantage.
This course provides students with an introduction to shop safety including the use of hand tools, power tools, and hoists, and other lift equipment. Additionally, course content focuses on bearings, seals and sealants, precision measuring tools, oxy-acetylene welding and cutting, and the use of computers for accessing trade-related information.
This course focuses on safe material handling, workplace hazards, and various pieces of legislation governing working conditions in the welding and fabrication trade. Students are also introduced to measuring, hand, and power tools and to the basic arithmetic, calculations, and systems of measurement routinely used in the workplace.
This course is designed to develop critical thinking skills and apply them to contemporary ethical issues. The development of critical thinking skills and ethical reasoning supports students in identifying, assessing, evaluating, and construct logical and valid arguments. Students apply these skills to various ethical issues in the healthcare field.
This course provides students with the opportunity to learn the distribution and marketing of automobile replacement parts and accessories and to conduct accurate parts research. Course content addresses basic marketing principles and how they affect consumer behavior. Students become familiar with sourcing parts using both traditional methods and current technologies. Maintaining and managing inventories is also discussed.
Prerequisite(s): AUTO1306 + COMP201 + COMM34
In this introductory course, students explore the range of skills and the knowledge required to become successful entrepreneurs. Course content focuses on the development of business ideas, business types, and business planning including feasibility studies and competition analysis, branding, promotion, and an overview of financial tracking.
This course content introduces the student to fillet and groove welding of mild and stainless steel using the Gas Tungsten Arc Welding (GTAW) process. Post-weld operations are also performed as are routine and required equipment maintenance procedures.
This course covers fundamental knowledge and skills as related to Oxy-acetylene welding, Shielded Metal Arc welding (S.M.A.W.), Tungsten Inert Gas (T.I.G.) welding and Metal Inert Gas (M.I.G.) welding. Theory is supported by shop activities that permit the student to develop a basic understanding of welding theory and process-related practice.
Requirements
Admission Requirements
Ontario Secondary School Diploma (OSSD) with the majority of Grade 11 and 12 courses at the C, U or M level including the following prerequisites:
Grade 12 English at the C or U level
Grade 11 Math at the C, U or M level
For OSSD equivalency options, see Admission Requirements.
If you are missing prerequisite courses, enroll in the Career/College Prep program, free for Ontario residents who are 19 years or older.
Bonus Points
Full-time General Arts and Science students who achieve a GPA of 3.00 or better for at least one semester will receive an additional 10 percent in their admission assessment when applying to any post-secondary diploma program at St. Lawrence College. Applicants awarded the additional 10% must successfully complete the two-semester program, and be granted the respective certificate, with a minimum GPA of 3.0 or their admissibility for the program will be re-evaluated without the additional 10%; the offer of admission may be revoked if the applicant is no longer competitive. This will be particularly beneficial for programs that are highly competitive and therefore ranked.
Fees
2023-2024
Tuition
Program Fees
Ancillary Fees
Total
CAD
Tuition
Program Fees
Ancillary Fees
Total
Fees are estimates only. Tuition is based on two semesters.
Cornwall
Our Cornwall campus has a brand new library, new health simulation labs, renovated student common areas and more to make your transition to college life an easy one.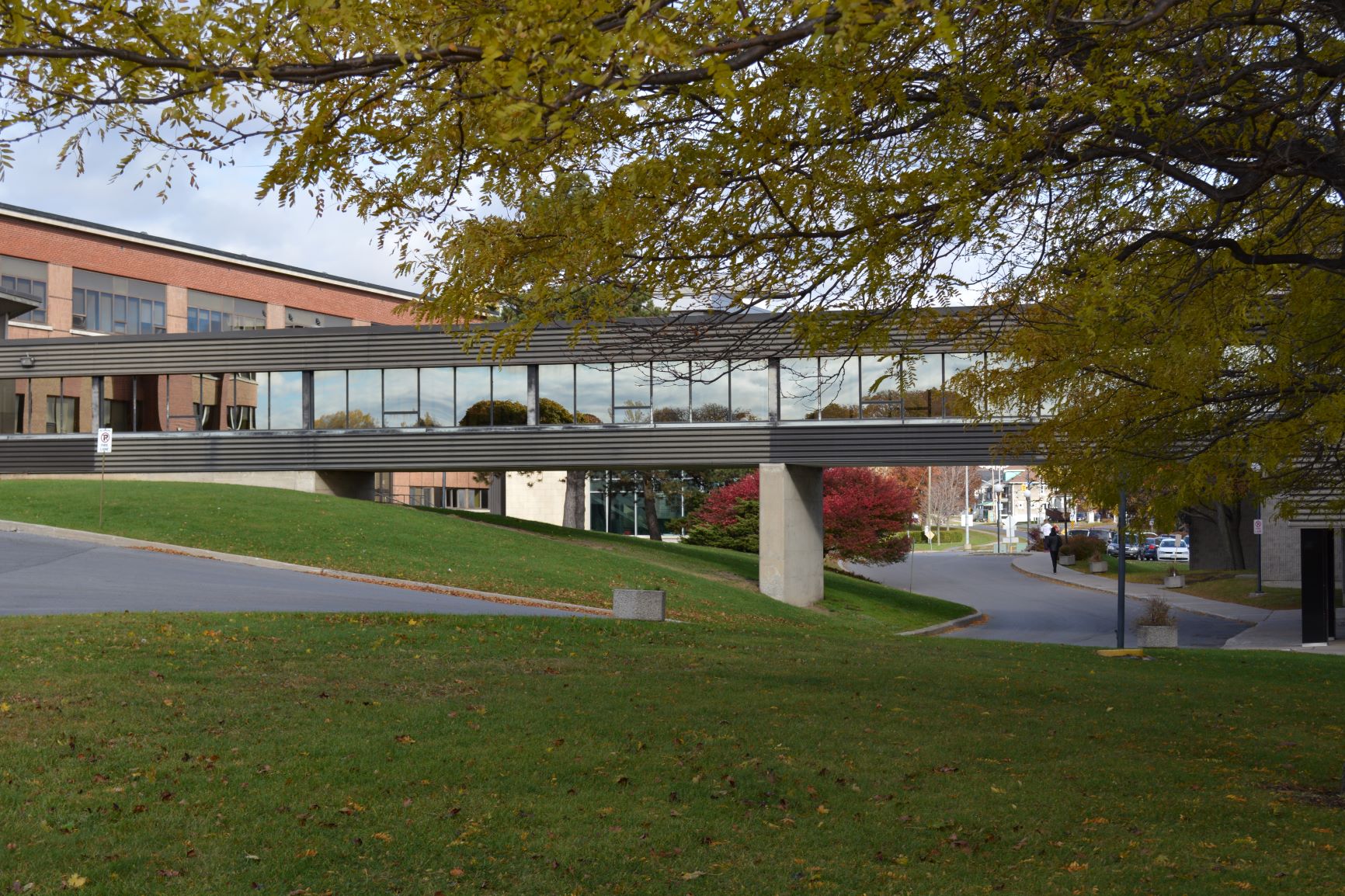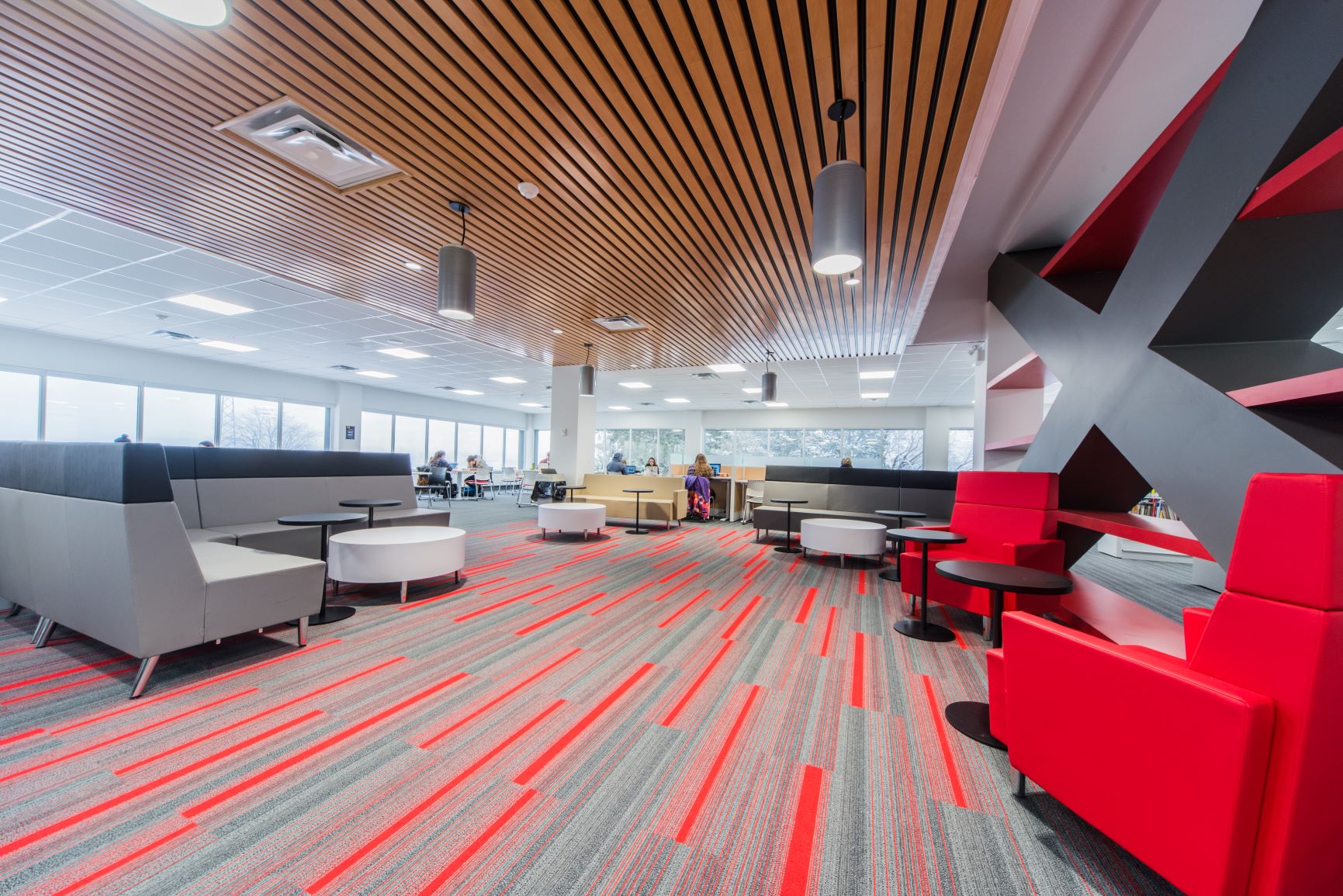 Cornwall Campus
Career Opportunities
One-on-one contact with professors and instructors who come directly from five of the most active building trades gives the student a unique opportunity to build skills, and make vital contacts in those professions.