We have been delivering quality nursing education in our communities for close to 50 years. Our application for a stand-alone program was well received by the provincial approving body. As part of a collaborative program, the SLC School of Baccalaureate Nursing has a solid history of accredited excellence in nursing education.
Start clinical placements early in the program (first semester)
Unique variety of interesting clinical opportunities
Supportive course professors and instructors
Small class sizes
Small campus sizes
Strong track record of employment after graduation
Studying close to home is an option for people living in Eastern Ontario
Strong ties with local health care agencies that support student and new graduate employment
NCLEX pass rates above the Ontario average
Your professors will come from nursing and other disciplines. All the Nursing professors are members in good standing with the College of Nurses of Ontario and have a wide variety of clinical and professional experience. Some professors continue to actively work in their field outside the College, including as Nurse Practitioners. In-class professors hold a Master's degree and many have PhDs and are engaged in research and scholarship. The majority of clinical and lab instructors have Bachelor's degrees.
Our diverse student population includes students directly from high school, people pursuing nursing as a second career, or after previous post-secondary education.
Our state-of-the-art labs are integrated into all four years of the program. In the nursing labs, students will practice skills and engage in simulation scenarios that facilitate the progression of skills from basic care to complex patient and family situations. All labs have been recently renovated and include new high-fidelity mannequins. All three campuses have level 2 microbiology labs, and wellequipped anatomy and physiology labs. Take a virtual tour of our campuses using the links below: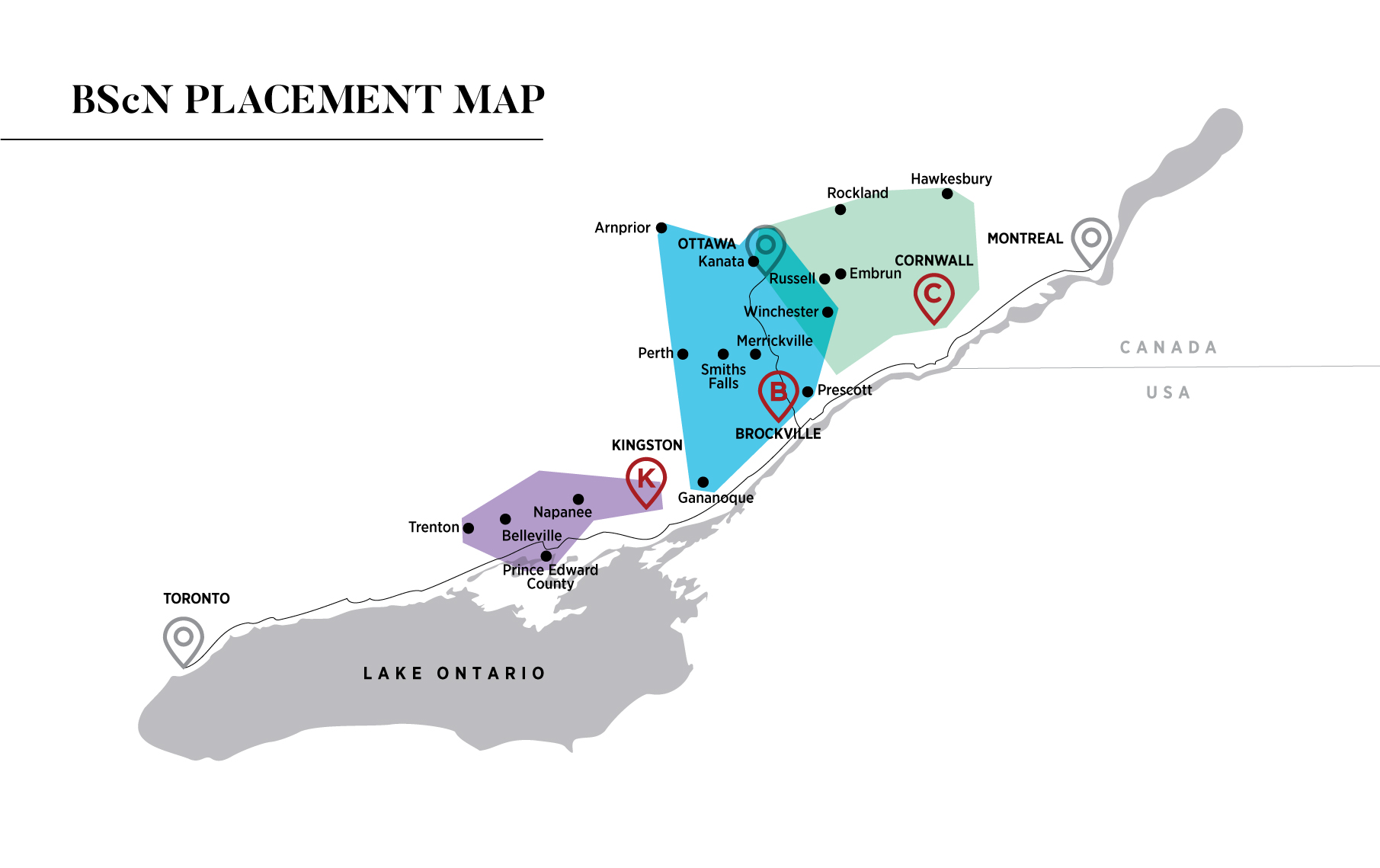 Students will have placements in a variety of settings, starting with long-term care placements in year 1 and going to hospitals and community-based settings in the other years of the program. Depending on the campus you are studying at, placements are located across the Eastern Ontario Region, primarily along the St. Lawrence Corridor.
In year 1

students are placed in long term care, under the supervision of a clinical instructor. The focus in year 1 is learning basic care principles including developing professional relationships with residents, assisting with personal care and completing physical assessments.

In year 2

students are placed in hospitals, under the supervision of a clinical instructor. The focus in year 2 is building on the principles learned in year 1, learning about and giving medications, and learning about and practicing additional nursing skills.

In year 3

students continue to spend time in hospitals under the supervision of a clinical instructor. Additionally, in year 3 students begin placements in community settings, supervised (preceptored) by a nurse working in the community. These placements can include public health, home care, family health clinics, schools, etc.

In year 4

students complete two consolidation placements where they work one-on-one with a Registered Nurse, in hospitals and community-based settings.
A unique variety of clinical placements are available for students who meet certain requirements, in areas such as:
Critical care (Emergency and Intensive Care)
Correction Services Canada
Public Health Units
Peri-operative (Pre-op/OR/recovery)
Maternity
Mental health
Paediatrics
The program is open to full-time students only.
Our graduates are prepared and recruited to work locally, provincially, nationally and internationally.
SLC has faculty led, cross cultural elective courses in international (Tanzania) and Northern Ontario settings. Second- and third-year students can apply for the cross-cultural courses. These courses require student self-funding.
Fourth year students can also apply for rural and remote clinical experiences.
The RPN-BScN bridging program is pending ministry approval. This program has an anticipated start date of January, 2023. If you are interested in expressing your interest in this program and being notified when it is open for application, please submit an interest form.
The SLC BScN program has been approved by the College of Nurses of Ontario. We also received a 7-year approval from the Post-Secondary Education Quality Assessment Board. We will be seeking accreditation from the Canadian Association of Schools of Nursing (CASN) as soon as we are able to initiate that process. CASN cannot conduct an accreditation visit until there are students in class and in the clinical setting.
Some nursing graduate programs require that you must be a graduate of an accredited BScN program to be eligible for admission. Given our previous track record with being a successfully accredited program, we have every confidence that we will be a CASN accredited program by the time our first cohort of students graduates.