Overview
The most valuable resources of any business are the people who work there – the human resources. Business and government leaders now recognize that human resources must be managed more effectively if companies are to increase productivity in today's competitive market. Human Resources graduates have been trained to assist in the HR development process.
Program Details
Start Date
May, January, September
Credential
Ontario College Advanced Diploma
Open for international students
*NOTE - for November, applicants should apply at OCAS as a Business Fundamentals student (K0973OC) and will transition into the Business program area of their choice.

Program Highlights
A career in HR is extremely rewarding. Working with an organization to help them achieve their goals through the people who work there is very satisfying. During the program, students will develop the skills required to be effective practitioners and work in a team to help organizations succeed.
Program Outline
2023-2024
Through the perspective of both the Canadian and global business environments, this course will provide students with a foundational knowledge of the current state of business and an opportunity to consider what the future may hold. Learners will develop their business vocabulary, understanding of business concepts, and engage with current and relevant issues in both a Canadian and global context. Students will learn the foundations of teamwork as a component of successful business operations. The functional areas of business and their relationship to management, leadership, and the future of work are discussed.
This course is designed to help students develop and practice the communication skills needed to succeed in college and workforce environments. Emphasis is placed on improving foundational communication strategies-reading, writing, listening, and speaking—and on developing research and critical thinking skills.
This course is designed to familiarize the student with basic computer operations and applications through instructor-led exercises, activities, and case studies. It explores various concepts of effective computer usage with a hands-on introduction to the Windows operating system, file management, and working effectively and collaboratively in an online environment. It also provides in-depth exploration and application of various features of the current version of Microsoft Office software including Word, PowerPoint, and Microsoft Teams. Microsoft Excel is covered briefly in this course in relation to integration with the other Microsoft Office Suite products.
Introductory Business Math prepares students for success in business and financial mathematics. This course emphasizes the development of business-related numeracy and the fundamentals of the time value of money. Topics covered include basic numeracy, percent applications, payroll, tax, and time value of money.
In this course, students benchmark their norms and behaviours for professional and personal development. Students develop self-awareness utilizing formalized assessments to give language to the application of emotional intelligence and personal behaviours that could otherwise mistakenly be described as strengths or weaknesses. Students describe the impact of the their behaviours and further strategies to develop skills and compensate for barriers. Students practice using related terminology to better express their development progress. Students learn about high-functioning teams and practice those skills through teamwork activities. Students develop strategies for setting and implement goals.
In Accounting Fundamentals students create, use, and discuss foundational financial information. Students discuss the fundamental elements of accounting and their impact on business operations. By using accounting software to perform accounting operations students learn the elements of accounting software and routine accounting statements.
The economic environment is the theater in which contemporary managers plan, organize, lead, and control. This course introduces the language and navigational skills that condition students for success in this environment. Students learn microeconomic principals including supply and demand, the themes of scarcity, productivity, efficiency and effectiveness, the concept of opportunity cost, and the relationship between these fundamentals and the Canadian economy. Employing a practical approach to the Canadian macroeconomic environment, the course examines choices by individuals, businesses and governments and their effects on Gross Domestic Product, unemployment, the money supply, and exchange rates. The course addresses factors influencing both the supply side and the demand side of the economy including productivity, consumption, savings, and investment.
In this course, the emphasis is on the development of professional communication. Students develop communication and teamwork skills through the preparation and delivery of a range of professional documents and presentations utilizing current workplace technologies.
Principles of Human Resources Management is intended to provide students with an understanding of human resources management functions within organizations. The course introduces the purpose and the application of Human Resources activities which will assist organizations in achieving their goals and objectives. As such, this course is designed to lay the groundwork for more advanced studies in Human Resources and related subjects.
Marketing Essentials introduces students to the basic principles and practices of marketing management in the modern business setting. This course examines the consumer market for goods and services and the major decision areas of marketing: identifying and selecting target markets, product, price, distribution, integrated marketing communications and customer relationship management. Key concepts including value creation, marketing mix, marketing strategy, and marketing best practices are introduced and explored. Data and the application of metrics and analytics in decision making are discussed and applied.
This course provides an overview of the mathematics of business financial management. Annuities are studied and applied to various business applications and financial decision-making such as bonds, sinking funds, investments, loans, mortgages and net present value.
This course expands on the student's introductory level knowledge of spreadsheets and databases. Using Microsoft Excel, students learn advanced Excel features such as charts, logical functions, pivot tables, goal seek, data tables, macros, multiple worksheets, lists, look-up tables, and financial functions. The focus is on using advanced spreadsheet functions accurately and effectively to analyze problems that arise in business.
Graduates are entering the world of work just as it is being radically transformed. While technical skills remain crucial, organizations are now looking to hire a workforce with the human skills to thrive in the modern workplace. In this course, students will cultivate and apply knowledge for the contemporary workplace. Driven by case studies and real-world context, students will develop an understanding of the impacts of equity, diversity, and inclusion, social responsibility, ethics and sustainability, and client service. Students will work in diverse teams throughout this course, ultimately applying the course learning in a culminating capstone project where they will propose recommendations to an organization.
In this course, students develop foundational knowledge and skills related to training and development. Students explore how training and development impacts human resources management. Further, students determine training needs and design, deliver and evaluate the effectiveness of training and development programs.
In this course, students reflect on their individual strengths and preferences in the context of a variety of career and development paths to articulate personal and professional development goals. Students apply their learning to develop a professional growth and career plan. Students incorporate their learning and Human Resource knowledge to develop essential professional skills, including resume and cover letter writing, and interviewee/interviewer skills. This course prepares students with the professional behaviors and skills required for potential placement and employment opportunities.
This course develops students' spreadsheet (Excel) and database (Access) skills, including designing tables and queries to creating forms and reports. Students manipulate data and run reports to provide information to relevant stakeholders. This course prepares students for data analysis and use of Human Resources Management/Information Systems. Students explore relevant HR-related legislation and policy implications on data sharing, storage, and security.
The study of organizational behaviour is the study of three separate, but interrelated, processes. The course begins with the study of individual behaviour in organizations, including such topics as perception, attitudes and work motivation. The study of group dynamics is also addressed, including such topics as team building, leadership, and decision-making. Finally the course explores the study of organizational structure, culture and change.
This introductory online course highlights the complex and dynamic components of cultural groups and their interactions. Students reflect on their own cultures and learn about others through various theoretical perspectives including Social Science, Interpretive Approach, and Critical Approach. Based on concepts of history, power, and identity, students learn how intercultural communication is affected by language, non-verbal communication, culture shock, popular culture, relationships, and conflict. Students discuss how these theories can be used to examine differences between cultures.
In Introduction to Managerial Accounting non-accounting majors learn about the uses and limitations of financial and managerial accounting in the decision-making processes of an organization. Students learn the principles and practice of management accounting as a professional discipline. Management accounting is both a process and a function of supplying managers and employees in an organization with relevant information, both financial and nonfinancial, for making decisions, allocating scarce resources, monitoring, and evaluating performance.
In Administrative Law students review the legal environment for businesses and identify its impact on operations. Students analyze legislation, statues, regulations, and company policies to identify compliance requirements, mitigate risk, and determine strategy. Exploring contracts, the law associated with business relationships, and various special legal rights and relationships students learn to consider the complex regulatory context in which businesses operate.
This course develops students' fundamental knowledge and skills in the health and safety functions of Human Resource Management. It is also intended to demonstrate the integration of all Human Resource functions. Students explore key topics such as workers' compensation systems as well as occupational health and safety laws and regulations both provincially and federally. Students are introduced to topics in disability management and wellness.
Students study Human Rights as a foundation for a larger exploration of diversity in the workplace and the value of diversity as a best practice in business. Students investigate beliefs, both individual and cultural, and systems that may be biased against marginalized groups. Further, students study strategies for creating a culture of diversity and inclusion in the workplace. An emphasis is placed on managing and integrating Indigenous and diverse ways and being and knowing into HR process.
This course introduces students to business intelligence tools and emerging technologies. The course focuses on problem based, real world applications. Learners solve novel challenges for businesses or non-for-profit organizations using current industry problem-solving frameworks within interdisciplinary teams.
This course is intended to prepare each student with knowledge and skills in the compensation and benefits functions of Human Resource Management. Students develop a detailed understanding of the processes, issues, and techniques used in compensation administration. Students also learn how compensation and benefits integrate into other HR functions and serve to attract, retain, and motivate employees.
Recruitment and Selection prepares students to design, implement and evaluate all aspects of the Recruitment and Selection of employees. A combination of theory and practical, hands-on experience is used to assist the student in learning the strategic importance of Recruitment and Selection in the achievement of organizational objectives. Students explore the evolving nature of Recruitment and Selection and the impact of new technologies on those processes.
This course provides students with the opportunity to build professional skills in the context of a simulated or actual workplace. Students apply the skills, knowledge, and behaviors developed previously to ensure effective workplace performance. Further, students practice the professional standards expected of an HR practitioner and reflect on their value in a real-world work environment. An emphasis is placed on solving problems both independently and collaboratively, drawing upon appropriate college, community, and professional resources.
This course is designed to help students develop effective communication skills for Human Resources contexts. Students learn how to create and revise a variety of written HR documents. Students employ persuasive communication techniques to convey the value of HR functions to a variety of stakeholders. Further, students refine their interpersonal communication and policy writing skills. Other topics include crucial conversations and coaching in workplace situations.
This course focuses on developing students' knowledge of all aspects of labor relations. Students learn about the impact of a unionized workplace on the Human Resources department. Students explore trade unions, collective agreements, negotiations, union/management relations, strikes, the collective bargaining process, and conflict resolution. Student learning is reinforced through practical involvement in case study analysis.
Employment Law provides a theoretical and practical background to enable students to understand the legal environment as it relates to employers and employees in Ontario and Canada. Students investigate the impact of legislation - including Human Right Act/Code, Canada Labour Code, Employment Standards Act, and common law - on the entire employee life cycle.
The purpose of this course is to introduce students to applied statistical analysis and analytical decision making. During this course, students build a "statistical tool kit" that allows them to organize, present, and analyze data that arises in accounting, marketing, human resources and in business in general. Major topics covered include sampling, graphing, measures of central tendency and dispersion, probability distributions, normality, hypothesis testing, and regression. The course emphasizes the role of statistics in business applications such as quality control, forecasting, and quantitative decision making. Statistical software and technology will be used.
This course consolidates students' spreadsheet (Excel) and database (Access) skills, emphasizing advanced functions and data manipulation. Students analyze and integrate data from multiple sources and platforms to provide information to relevant stakeholders to inform decision making. Students create tools, such as macros and automated computer processes, to aggregate and organize data. Informed by data analysis and privacy best practices, students present information in a variety of modalities (e.g., reports, narratives, graphics, etc.) to ensure effective communication. Students apply critical thinking skills to organize and present data in ways that meet organizational objectives and the needs of individual stakeholders.
Students examine the issues that are currently facing Human Resources practitioners. Students study business challenges such as demographics, cultural issues, technology, economic, and legal issues. Students apply critical thinking models and strategies to address on-going challenges in the Human Resources field.
In this course, students study theorical and practical aspects of wellness and disability in the workplace, informed by relevant legislation. Students explore how wellness and disability management programs and policies affect employee well-being and performance and impact larger strategic objectives, cost, and organization culture. Student evaluate wellness plans and initiatives. Additional topics could include: return to work, job design, union/management relations, prevention, accommodation, and insurance programs.
This course is designed to provide students with an understanding of the essential elements of the human resource planning (HRP) process in organizations. Students are introduced to the concepts of strategy formulation and implementation within an HR context. Students learn how to plan and make decisions about the allocation of resources for the effective management of people in organizations, within a given strategy and business plan. Both quantitative and qualitative concepts, approaches, and techniques are emphasized.
This course is designed to provide students with a detailed study of and involvement with the management of Human Resources within a unionized environment. Students explore the legislative framework for collective bargaining; third party intervention in the conflict resolution process; contract administration and actively participate in negotiating a collective agreement and preparing for and presenting an arbitration case. An emphasis is placed on application of the theoretical knowledge through the simulated negotiations and arbitrations.
This course gives students an opportunity to apply and develop the hard and human skills that have been learned in previous courses. By requiring students to perform the type of work normally done by Human Resources staff, this course enables students to bring together and apply all the necessary skills. The course also provides students with a better understanding of, and preparation for, the working environment that they will enter upon graduation.
In this course, students examine basic concepts in Labour Economics, gain an understanding of the structure, conduct, and performance characteristics of the Canadian Labour Market, and demonstrate the relevance of Labour Market activity to Human Resources decisions. Students build problem-solving skills and case study analysis techniques, as well as their understanding and appreciation of current labour market situations as they are encountered in the workplace, or through media and other reports.
Requirements
Admission Requirements
Ontario Secondary School Diploma (OSSD) with the majority of Grade 11 and 12 courses at the C, U or M level including the following prerequisites:
Grade 12 English at the C or U level
Grade 11 Math at the C, U or M level
For OSSD equivalency options, see Admission Requirements.
If you are missing prerequisite courses, enroll in the Career/College Prep program - free for Ontario residents who are 19 years or older.
Fees
2023-2024
Tuition
Program Fees
Ancillary Fees
Total
CAD
Tuition
Program Fees
Ancillary Fees
Total
Fees are estimates only. Tuition is based on two semesters.
Tuition
Program Fees
Ancillary Fees
Total
CAD
Tuition
Program Fees
Ancillary Fees
Total
Fees are estimates only. Tuition is based on two semesters.
Kingston
Our Kingston campus has seen significant renovation over the past few years, including a brand new Student Life and Innovation Centre that houses a new gymnasium, fitness centre, pub, and more.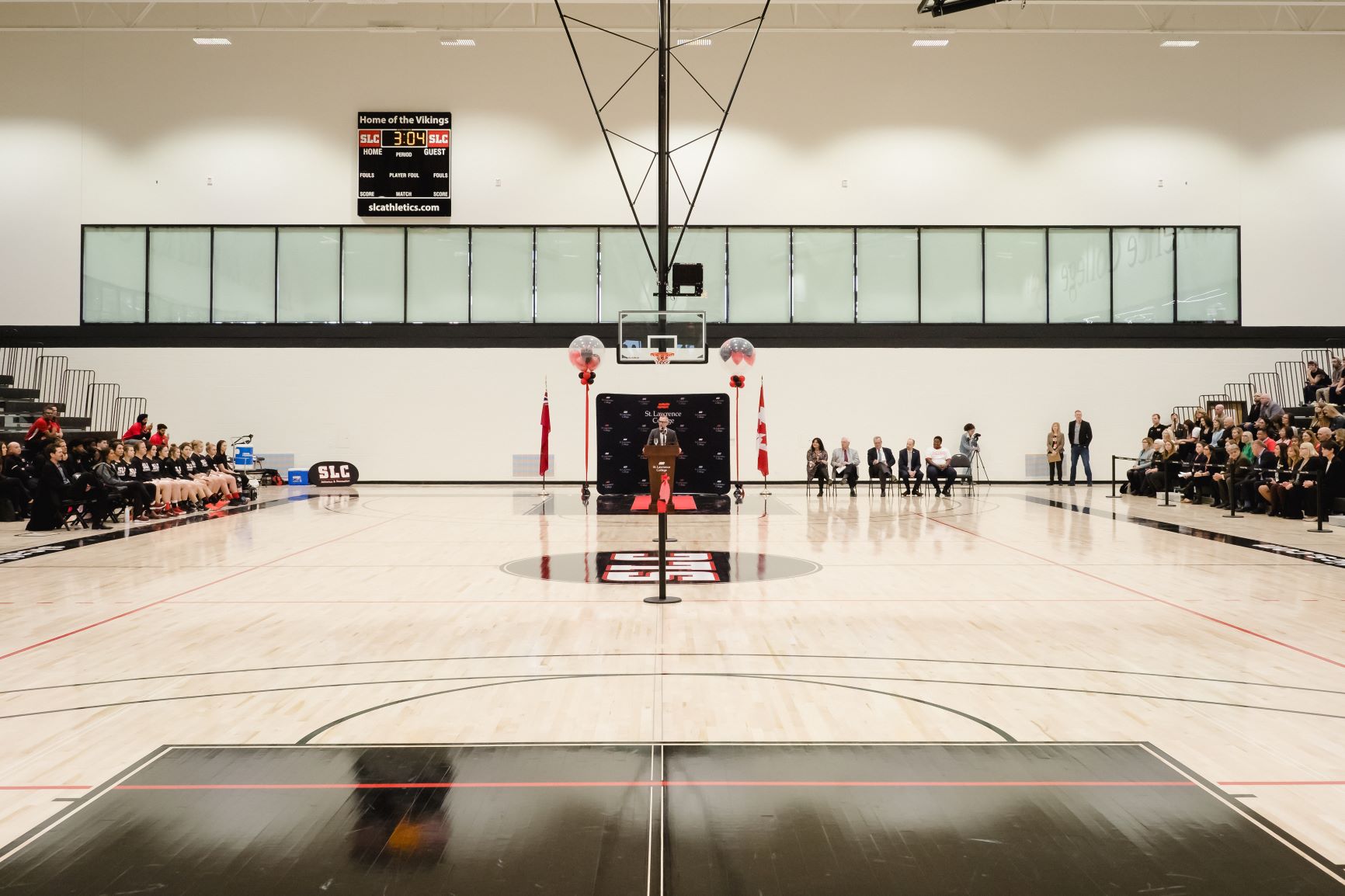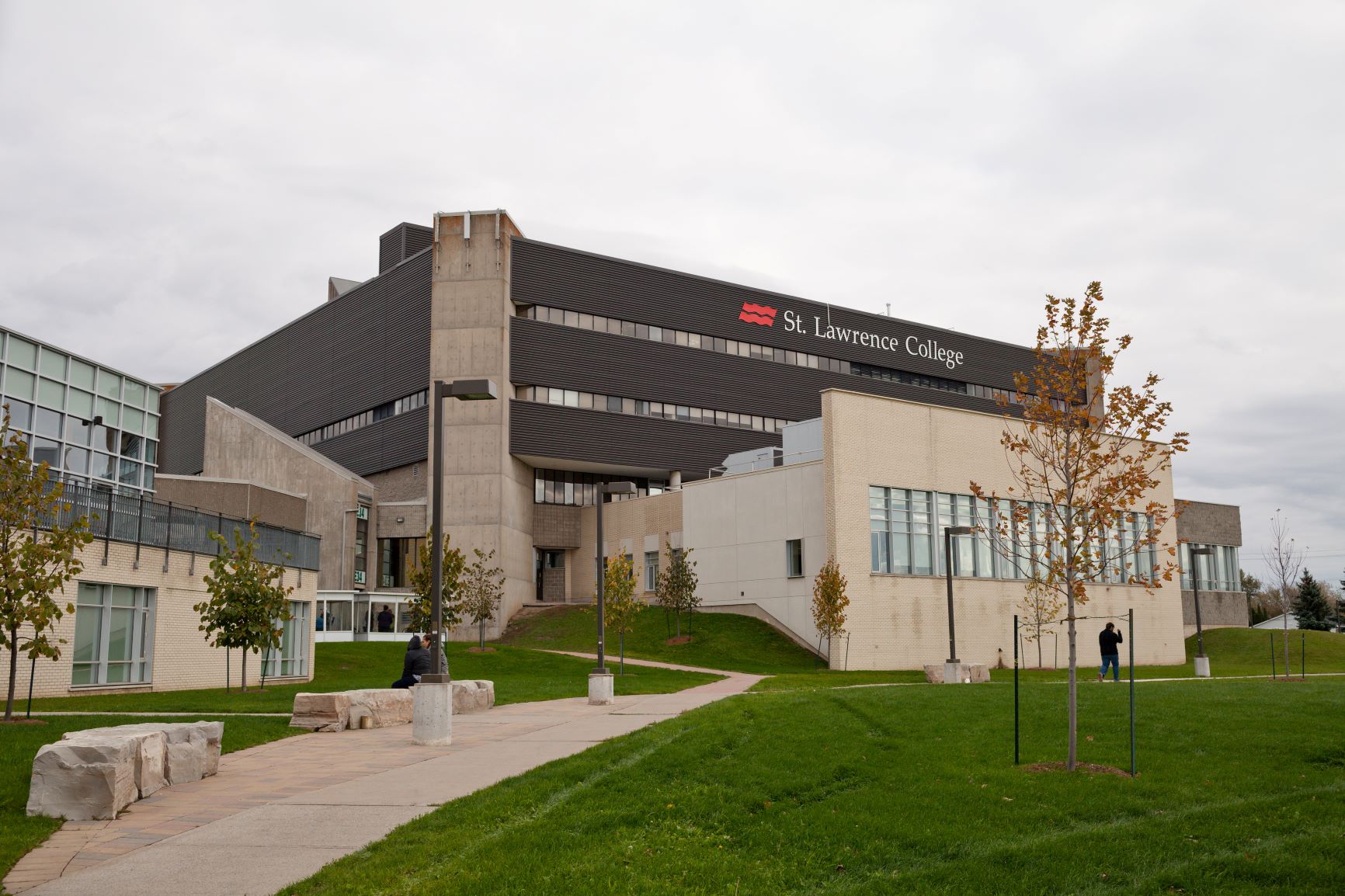 Kingston Campus
Career Opportunities
Graduates of the Human Resources Programs find employment in the following areas:
human resources administration

recruitment and selection, wage and salary administration

training and development

labour relations

workplace safety

management and supervisory positions, accounting, marketing, or information systems, depending on the student's minor area of study.
Testimonials
"I decided to go to college in my mid 20's, and it was the best decision I ever made! The School of Business in Kingston taught me how to succeed in the business world, and I use that knowledge every day in the work environment. I am thankful for the staff and students that I spent the three years with, for they truly helped to shape my future."
" One of the main reasons college is so great is because you have that placement opportunity. I find it opens up a lot of doors for jobs. I would never have been able to land this position if I hadn't gone there and showed them that they needed someone like me."
Other Information
Programs at St. Lawrence College are delivered using a variety of instruction modes. Courses may be offered in the classroom or lab, entirely online, or in a hybrid mode which combines classroom sessions with online learning activities. Program delivery can be run weekdays, weekends or evenings. Upon registration, each full-time student is provided a St. Lawrence College email account which is used to communicate important information about program or course events.
Students starting in January must take the second semester during the spring/summer in order to be on track for the third semester in the fall.
The College works closely with the Human Resources Professionals Association (HRPA) and the Canadian Council of Human Resources Professional Association (CCHRA) in the development of the Human Resources program. The program meets the academic requirements that lead to the designation of Certified Human Resources Professional (CHRP). See the HRPA website at www.hrpa.ca for details regarding the academic requirements for the CHRP designation.
Advanced Standing
High school students with a minimum grade of 75% in Grade 12 M level accounting (BAT4M) are eligible to receive advanced standing in St. Lawrence College Introductory Accounting, ACCT 1. Once you have been accepted into your college program, contact your program coordinator for details.
Credit Transfer Opportunities
SLC graduates have many options to continue their studies with post-secondary institutions across Canada and around the world. Agreements between SLC and other institutions that are specific to this program are listed below. In addition, there are many credit transfer pathway agreements between colleges and universities within the province of Ontario. Please also visit www.ontransfer.ca to search for options relevant to your program area of study.
MORE