Overview
Laurentian University offers a four-year Bachelor of Business Administration (BBA) degree at St. Lawrence College in Kingston. The program combines the theoretical underpinnings of university with the practical strengths of college. The relationship is all about providing access to education in a seam­less manner, providing fair credit for prior academic and experiential learning.
There are two primary streams of access to the BBA degree program: an entry-level, four-year degree and an accelerated level designed for college diploma graduates where credit is given for prior learning and experience. The accelerated level entry permits the completion of the degree in as little as three academic terms. Find out more about applying and the levels - here.
The core subjects in the degree program cover the fundamentals of economics, account­ing, financial information systems, financial management, management decision making, organizational behaviour, human resources, strategic planning, and marketing. Commu­nication, analytical and computer skills are emphasized. Elective courses permit students to tailor the BBA to suit their own personal objectives.
In addition to securing full-time employment upon completion of the program, students may apply to graduate and professional programs. Recent graduates have gone on to Master's programs in areas including Business, Economics, and Finance, and to professional programs including Law (LLB), Education (BEd) and Accounting (CPA).
Program Details
Start Date
January, September
Open for international students
Program Highlights
One of the distinguishing features of the Laurentian University BBA at St. Lawrence College is the significant position occupied by elective courses within the broader curriculum. For students enrolling in the four-year stream, fully 45% of all courses will be elective courses. This allows students to tailor the program to meet their particular needs and interests. Students may drill deeply into a particular subject area (e.g. Accounting) or explore any number of subject areas that may be of interest.
Students will typically be in classes of 40 students or less, and will often find themselves in classes of less than 20 students in upper year elective courses. This degree of intimacy allows for a richer, more interactive classroom experience.
Program Outline
2023-2024
This course surveys the core concepts and topics in business and management. Topics include the function and role of organizations within the context of the domestic and global environment. The basic elements of good management practise, finance, economics, marketing, organizational theory, human resources, general operations, and managerial decision-making processes are introduced.
The main objective of this course is to provide students with an understanding of "the big picture" of the role of financial information in society and in their own lives. Another objective is to increase students' awareness of ethical and public policy issues. The course begins with an overview of the uses of financial information in decision-making from the perspectives of managers, owners and creditors, the government's and other users, and then proceeds to examine in more detail issues involving income, cash flows, and economic resources from either management or owners and creditors point of view. The focus of this course is "learning to learn" based on an interactive teaching/learning environment with group/team effort as well as individual effort.
Topics are covered in "real world" contexts with examples from a wide variety of organizations including government, international, not-for-profit, manufacturing, and service organizations. In this course student will have ample opportunities to develop their analytical and problem-solving skills as well as their communication skills. (3 credits)
Economics is a social science with the central purpose of studying the allocation of scarce resources among alternative competing uses. The purpose of this course is to introduce students to basic analytical principles and to provide tools of analysis that can be used to understand economic phenomena, issues and policies.
The organization of this course reflects the division of Economics into two main categories: microeconomics and macroeconomics. The first course (ECON1006) focuses on microeconomics, which deals with the behaviour of individual economic agents (households, firms and government), with the determination of prices and quantities in individual markets for resources and commodities, and with the role of governments in the functioning of the market system.
Macroeconomics (ECON1007) deals with the determination of economic aggregates such as levels of national output, consumption, investment, employment and the average level and the rate of change of all prices. This course will also look at how government policies will influence aggregate economic behaviour and performance.
This course explores the relationship between reading and writing at a basic academic level. The course helps students to develop skills essential to essay writing and critical reading. Some emphasis is also placed on practical exercises in diction, grammar, and idioms. This course is designed to meet the needs of English speaking students who require further preparation for university-level reading and writing. In the first week of classes, students will be required to demonstrate an appropriate level of competency in reading and writing English.
(3 credits)
The focus of this course is on the principles and concepts behind the computer applications. Although it is not the intent of this course to produce sophisticated programmers, the broad concept of the notion of "programming" is explored along with data structures. As a result, it is expected that the student will leave the course with a deeper understanding of what the applications being studied are capable of performing and how such capabilities are supported.
Successful completion of Introduction to Microeconomics (ECON1006) or equivalent is recommended prior to taking this degree course. While Microeconomics concentrated on economic principles applied in various market structures, this course continues with a critical examination of economic principles applied to overall economy. Understanding economic indicators, the impact of legislation and government policy, and international trade will be the focus of the course.
Applied or Social Science course
Humanity/ Inclusivity Studies course
This course serves to introduce Business students to the concepts and techniques employed by Marketing Management. The course evolves around a close examination of the Marketing Mix, Product, Price, Place, and Promotion in a Management Setting and a competitive Business Environment.
Prerequisite(s): ADMN2007 or MGMT2006.
(3 credits)
This course is an examination of the problems and solutions pertaining to managing human resources in complex organizations. Topics covered include organizational socialization, leadership and decision-making, the effective exercise of power and influence, handling organizational conflict, and organizational development. An experiential approach is used.
Statistics and probability, statistical measures of central tendency and dispersion, graphical and numerical measures, random variables and probability distributions, binomial, Poisson, and normal distributions. The central limit theorem, point estimation, confidence levels, test of hypothesis, correlation. Students may not retain credit for both STAT 2606 and any other introductory statistics course.
(3 credits)
This course examines the legal rights and duties of buyers, sellers, employers and employees in Canadian law. Topics discussed will include contracts, insurance, negotiable instruments, business forms, property and credit.
(3 credits)
This course includes basic quantitative techniques supporting decision-making for management. Decisions under uncertainty, linear and non-linear optimization, project scheduling (PERT and CPM) and forecasting are the general topics covered. The linear optimization section introduces linear programming, sensitivity analysis and an overview of its extensions.
Prerequisite: STAS2606
(3 credits)
This application of concepts and techniques in marketing, Marketing Policies, Consumer Behaviour, Product Planning and Elements of Marketing Research will integrate the Marketing elements in an overall Business approach. A significant objective of this course is the development of skills in decision-making in Marketing.
Prerequisite: ADMN3126
Fine or Applied/Performance Arts course
Applied or Social Science course
Humanity/Inclusivity Studies course
Fine or Applied/Performance Arts course
(3 credits)
This course is an introduction to the uses and limitations of accounting information for management decision making. Introduction to Product Costing, Overhead Cost Analysis, Standards Costs, Variance Analysis, Contribution Accounting, Flexible Budgeting, Responsibility Accounting are major topics to be studied.
Prerequisite: ADMN1107 or ADMN1126
(3 credits)
This course provides students with the basic theoretical framework for decision-making in financial management. Emphasis in this course is on Financial Planning, Control, Working Capital Management, Short and Intermediate Term Financing.
Prerequisite: ADMN1107
(3 credits)
Individual behaviour, group behaviour, and organizational behaviour are studied with a view to developing, within the student, an appreciation for the human factors in administration. Theory will be communicated by means of lectures, seminars, special projects and assigned readings. Opportunities to apply theory will be provided in a number of ways, including case studies.
Prerequisite: ADMN3136
(3 credits)
Selected topics in Planning and Control are studied. Joint Costs, Cost Allocation, Transfer Pricing, Spoilage and Defective Units, Measurement of Performance, Relevant Costing, Advanced Capital Budgeting Techniques.
Prerequisite: ADMN3106
(3 credits)
This course covers the mathematics of capital budgeting analysis, the capital structure of the firm, the Cost of Capital, Long Term Financing, Valuation of the Firm and Business Failure.
Prerequisite: ADMN3116.
Applied or Social Science course
Humanity/ Inclusivity Studies course
Fine or Applied/Performance Arts course
Applied or Social Science course
Humanity/ Inclusivity Studies course
(3 credits)
This course is an analysis of the nature and problems of production management. This course provides students with an introduction to the organization and administration of manufacturing activities and formal organization structure of factories. The fundamentals of the production process: the continuity of manufacturing process, the production cycle, time and capacity utilization, plant layout organizational and economic aspects of the technical preparation of production: product design; manufacturing methods; time standards; production planning and control. Topics included are: administration of service activities, inventory control, quality control, preventive maintenance, production budget, cost and investment analysis.
(3 credits)
The objective of this course is to introduce students who have completed their core B.B.A. courses to the area of Business Policy and Strategic Planning. Through the use of cases, readings, and lectures, the course aims to provide an awareness of overall organizational goals, company capabilities and strategic environmental opportunities.
(3 credits)
This is a continuation of the ADMN4606 course. It emphasizes strategy implementation as opposed to strategy formulation. Company-wide objectives are set and departmental policies and activities are planned and implemented. Operating the organization according to the plan, appraising and controlling the operations, making changes in objectives, strategy and tactics are the main elements of this course.
Prerequisite: ADMN4606
Fine or Applied/Performance Arts course
Requirements
Admission Requirements
Full Disclosure of any other College or University Education:
Applicants to the Bachelor of Business Administration program must provide their full academic history, including official transcripts from all colleges and universities previously attended. Proof of current enrollment is required if currently enrolled at a college or university. Official transcripts and documentation are required for all courses, including those not leading to a completed credential, where credit was not granted, and where academic work was not related to the field of business. Failure to disclose previous post-secondary course work is considered academic misconduct under the academic integrity policy and may result in a revoked offer of admission or removal from the program.
Your most recent post-secondary education must meet a minimum standard (65% overall average from College and 60% overall average from University) and you must be in good academic standing with your last college or university to be considered for entry. For applicants who receive an offer of admission and a final transcript reveals that the applicant did not meet the minimum standard, the College can revoke their offer of admission. If the applicant becomes a student in the program and a final transcript reveals that the student does not meet the minimum standard, the College can remove the student from the program.
September 2023 & January 2024 intakes: Click here to open the disclosure form
AND
Ontario Secondary School Diploma (OSSD) or equivalent including the following prerequisites:
Minimum 70% overall prerequisite average for six Grade 12 U/M level courses
Grade 12 English at the U level
Grade 12 Math course at the U level
Find out more about applying and the levels - here.


For OSSD equivalency options, see Admission Requirements.
Fees
2023-2024
Tuition
Program Fees
Ancillary Fees
Total
CAD
Tuition
Program Fees
Ancillary Fees
Total
Fees are estimates only. Tuition is based on two semesters.
Tuition
Program Fees
Ancillary Fees
Total
CAD
Tuition
Program Fees
Ancillary Fees
Total
Fees are estimates only. Tuition is based on two semesters.
Kingston
Our Kingston campus has seen significant renovation over the past few years, including a brand new Student Life and Innovation Centre that houses a new gymnasium, fitness centre, pub, and more.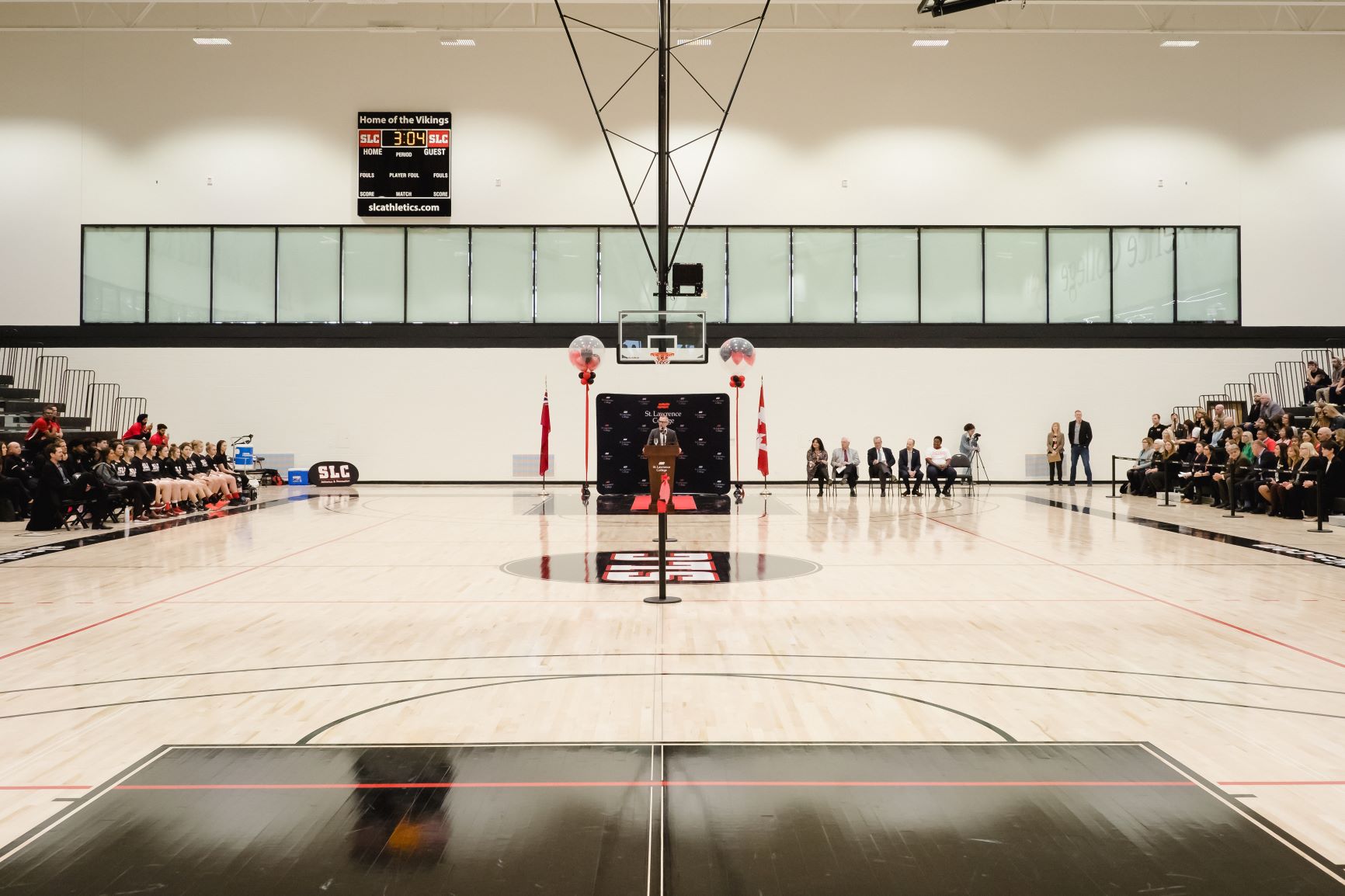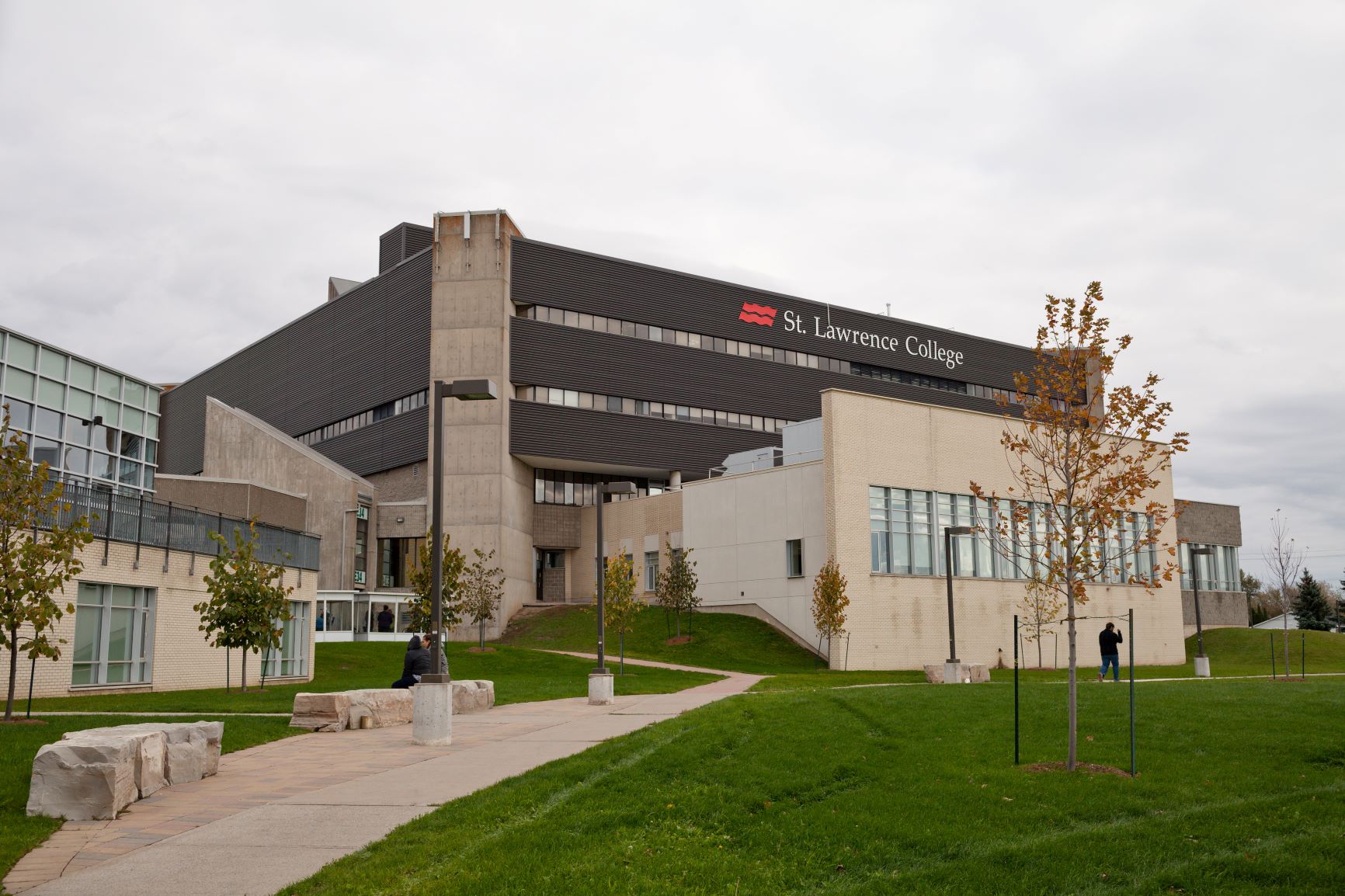 Kingston Campus
Career Opportunities
Recent graduates of university undergraduate programs in Business have found employment as financial auditors and accountants, financial managers, banking credit and investment managers, sales, marketing and advertising managers, retail trade managers, and specialists in human resources.
Testimonials
"For the first two months through the semester, I was juggling school work & culture shock! My Student Success Facilitator taught me time management and stress management. I started volunteering. Meeting both domestic and international students. Now I greet many students and graduates by just walking down the hall of St. Lawrence College. "
Other Information
Programs at St. Lawrence College are delivered using a variety of instruction modes. Courses may be offered in the classroom or lab, entirely online, or in a hybrid mode that combines classroom sessions with online learning activities. Program delivery can be run weekdays, weekends or evenings. Upon registration, each full-time student is provided a St. Lawrence College email account which is used to communicate important information about program or course events.
Advanced Standing
Applicants with post-secondary credits may be eligible for direct entry to an upper level of the program (semester or year) depending on transfer credits. Select the applicable level when applying at ontariocolleges.ca and ensure that we receive your official post-secondary transcript for consideration. If you are unsure what level to apply for, please contact the program coordinator.