artist Bio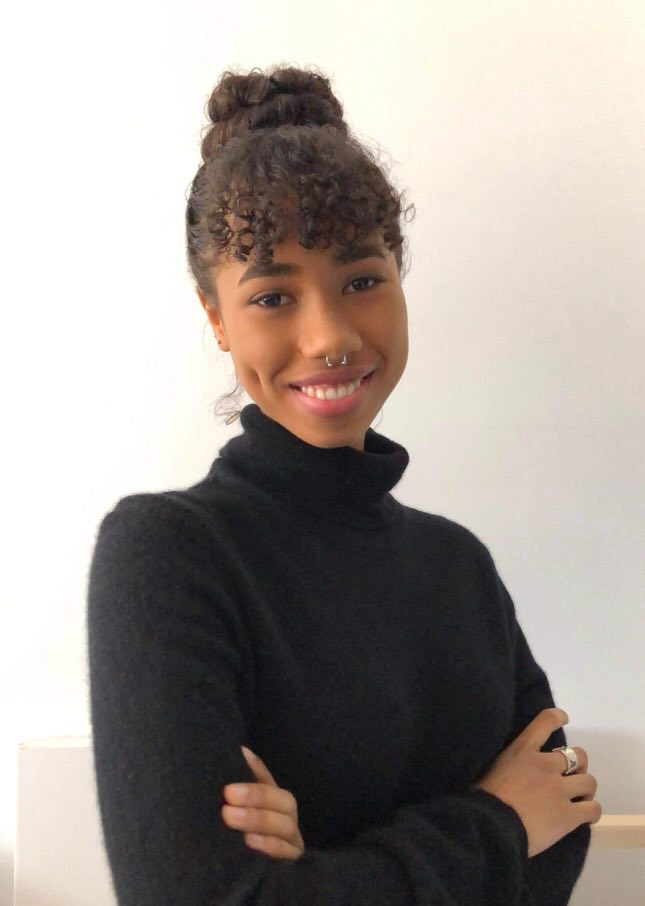 Program of Completion: Visual and Creative Arts - Fine Arts, 2021
Michaëlla Bassey is an emerging artist based in Eastern Ontario, who is originally from Montreal, Quebec. Since a young age, she has always had an affinity for art and has been inspired by artists such as Francis Bacon, Abigail May Alcott Nieriker, Jackson Pollock, Michelangelo, Mary Cassatt, and Cecilia Beaux. Bassey attained her diploma in Creative and Visual- Fine Arts form SLC in 2021. Although Bassey's work often consists of mixed media paintings, she has explored different mediums such as paper quilling and origami, denim, spray foam and flora foam. Her work explores political, social, and cultural issues.
Contact Info: basseymichaella@gmail.com
About the Artwork
Fading Negativity
Mixed media
40" x 30"
$700
I have done more introspection in my life now, more than ever, as I think most people have in the past year. In this self-portrait, the bright colours in the background represent positivity. And the fading grey, solum face represents the positive effect that introspection has had in my life, and how I have become more positive as a result.
Remarkable Daizi
Oil on masonite
16" x 20"
$350.00
This is a portrait of my dog who passed away 2 years ago. She was a remarkable dog and I wanted to capture her beauty in this piece with the golden tones of her coat, her intelligence: the piercing look in her eye, and her importance: her being the only subject in this piece with chiaroscuro technique.
Keep Your Head Up
Oil on masonite
16" x 20"
$350
This is meant to communicate to the viewer that even a seemingly terrible day, can be beautiful, if they just keep their head up.