Story submitted by Jordan Ann Kevan de Hann, Professor, Environmental Technician
Students in Professor Jordan Ann Kevan de Hann's tri-campus course, GENE 115: Creating a Sustainability Society, have just finished their Sustainability Action Projects, designing meaningful projects that also promote cultural, economic, environmental, and/or cultural sustainability.
A key component of their projects was to also advance multiple United Nations Sustainable Development Goals, according to Jordan Ann.
Their projects included organizing a food drive; volunteering for the Loyalist Community Share Centre, which sells donated clothing, books, toys, and small items and keeps the proceeds in the community; creating personal challenges like switching to a vegetarian or vegan diet and reducing electricity use; spreading awareness about their culture by organizing a booth at a multicultural fair; creating podcasts and videos to promote sustainability; volunteering for "Transition into Spring", a Cornwall community event to share educational springtime activities which promote and support a more sustainable way of life; promoting or creating new on-campus sustainability initiatives and events, and organizing a local garbage cleanup.
"It was an eclectic mix of projects, but that is what made the experience so rewarding from both the student and faculty perspectives," Jordan Ann said. "Students were able to match their personal and academic interests with the overarching goal of creating a more sustainable society, and I am pleased with their achievements."
Sample Projects
Multicultural Fair – Representing Philippine Culture at GLOW
Maureen Amistoso and Crisalyn Minas, Social Service Worker Program, Cornwall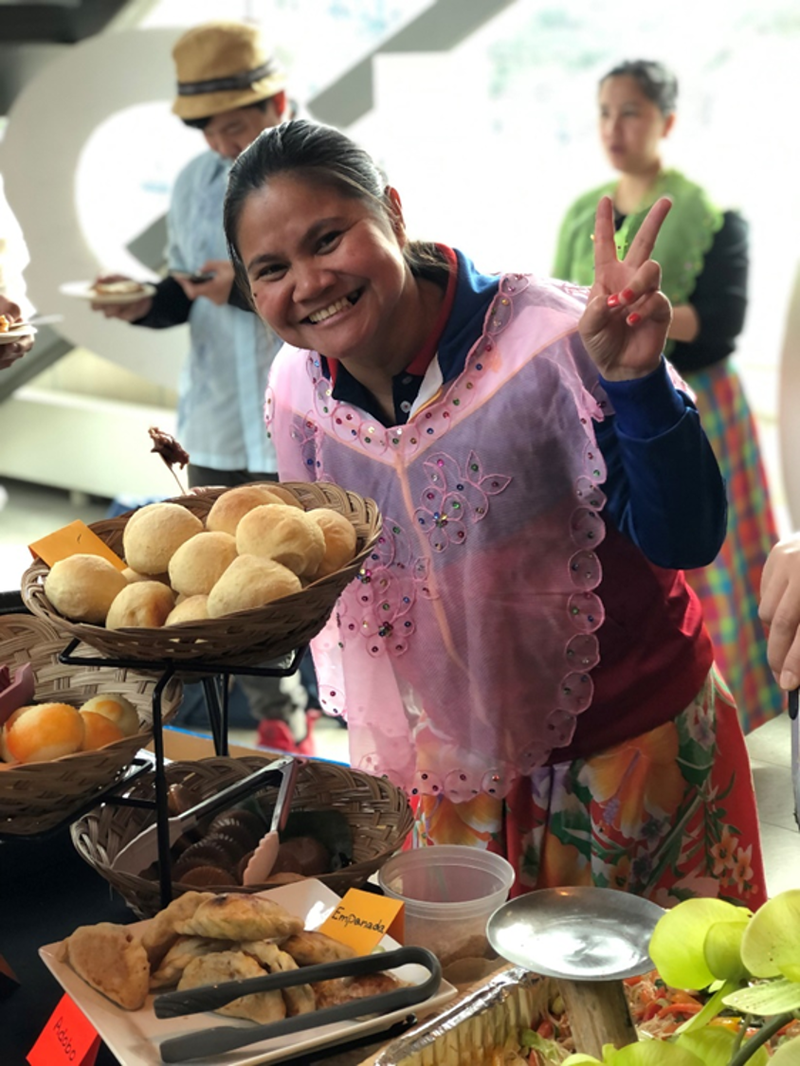 Crisalyn Minas serves traditional food from the Philippines as part of the event
"The Multicultural Learning Program was a success as related our project to UNSDG's goals, [as we] highlighted our own Filipino Culture. We prepared food and demonstrated our National Dance to the students and staff. We also presented Filipino products that connect to the environment. More importantly, we presented how Filipinos live in a sustainable community in society. Our booth, representing the unique culture and characteristics of the Philippines, was well-received by the audience and we hope that it encouraged them to learn more about the Philippines and its people. We believe that by sharing our culture, we can foster acceptance, understanding, and appreciation of diversity, leading to a more united and harmonious society."
St. Vincent de Paul Food Drive
Evelyn Howland, Veterinary Assistant Program, Kingston, and Emily Gurth, Social Service Worker Program, Kingston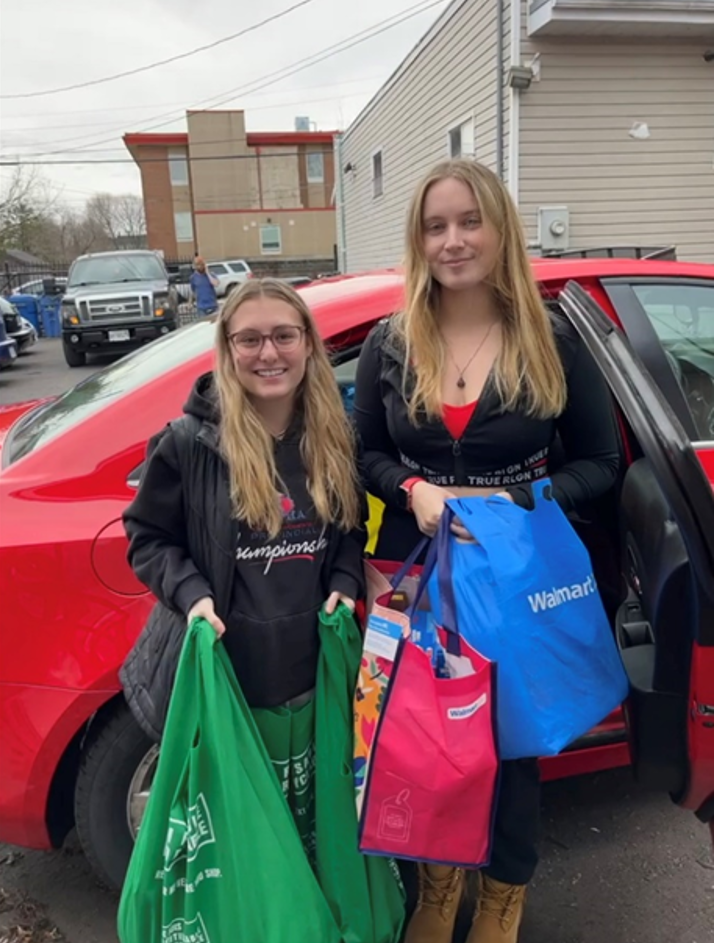 Left to right: Evelyn Howland and Emily Gurth dropping off food from their food drive
Evelyn and Emily organized a food drive for a local organization, St. Vincent de Paul in Kingston, contributing to the hot meal and pantry program.
"We are in very different programs which gave us different perspectives that helped us advance our initiative. As a student in the Social Service Worker Program it was informative and helpful to provide donations for St. Vincent de Paul. This is actually one of the organizations that my program does field placement with. We were able to see how Social Service Workers provide aid within the Kingston community and overall, it was a great experience. We got to see firsthand how the pantry works and this experience makes me want to organize more food drives in the future!"
Transition into Spring
Joey Zulinski, Social Service Worker Program, Cornwall, and Sarah Taylor, Early Childhood Education Program, Cornwall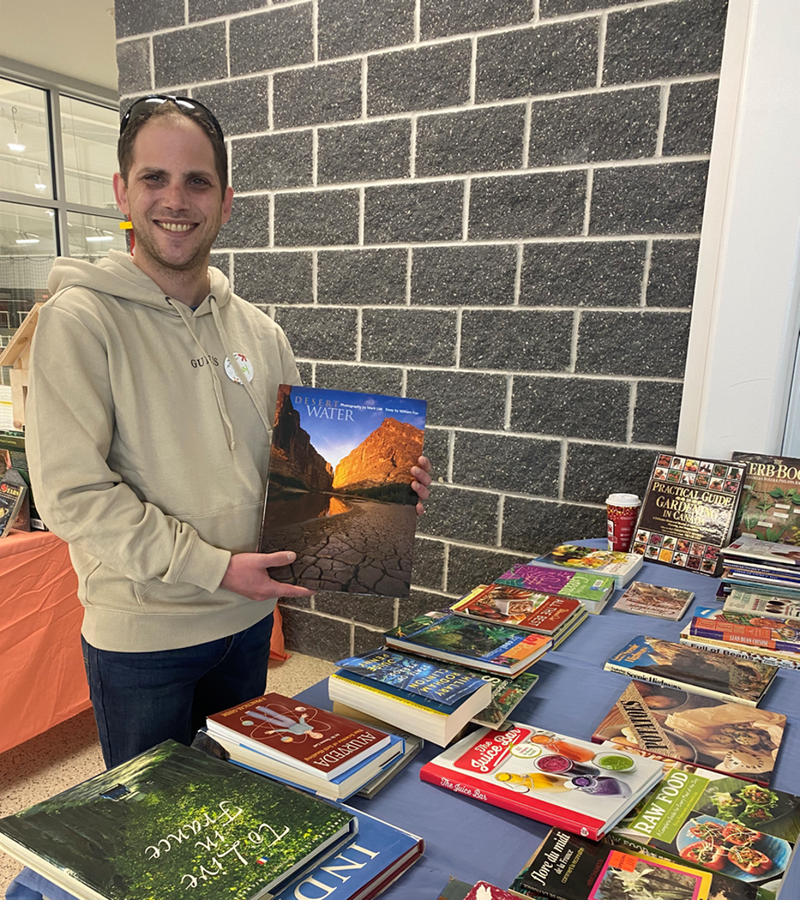 Joey Zulinski at the Transition to Spring event
From Sarah and Joey: "While this was the first time that we both volunteered with Transition into Spring we were able to find areas that we most suitable to provide our help. Sarah being in the Early Childhood Education program was able to assist with the various kids' activities, while Joey, Social Service Worker, was able to assist and promote sustainability by assisting with a free book swap and ensure that everyone was able to find what they were looking for during the event."