SLC announces the upcoming segment in their NEXT Webinar Series, Thursday, February 25, 2021, at 11 a.m. EST.
February's webinar will focus on the future of global supply chains.
What strategic shifts should leaders and stakeholders make as they plan for a post-COVID-19 world?
How should leaders in different industries better position their organization and employees for a world that will be very different from the pre-COVID era?
The NEXT Webinar Series is free for all participants.
The Supply Chain webinar, hosted by SLC's Supply Chain Management Graduate Certificate program.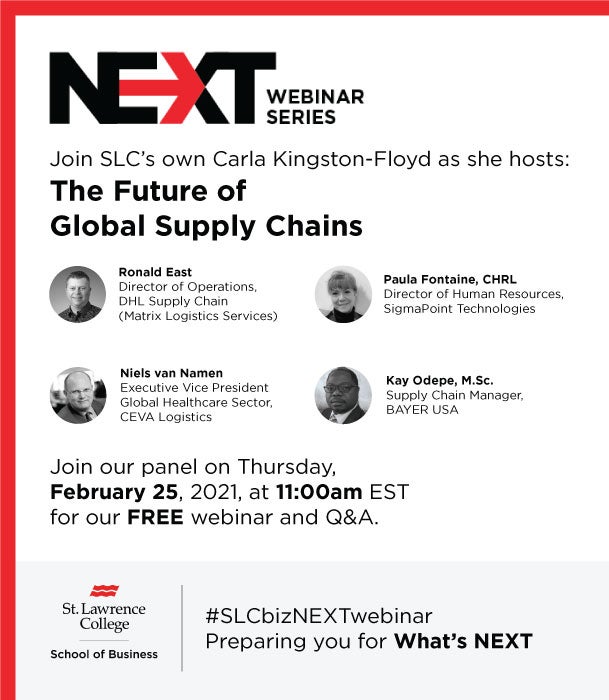 Our speakers
Ronald East
Director of Operations, DHL Supply Chain (Matrix Logistics Services)
Ronald (Ron) East is the Director of Operations for DHL Supply Chain and their Matrix Logistics Distribution Centres in Cornwall, Ontario and Moncton, New Brunswick. Prior to DHL, Ron spent 23 years with Procter & Gamble, mainly in their Global Physical Distribution network.
Paula Fontaine, CHRL
Director of Human Resources, SigmaPoint Technologies
Paula has more than 25 years of experience in HR. Her career path in the manufacturing industry includes automotive, transportation cabs, windows, and printing. Paula received her Industrial Management & Accounting Diploma from St. Lawrence College in 1985 and earned her Human Resource Provincial Designation in 2004. Paula has been a member of the Human Resources Professional Association of Ontario since 1995. As a strong believer in higher education, Paula sits on two PAC's (Program Advisory Committee) for St Lawrence College, Business and Supply Chain & Logistics to provide insight into business needs for the future workforce.
Niels van Namen
Executive Vice President Global Healthcare Sector, CEVA Logistics
Niels van Namen is an experienced healthcare supply chain professional, entrepreneur, and TED speaker. He is passionate about patient-centric supply chains, improving patient outcomes and making healthcare affordable and accessible for everyone. Niels currently leads the global CEVA Healthcare team as the Executive Vice President for the Healthcare Sector and has over 20 years of experience in the healthcare and life science industry of working closely together with customers across R&D, supply chain and manufacturing.
Niels' recent TED talk details his vision of the future of care delivery and the importance of Logistics.
Kay Odepe, M.Sc.
Supply Chain Manager, BAYER USA
Kay Odepe is an astute supply chain management professional with progressive accomplishments and international work experience spanning over 15 years in both mature markets (Canada, USA, Switzerland and Sweden) and emerging markets (West Africa) in varied industries including financial services, automotive, food & beverages industries and most recently, consumer health/pharma.
Kay has worked at Fortune 500 companies including Bayer (Canada, USA, and Switzerland), Cadbury Plc., Kraft Foods Inc., Mondelez and Citigroup. Kay holds a Masters' degree (M.Sc.) in Production and Operations Management (Sweden), a Bachelor of Science Degree (B.Sc.) in Mechanical Engineering (Nigeria) and is a member of Supply Chain Canada.