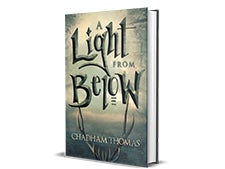 On top of his academic work, Chad Izatt hasn't sat still since he started at SLC in 2017 as a Business student on the Brockville campus. Chad participated in marketing competitions, was elected president of the Brockville student government, started clubs, and organized the TEDxSLCBrockville event last year.
If that wasn't enough, Chad, now in his final year of the Bachelor of Business Administration (BBA) program in Kingston, is adding published author to his list of accomplishments. Chad's recently published fantasy novel, A Light from Below, was inspired by his experiences playing Dungeons and Dragons. Chad wrote the novel last summer, with the encouragement of his wife, Lauren, who is also an SLC grad.
"Dungeons and Dragons is where the base story layout came from - a campaign I was building to play with the Table Top Gaming Club while I was taking classes on the Brockville campus. After seeing how much fun I had creating the world and developing the story, my wife encouraged me to try taking it a step further," Chad said.
"Lauren and I were both part of the Summer Company program put on by the Small Business Enterprise Centre in Brockville, with her selling custom journals and me providing tech tutoring. Lauren participated in a number of large festival events as a vendor, and I accompanied her, forcing myself to use the time to write. Since then, it has become a lot easier to balance my writing with school because it's something I love to do. In between classes and tutoring, I would find an open table in Davies Hall or the Innovation Hub and steadily work away on books two and three."
With the support and personal and professional growth acquired at SLC, Chad plans to continue writing and pursue work as a general business consultant after graduating.
"SLC has been an incredible experience for me, both for what I've learned and what I've accomplished. I believe it's the reason I've been successful at tutoring other students in courses such as accounting and management science," he said. "I have a unique way of thinking that combines analytics with approachable literature, which makes me good at solving problems and communicating those solutions to others."