Written by Mary Ann Lyons, Indigenous Student Advisor and Part-time Faculty
National Indigenous Veterans Day is November 8
Indigenous people have been part of the military history of the country we now know as Canada for over 200 years.
During the War of 1812, they helped protect the country from attacks and invasions by American forces. Thousands of Indigenous people served in both World Wars and in the Korean War.
Indigenous veterans are among the most highly decorated soldiers, airmen, and sailors in our military history. Some veterans have even been called heroes, although to them they were only doing their duty.
Indigenous Veterans Day (now National Indigenous Veterans Day) was established in Manitoba in 1994 and has since spread across the country to the other provinces. It is recognized annually on November 8 and is a day to recognize and acknowledge the many contributions and sacrifices of Indigenous people, not only to Canada's war efforts, but also to its peacekeeping operations. Some of SLC's Indigenous students in past years were veterans.
Sadly, in spite of their contributions to our country's war efforts, Indigenous veterans were not treated fairly or respectfully by the Department of Veterans' Affairs or by society in general. For example, it wasn't until the mid‑1990s that Indigenous veterans and their families could lay wreathes or have their own formed guards at the National War Memorial in Ottawa on Remembrance Day.
On June 21, 2001, the National Indigenous Veterans Monument in Ottawa was unveiled by then‑Governor General Adrienne Clarkson to commemorate the contributions of Indigenous peoples to Canada's military history.
November 8 is a day on which we can try to better understand the role Indigenous veterans have played in Canada and express our gratitude to them for their sacrifice and service. Ceremonies are held across Canada to mark this day. Whether attending one of these ceremonies or not, all Canadians should pause and pay respect to our Indigenous veterans.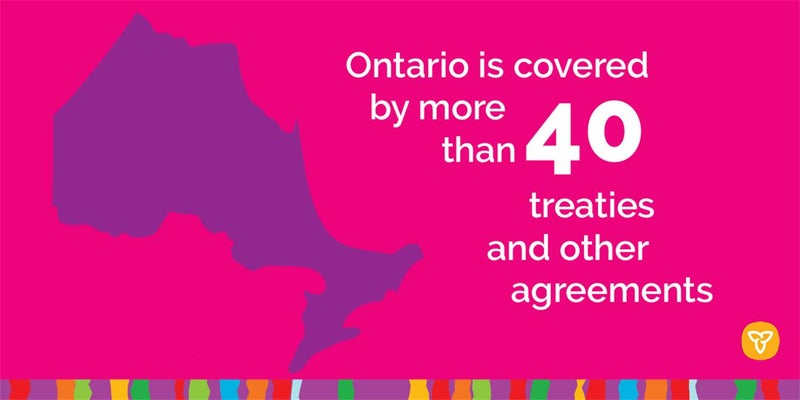 Treaties Recognition Week is November 6-12, 2022
In response to the Calls to Action of the Truth and Reconciliation Commission Report, the Ontario government in 2016 designated the first week of November as Treaties Recognition Week. This year, Treaties Recognition Week is November 6 to 12.
The settlement of Canada was made possible because Indigenous peoples agreed to share the land gifted to them by the Creator with European settlers. Their treaties – legally binding agreements - often set out rules of governance, land use, and the relationship between signing parties. Many of the terms of these treaties have never been ratified.
Treaties Recognition Week honours the importance of treaties and helps us understand the meaning and relevance of treaty rights and relationships, and the reasons why treaties matter to all Ontarians. By learning more about our collective treaty rights and obligations, we can help foster positive relationships between Indigenous and non-Indigenous peoples.
Treaties Recognition Week is a step in the journey of truth, healing, and reconciliation with Indigenous peoples.