Submitted on behalf of the LCC Planning Committee
We would like to thank everyone for attending this year's Learning Connections Conference (LCC) 2023 event that took place on May 16 and 17! Our learning community broke a lot of records this year with the highest number of participant registrations, speakers, concurrent sessions, and keynotes.
Record Breaking LCC - Final Details
587 registered participants
126 speakers
90 concurrent sessions
3 keynote presentations
Share Your Feedback
While most of the survey is focused on this year's event, we included some final questions that provide opportunities for our learning community to share their thoughts on next year's event - LCC 2024. This section includes questions on the format (i.e., in-person, hybrid, or full-online), theme, and potential keynote suggestions. The LCC Planning Team uses this feedback strategically to inform our decision-making processes. For example, the majority of respondents over the last 2 years have voted for a hybrid event. We therefore encourage everyone to complete the survey so that we can accurately reflect on the needs of our community.
All submissions to the feedback survey are anonymous but you may also connect with the LCC planning team directly if you want to discuss your experience in more detail. This can be done by sending an email to the LCC account (LCC@sl.on.ca) so that we can review the request as a team.
To complete this year's survey, please click on the link below:
The survey deadline has been extended to ensure full participation and will now close on June 5 at 4:00pm.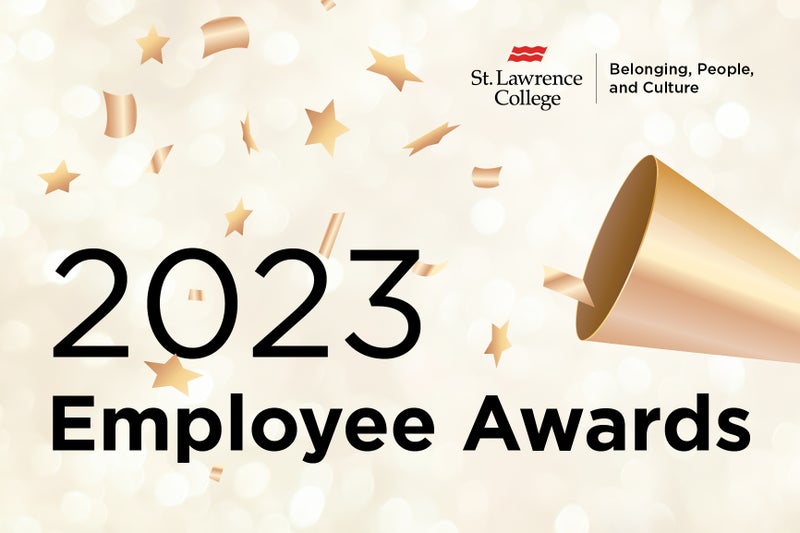 2023 SLC Employee Award Winners
The SLC Employee Awards recognize and honour the College's outstanding faculty, administrators, support staff, and student employees. The 2023 recipients were announced at the Learning Connections Conference on Wednesday, May 17:
Mental Health Advocate Award - Stacy Gall, Counsellor​ Health, Wellness & Accessibility, Kingston
Outstanding Belonging and EDI Leadership Award - Ann Small, Library Coordinator​, Global Partnerships and Learning Services, Cornwall
Indigenous Education Award - Patrick Hymus, Digital Learning Specialist​, School of Contemporary Teaching & Learning, Cornwall
Academic Leadership Award - Brad Greenwood, Professor, Hospitality & Tourism​, School of Business, Kingston
Leadership Impact Award -

André Léger, Associate Dean, School of Contemporary Teaching & Learning​, Brockville

Distinguished Service Award - Robin McAvoy, Coordinator & Professor Medical Laboratory Science​, School of Allied Health, Kingston
Distinguished Service Award Student Employee - Sarvan Ram Dharmshot, International Student Advisor Assistant​, Student Success, Kingston
Stay Connected with LCC

Website: www.LearnConnectSLC.ca
Twitter: @LearnConnectSLC
Social Media Hashtag: #LCCSLC
Email: LCC@sl.on.ca