Story submitted on behalf of the LCC Planning Committee
We are pleased to share that we received 529 registrations for our first ever hybrid format LCC event this year as our College community engaged in a series of virtual and onsite learning opportunities during May 30 and 31. Day one (May 30) was full of excitement as staff gathered in virtual rooms to share ideas, learn, and catch up. Day two (May 31) was full of enthusiasm as staff met in person during workshops, over coffee and lunch breaks, and to celebrate our annual SLC College Award winners.
This was a remarkable event where the SLC community came together to "reconnect, reflect, and recharge." Our two keynote presenters and workshop facilitators shared their insights and content with enthusiasm and a passion for learning. We want to thank all the 86 facilitators for bringing an abundance of knowledge, skill, and lived experience to this year's event. As a gesture of our thanks to all facilitators, the college has made a donation in their name to the SLC Student Emergency Fund so that we can continue to support students currently affected by the Ukranian Conflict.
Keynote Presentations
We invite everyone to review the recordings of our LCC 2022 keynotes which include:
The keynote presentations will remain available online as a recording until June 17. This is part of our agreement with external keynotes where we make the presentations available to employees for a two week period following the event.
On May 31, LCC keynote speaker and SLC alum Dr. Robyne Hanley-Dafoe joined a group of highly esteemed authors from around the globe as a 2022 Nautilus Award recipient with her debut novel "Calm Within The Storm: A Pathway to Everyday Resiliency," which won the 2022 Silver Nautilus Award in the Psychology/Mental and Emotional Well-Being category. The Nautilus Awards aim to recognize 'Better Books for a Better World,' and their core mission is to celebrate and honour books that support conscious living & green values, high-level wellness, positive social change & social justice, and spiritual growth.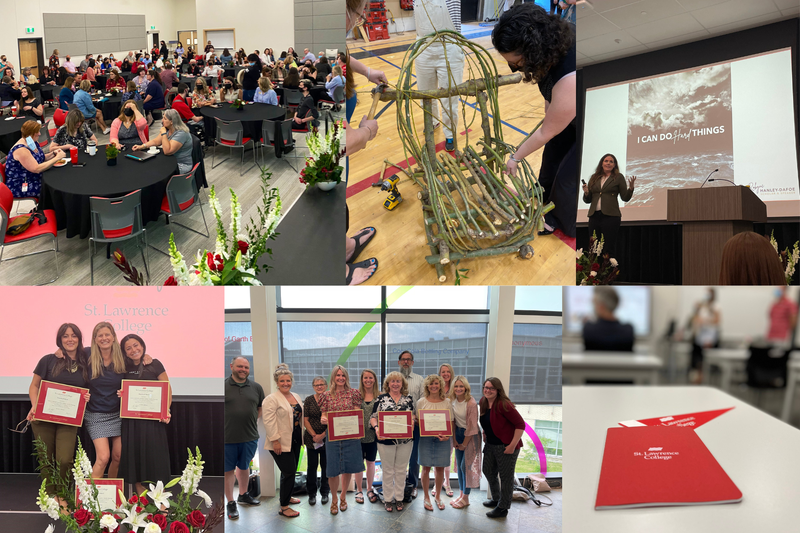 Photos shared on Twitter using #LCCSLC. Photo credits top row, left to right: Glenn Vollebregt, Laura Norman, Dr. Maha Othman. Photo credits bottom row, left to right: Richard Webster, Dr. John Conrad, Jim Elyot.
Employee Awards
The LCC event also enabled us to celebrate our peers in our annual Employee Awards ceremony.
2021-2022 winners:
Leadership Excellence Award - Caryn Langstaff
Service Excellence Award - Amanda Hulton
Award of Merit - Laura Caldwell, Carolina Palmer, Kathy Doering
Academic Excellence Award - Wendy Whitehead
Innovation Award - SkillsAdvance Ontario (SAO) Healthcare Project Team
We invite everyone to revisit the celebration by viewing the recording of the Day 2 Employee Awards & Conference Closing (Kington Campus). This recording will remain available to all SLC employees.
LCC Feedback
The LCC planning team builds the conference agenda and special events based on your input and feedback. Please take 5-7 minutes to complete the anonymous feedback survey that was shared internally in the last communication from the LCC account LCC@sl.on.ca. Your feedback on LCC 2022 is our starting point for planning LCC 2023!
This survey will remain open until June 17.
Stay Connected with LCC
Website: www.LearnConnectSLC.ca
Twitter: @LearnConnectSLC
Social Media Hashtag: #LCCSLC
Email: LCC@sl.on.ca