A student's idea to talk about mental health to reduce stigma in a comic strip has been selected by SLC's Integrated Mental Health Strategy's (IMHS) core team for further development. Hailey Clark, a third-year Graphic Design student created the comic strip as part of the Design Your Community project in the fifth semester course Graphic Design 5.
"The third-year students worked with the IMHS core team to develop creative ideas to communicate about mental health without stigma at SLC," said Erin Boyce, project supervisor and professor in the Graphic Design program. "We had a lot of interesting presentations including a digital mood wall, social media campaigns, and online games. Ultimately Hailey's Connecting with Comics idea was selected by the client for development."
According to Hailey, comics are an effective tool to tackle difficult subjects while remaining informative and educational. Comics can also fight the stigma of mental health with relatable characters of all shapes, sizes, and even fictional beings to ensure that everyone can see themselves in the characters.
"I have always liked the sequential art style of comics, so this idea really spoke to my creative side, and I started to think of ways in which I could make it interactive such as having people submit their own comic ideas for future chapters or allowing them to vote on various storylines," Hailey said. "The more I brainstormed, the more I became convinced that this was the direction I wanted to take the project."
According to Ashleigh Fortune, Manager, Employee Development, a member of the IMHS core planning team, Hailey's comic strip will continue to be developed, and plans are evolving for its release to the SLC community for people to interact and make suggestions on how characters may handle various situations involving their mental health.
"The approach I took with this design was to create a format that would educate and inform the audience on mental health in a way that was both engaging and interactive," Hailey explained. "This experience gave me some insight on how to talk about mental health. Initially, I had basic knowledge on how to approach this topic, but through my research and working with the staff at St. Lawrence College, I gained knowledge on the appropriate language and methods to use. As a result of this experience, I feel more confident about working on design projects that address mental health concerns and handling similar topics with future clients."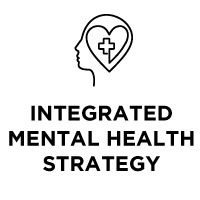 This initiative is a result of work done in support of SLC's Integrated Mental Health Strategy (IMHS).
The IMHS is a multi-year commitment to create empowered, resilient, and healthy campus communities promoting positive mental health and well-being, supporting a culture of connectedness, safety, and belonging, and enabling students and employees to flourish and succeed. The IMHS was identified as a strategic initiative in the 2022 SLC Business Plan.