On December 6, Honours Bachelor of Behavioural Psychology (BPSYC) and Police Foundations students presented creative videos of their finalized Interprofessional Education Community projects. This semester-long project included SLC faculty, A. Britton Smith Centre for Behavioural Studies (CBS) staff, thesis students, and amazing community partners.
"Students went into our communities and in partnership with agencies in our area, sought to implement projects to create social change! SLC is dedicated to providing our students with active learning opportunities which involve implementing community mobilization and engagement projects that aim to solve or minimize community problems. Topics included youth gambling, human trafficking, vaping, impaired driving, HIV awareness, access to services, and weapons offences," explained Marie-Line Jobin, Coordinator and Professor, Years 3-4, Honours Bachelor of Behavioural Psychology. "During this project, students developed their interprofessional competencies and essential employability skills. This interprofessional education and experiential learning project was a novel learning approach—a huge congratulations to all students on their hard work this semester. In addition, we thank our community partners who provided their expertise, knowledge, and resources to assist students in their projects."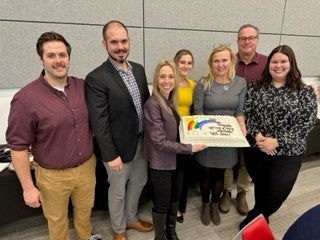 The IPE team that made the project possible, from left to right: Alex Glecoff and Mike Williams (A. Britton Smith Centre for Behavioural Studies), Marie-Line Jobin (BPSYC Coordinator), Colleen Decoste (BPSYC 4th year student), Laura Salsbury and Robert Besselink (PFP faculty) and Alexis Arnott (BPSYC 4th year student).
Gabrielle Stevens, a third-year BPSYC student and Police Foundations grad (2020), and Veronica Laird, a Police Foundations student, worked with MADD (Mothers Against Drunk Driving) Quinte to explore the topic of impaired driving.
"My group worked to introduce an innovative intervention strategy to assist in the decrease in impaired driving within our community, especially as we approach the holidays. Additional information told us the population who frequently engaged in impaired driving was aged 18-24. With this in mind, our group, alongside the Student Association (SA), organized a local bottle drive to raise funds to give discounted taxi vouchers to SLC students with the hopes of reducing the possibility of impaired driving," said Gabrielle. "Throughout the ongoing progress and implementation of this community-based project, plenty of challenges arose within individual groups, including within the implementation of the project itself. However, overcoming these obstacles as a group and seeing the implementation of the project in the community was extremely rewarding and allowed students from different backgrounds to grow together and recognize the value of developing interpersonal relationships to create innovative and unique projects like these that will have a positive impact within our community."
Veronica Laird, a Police Foundations student who also worked with MADD Quinte and explored the topic of impaired driving, said the group identified opportunities to expand awareness among the SLC community by sharing information at a booth in the Kingston cafeteria.
"This semester-long project became more than just a school project. I made lots of friends along the way, learned new perspectives from my peers, and most importantly, made connections with my fellow college students. While at our booth many students came to visit and expressed their personal experiences with impaired driving. I could not believe how many students at St. Lawrence College were affected by this issue. It opened my eyes and made this project much more personal than I anticipated," said Veronica. "As I prepare for my career as a police officer in the community, this project has helped me learn to work with others from different backgrounds and use our own individual skills within the group to complement each other."