Celebrating Ontario's Outstanding College Graduates
St. Lawrence College's history has been told through the success of our graduates who have gone on to contribute to our communities in ways both vital and, often, quiet. But it wasn't until 1992—the year the College system celebrated its 25th anniversary—that there was a place to showcase our outstanding graduates. The Premier's Awards quickly became the rallying point to show how Ontario's colleges continue to play a vital role in our province through the success, dedication, and commitment of our graduates.
Administered by Colleges Ontario, the Premier's Awards celebrate the achievements of Ontario college graduates in the province and throughout the world. The awards recognize graduates in the following seven categories:
Apprenticeship
Business
Community Services
Creative Arts and Design
Health Sciences
Recent Graduate (2016-2022)
Technology
See past recipients and learn more about the award requirements.
Nominate an SLC Graduate
Do you know a grad who is experiencing outstanding career success and/or demonstrates community involvement? We are calling on the campus communities to submit names for Premier's Awards nomination consideration. These awards are a great opportunity to profile and promote SLC's successful graduates.
Please provide your suggested nominee, along with brief details of your nominee's accomplishments and reasons for consideration. Note: grads can be re-nominated if they haven't previously won.
Points to consider:
Has the nominee made a significant impact on the nominee's chosen career?
Has the nominee made a significant contribution to the nominee's sector?
Has the impact been recognized by others in that industry and/or profession?
Has the impact helped shape or change the lives of others?
Has the nominee made a significant contribution to the nominee's community?
College Education:
Was the decision to enter a program and/or apprenticeship training a key factor in the nominee's success?
Is it clear that the program or apprenticeship training provided a fairly unique contribution to the nominee's preparation?
Would others be inspired to enter a program or apprenticeship training after hearing the nominee's story?
2023 Premier's Awards
The Premier's Awards celebrate the achievements of Ontario college graduates in the province and throughout the world. A gala award ceremony in celebration of the graduates of Ontario's 24 Colleges will be celebrated in Toronto, Ontario on Monday, November 27 at the Sheraton Centre with seven St. Lawrence College graduates, one in each category, representing all our graduates and the contributions they make to our province and their communities. Learn more about each nominee:
2023 Premier's Award Nominee - Apprenticeship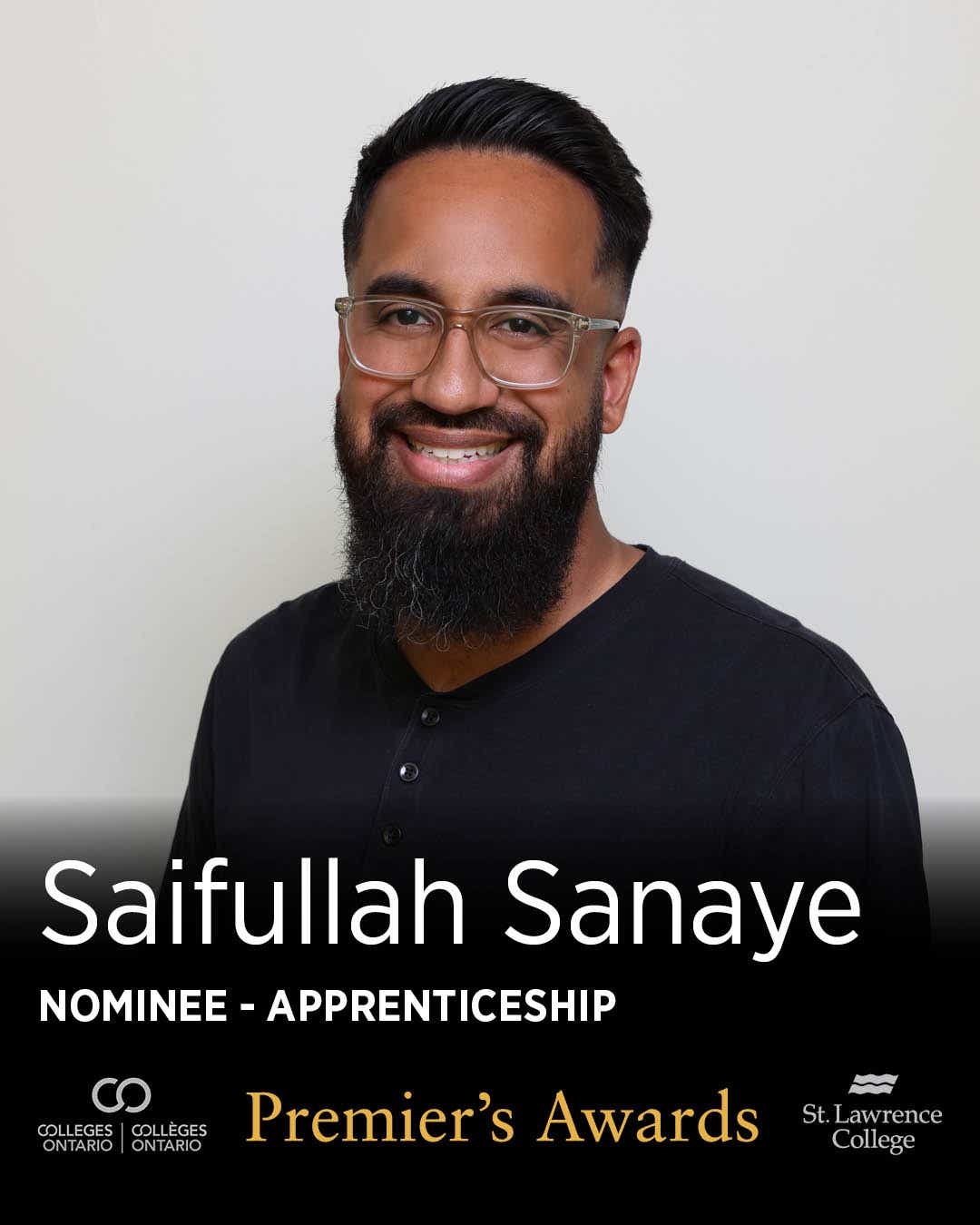 Job titles:
Professor of Automotive Technology / Automotive Program Coordinator, St. Lawrence College
Chief Executive Officer, The Mechanic
Technical Advisor, Automotive Technical Consulting
Electric Vehicle Technical Trainer, St. Lawrence College
Curriculum Developer and Technical Trainer, AIA Canada
Programs of study:
Automotive Service Technician Level I, 2007
Automotive Service Technician Level II, 2008
Automotive Service Technician Level III, 2009
Saifullah Sanaye is blazing new trails as an expert in hybrid and electric vehicles (EV) who partnered with the Automotive Industries Association (AIA) of Canada and his alma mater to develop two unique programs that are expanding to other colleges. The highly skilled automotive technician, instructor, and entrepreneur is a leader known as "the guy your mechanic calls." He looks at vehicles from a different angle and addresses hard-to-solve problems and is teaching this skill to others. He provides highly sought-after consultant services to multiple dealerships and aftermarket repair shops, providing advanced vehicle diagnostics and training licensed and apprentice technicians.
2023 Premier's Award Nominee - Business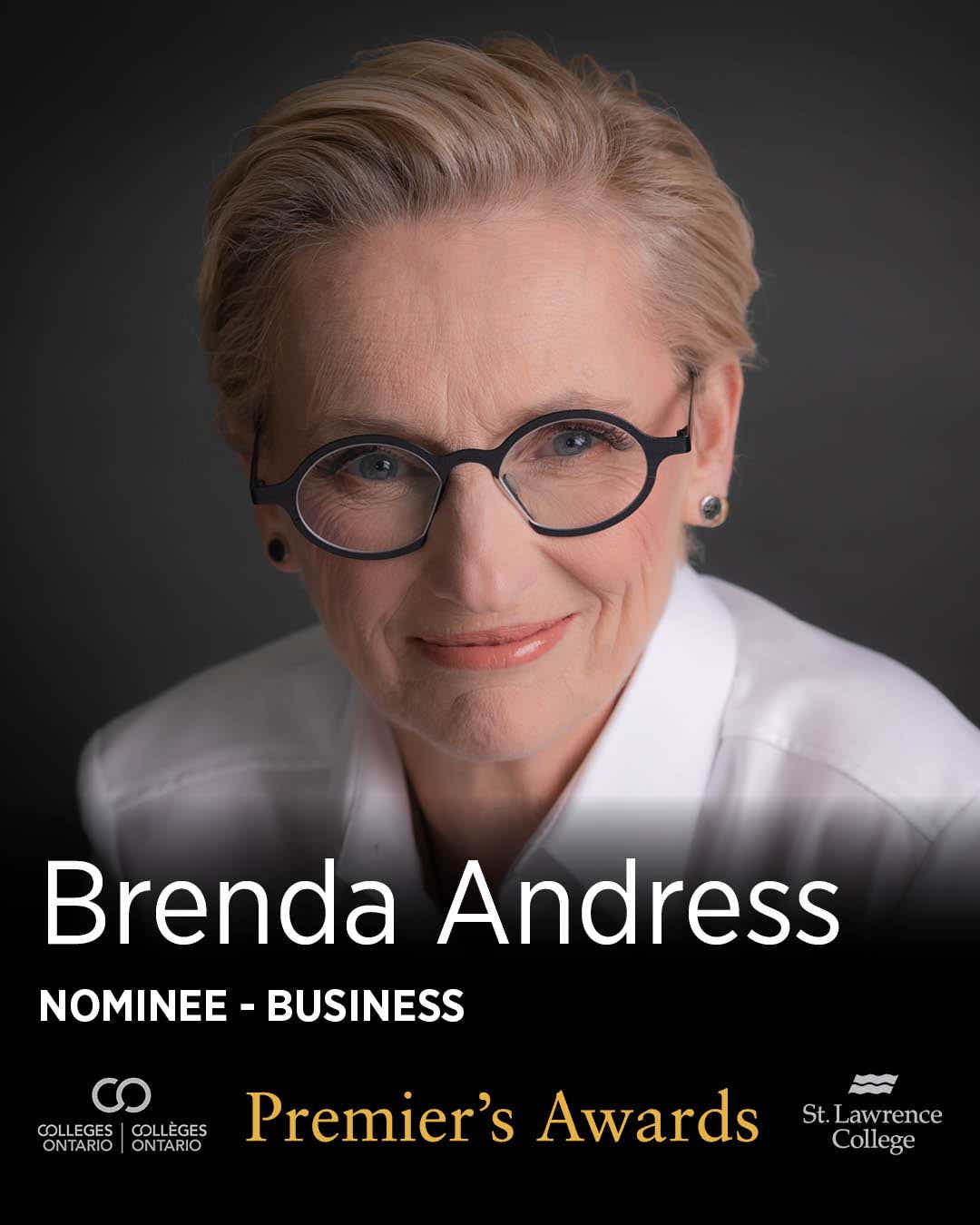 Job titles:
Founder/CEO, SheIS Sports Network Corporation
Founder/CEO, SheIS Inc. (NFP)
Program of study:
Municipal Administration, 1991
Brenda Andress is equal parts education and sport. Brenda, founder and President of SheIs, a non-profit promoting women's sports, has spent a lifetime arming herself with intelligence and leading women to a place of belonging. Brenda has led local municipalities' parks, recreation, and culture divisions – normalizing leadership by a woman in a male-dominated industry, and along the way, founding industry-leading initiatives in both domestic and international marketplaces. Her grassroots approach to building, learning, and leading launched her into the Canadian Women's Hockey League, where she served as the league's Commissioner from 2007-2018 and established the first-ever Clarkson Cup Championship
2023 Premier's Award Nominee - Community Services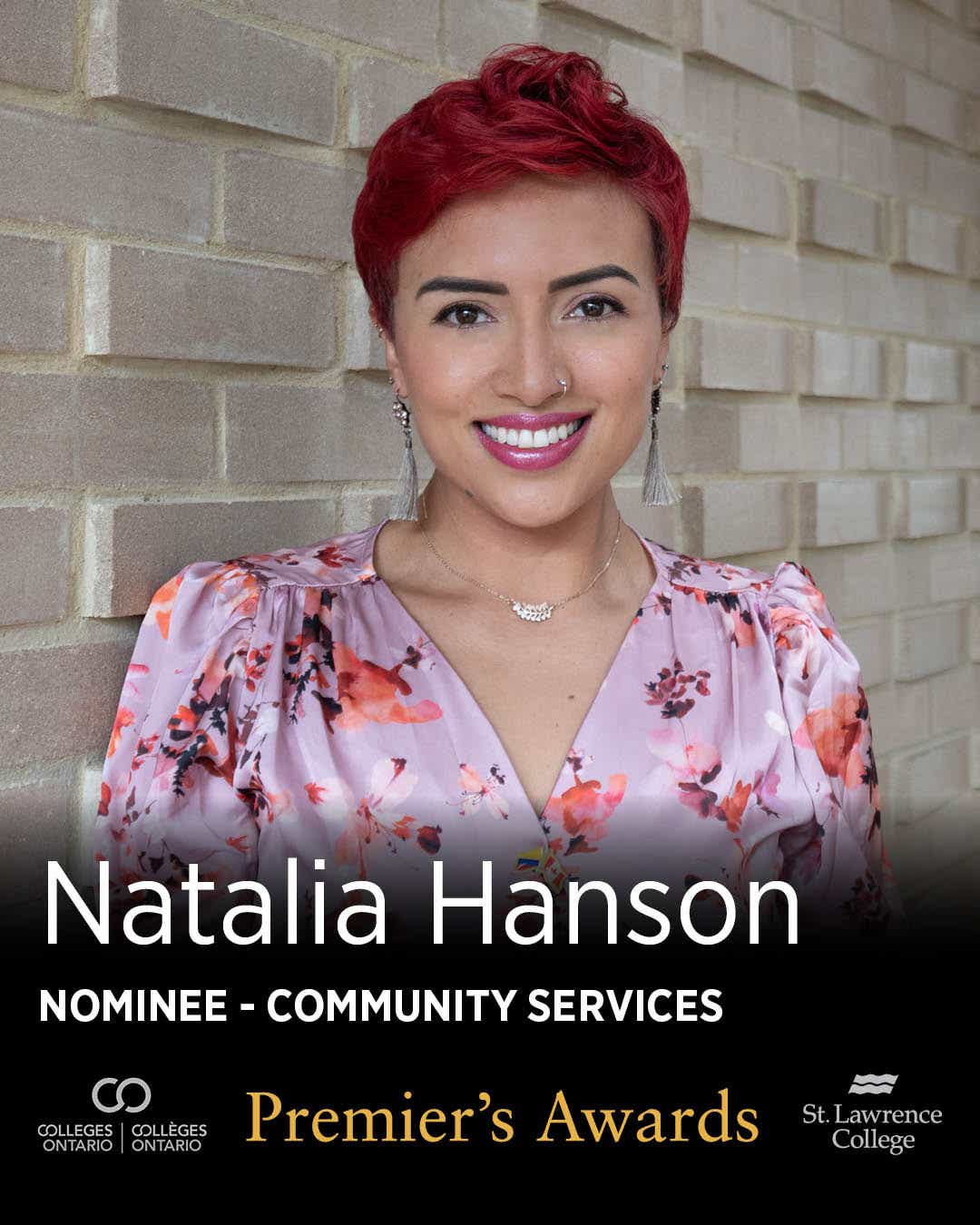 Job titles:
Executive Director, HOLA (Humane Outreach for Latin Animals)
Marketing Consultant, Humane Canada
Marketing Coordinator, McIntyre Canine Rehabilitation
Program of study:
Veterinary Assistant, 2010
When it comes to leadership in animal activism, Natalia Hanson knows no bounds. A proud global citizen, her groundbreaking achievements in campaigning for animal welfare have spanned the globe. Having volunteered in countries in Africa and Latin America, Natalia has shared her passion and expertise with various organizations to help promote their causes. Currently splitting her time between Canada and her Colombian homeland, Natalia is the co-founder of HOLA, a charity that backs accessible and low-cost neutering.
She's also a skilled marketing and communications professional and continues to inspire animal advocacy via social media and other online forums.
2023 Premier's Award Nominee - Creative Arts and Design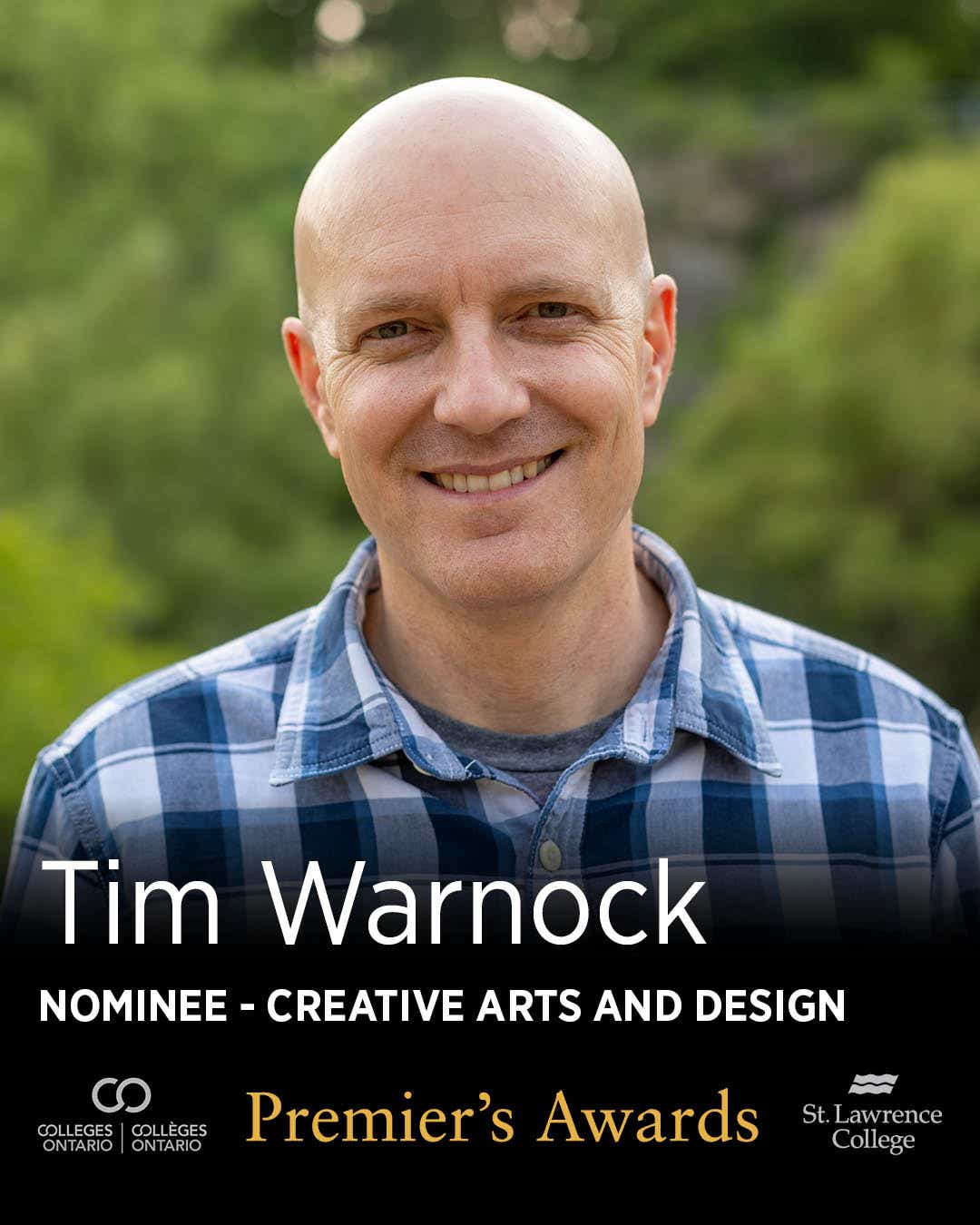 Job title:
Concept Artist / Vice President, North Front Studio
Program of study:
Tim Warnock is an illustrator, graphic designer, visual effects, concept artist, and entrepreneur, running his own creative design company catering to the TV, film and video game industries. Tim's notable achievements include collaborating with Industrial Light & Magic on blockbuster films' visual effects, such as The Avengers, Transformers: Dark of the Moon, and Pacific Rim. He also co-created the concept art for Amazon Prime's "The Expanse" television series. Through his company, North Front Studio, he has collaborated with Riot Games on Legends Of Runeterra and worked with the Riot world building team.
2023 Premier's Award Nominee - Health Sciences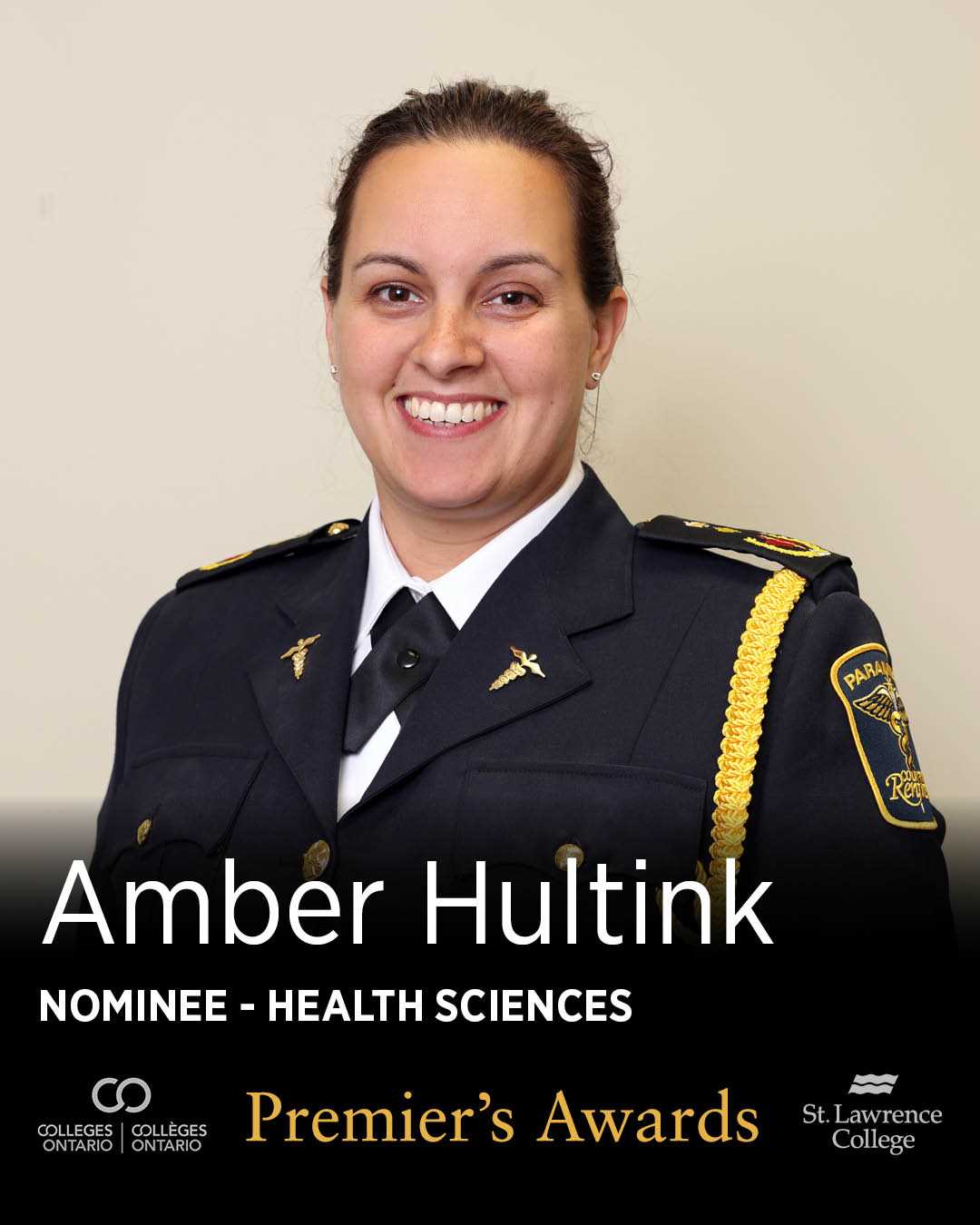 Job title:
Commander, County of Renfrew
Program of study:
Amber Hutlink is a highly respected paramedic, leader, and innovator. The first woman Commander of the County of Renfrew Paramedic Service, she's recognized as a caring and passionate advocate for vulnerable populations, including seniors, who face barriers to accessing health care. This drives Amber's pioneering work to expand the role of paramedics to provide patient-centred support in peoples' homes and neighbourhoods. Her forward-thinking leadership in community paramedicine and palliative care paramedicine was especially vital during the pandemic. She's known for developing effective, ground-breaking programs in Renfrew County, models that are shaping paramedicine across Ontario, nationally, and internationally.
2023 Premier's Award Nominee - Recent Graduate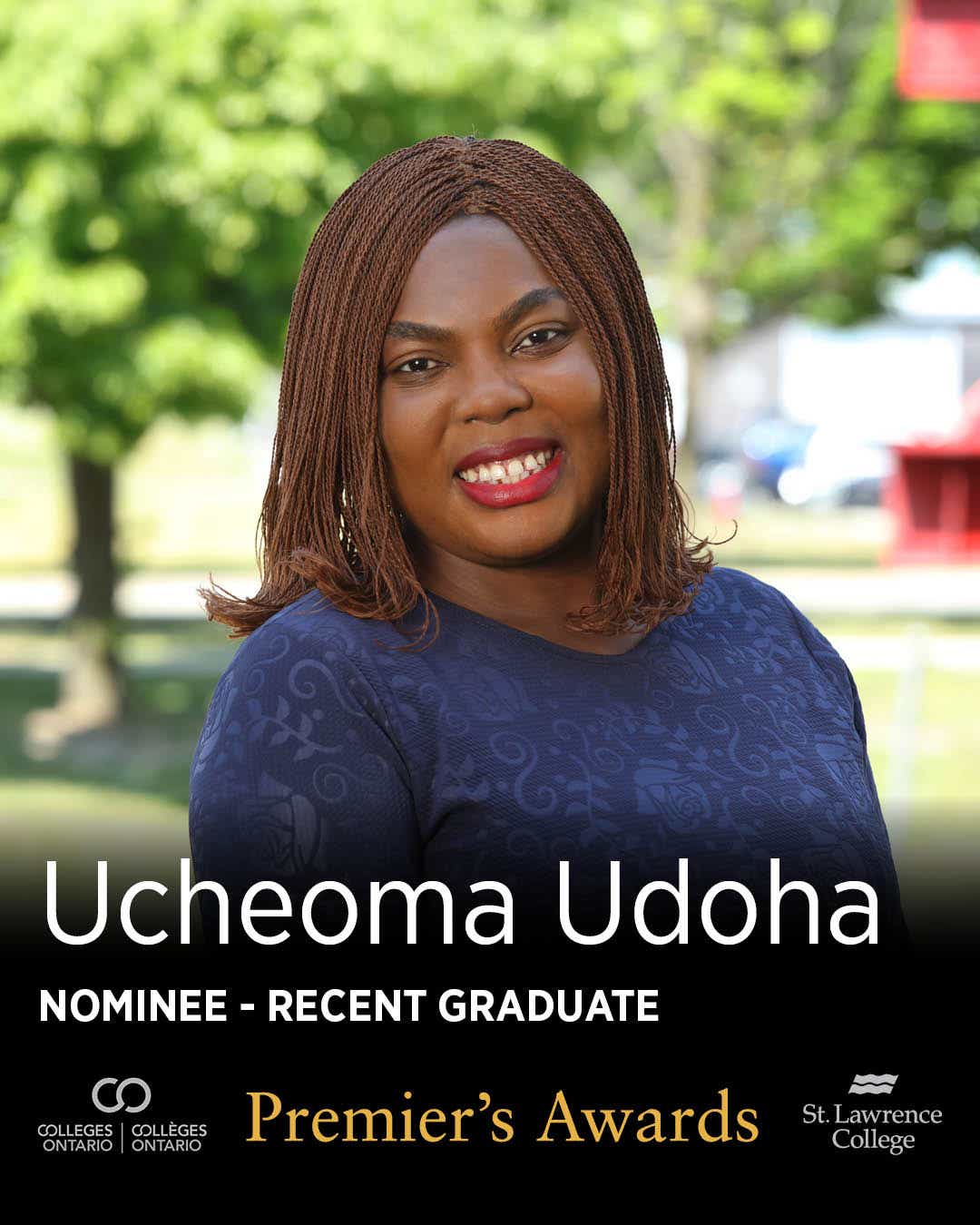 Job titles:
CEO/Founder, Crispvision
Project Lead, Alzheimer Society of Durham Region
Program of study:
Healthcare Administration
Uche Udoha is a highly accomplished healthcare professional and innovative entrepreneur. Her selflessly dedicated social impact continues to improve the lives of all those her work touches, locally and internationally. She is committed to serving in-need populations with her ever-expanding skillset including optometry, business leadership, health care administration and project management. For Uche, every achievement and award has been another opportunity to give back to humanity. Through her work she is currently bettering the life quality of rural Nigerians, Alzheimer's Society clients in Ontario, and the career building capacities of current and incoming international students with her alma mater college.
2023 Premier's Award Nominee - Technology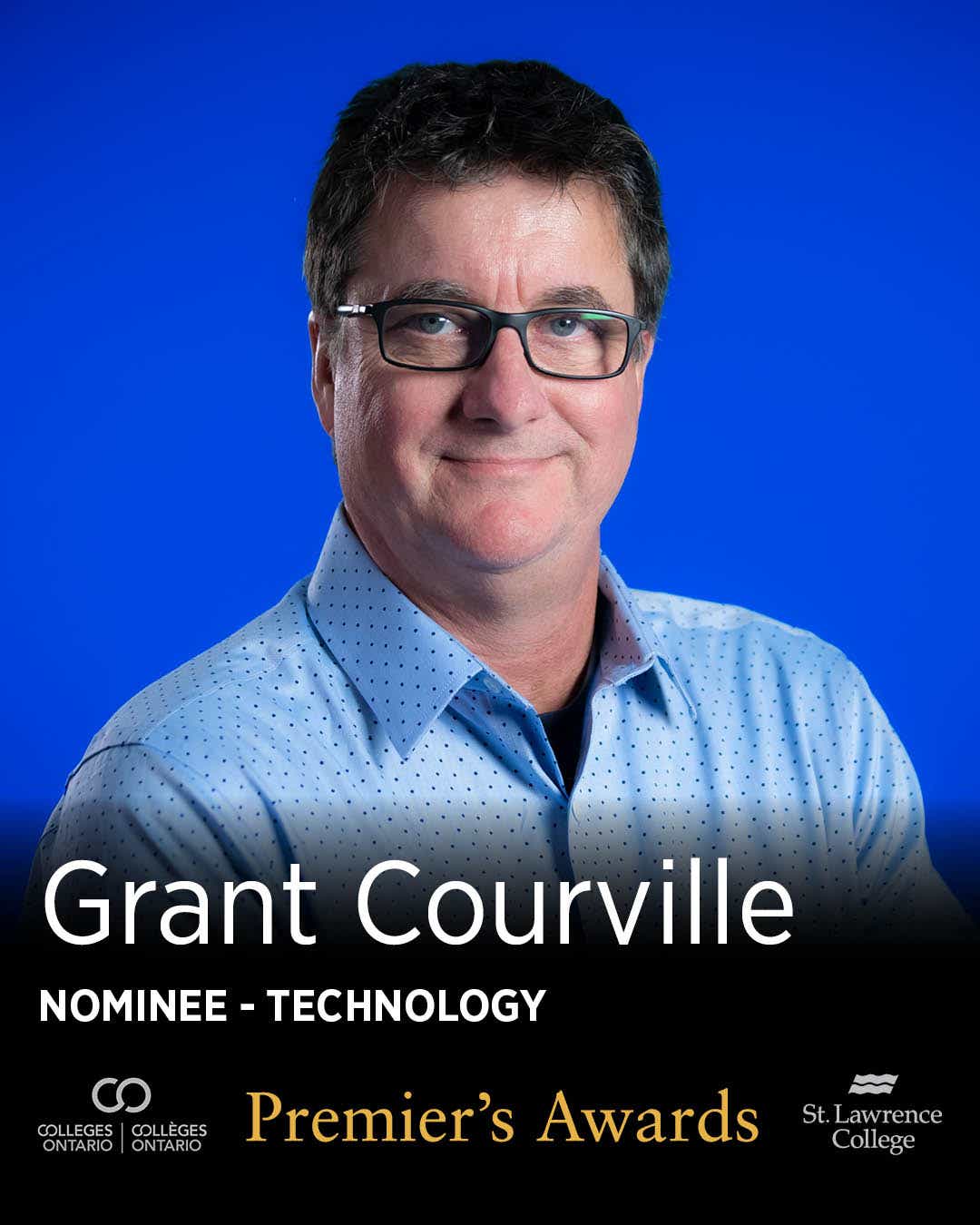 Job title(s):
Vice President, Products and Strategy, BlackBerry
Program(s) of study:
Microcomputer Engineering Technology, 1986
Grant Courville's work is helping to drive the digital transformation in the automotive industry to redefine commuting and travel. Throughout his 30 + years in the technology sector, Grant has been on the cutting edge. He was an early developer of QNX, a Canadian software development company acquired by Blackberry in 2010. Following the acquisition, he joined the BlackBerry QNX executive team and is BlackBerry QNX's Vice President, Products and Strategy. His mission is to make car operating systems safe, secure, and reliable, keeping drivers connected to their phone and data while traveling without compromising driving ability or safety.
Past Nominees and Winners
APPRENTICESHIP


Justin Tse
Chef and Owner at Justin Tse Private Dining and Events, Self-employed
Cook Advanced -Apprenticeship, 2010
Culinary Management, 2010
Justin Tse is an innovative chef charting his own culinary and entrepreneurial path. The pandemic hit the restaurant industry particularly hard, but the culinary influencer has created a unique private dining and pop-up restaurant model, which includes secret tasting menus, using Instagram as his only promotional tool. Justin's career includes working for Michelin star restaurants and in the Arctic, and he was chosen as Canada's Top 30 Under 30 for Food and Hospitality in 2020 and a Canadian finalist for San Pellegrino Best Young Chef in 2015. He continues to serve as a mentor in and advocate for his profession.
BUSINESS


Luc Chénier
Chief Executive Officer, Kyiv Post Media
Founder and CEO, Plan C
Graphic Design, 1994
A networker, problem-solver, and bridge-builder, Luc Chénier is a respected entrepreneur, marketing expert, and seasoned CEO who has spent most of his career working with international brands, global leaders, and governments. Luc brings his unique and bold blend of creative spirit and business expertise to every project and endeavour and has founded and led multiple successful strategic and communications-oriented ventures. For the past 22 years, he has lived in Ukraine, and recently took on the challenge of successfully reviving the Kyiv Post, transforming it into a respected media company at a critical time just ahead of the Russian invasion.
COMMUNITY SERVICES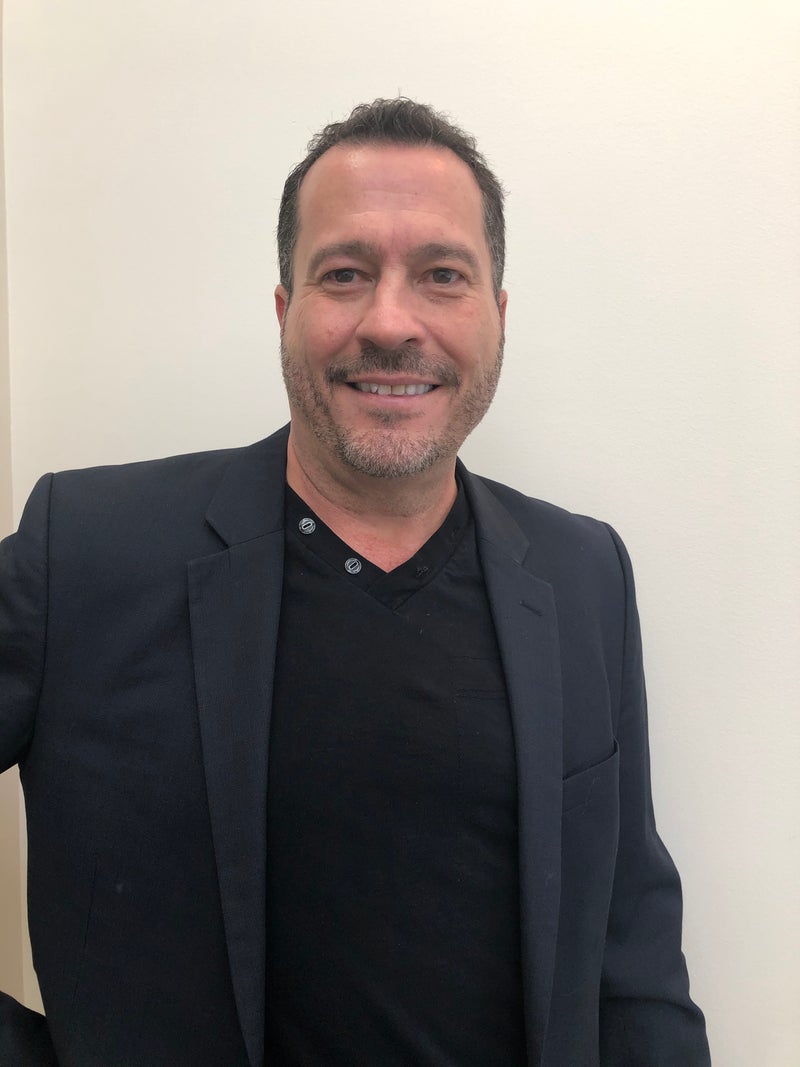 Randy Thompson
Vice President, Business Development, LivingWorks
Behavioural Science Technician, 1987
Randy Thompson has built his career around compassion, helping others as a social worker and leader in all facets of mental and physical health management, and through personal and professional endeavours related to his own challenges as a cancer survivor and suicide loss survivor. Combining empathy and care with business success, Randy has worked tirelessly to improve the lives of others, whether through one-on-one support, managing group homes, creating healthier workplaces by way of employee assistance programs, developing suicide intervention strategies, or advocacy work for cancer awareness and suicide prevention.
CREATIVE ARTS AND DESIGN

Greg Carruthers
Artistic Producer/Founder, EveryBODY on Stage
Choreographer, The Grand Theatre, London Ontario
Music Theatre Performance, 2011
Greg Carruthers is a choreographer, performer and entrepreneur who is on a mission to stifle stigma, reduce the harm done by body dysmorphia, and break barriers for all body types and voices underrepresented because of race, ethnicity, disability, sexual orientation, gender identity, and age.
As founder and artistic producer of the company EveryBODY on Stage, Greg takes immense pride in creating a company where people can shine as their authentic selves. A proud member of the 2SLGBTQIA+ community, he is an active voice and collaborator who is creating safe, inclusive spaces in his industry.
HEALTH SCIENCES


Ginette Ferguson
Vice President, Clinical Programs and Chief Nursing Executive, Hawkesbury & District General Hospital
Nursing, 1990
Perhaps an appropriate title for Ginette Ferguson would be Chief Nurse Innovator. A Registered Nurse since 1989, Ginette has not stopped learning, earning more credentials, and working her way up from direct bedside patient care to top administrative hospital positions, all while supporting students preparing to work in healthcare.
Ginette, having served in two Vice President roles in Eastern Ontario hospitals, not only has stellar leadership qualities, but she also can manage complicated problems, such as participating in the preparation for the province's first COVID-19 patients

RECENT GRADUATE


Brian Shelley
Operations Manager, Co-Owner, The Lure Lab
Co-Owner, General Brock's Commissary/K-Town Cups
Mechanical Technician, 2021
It was a perfect storm for Brian Shelley, when his entrepreneurial nature, passion for fishing, and recently completed education in millwright studies, complemented by the nuggets of his college experiences in business marketing, outdoor adventure, and trades studies, combined to inspire him to launch a new venture. After studying in a variety of college programs, he put his accumulated experience to work building an innovative and successful manufacturing business, designing, producing, and manufacturing custom fishing lures for a growing North American client base while continuing to own and operate a beloved local retail landmark in downtown Kingston.
TECHNOLOGY


Rosanna Baggs
Senior Project Manager, Morrison Hershfield
President, The Ontario Association of Engineering Technicians and Technologists (OACETT)
Civil Engineering Technology, 2011
Business Administration – Human Resources, 2006
A self-described "Jill of all trades," Rosanna Baggs is a leader and trailblazer in the field of transportation and infrastructure design. She brings significant expertise and knowledge to all of her professional roles. She leads on a broader level in her many positions and as the youngest female president of the Ontario Association of Certified Engineering Technicians and Technologists (OACETT). Adept in her technical knowledge and ability to understand the "psychology of how people use the infrastructure," Rosanna is a skilled problem-solver and an inspiration and mentor to those entering the field, especially young women.
The 2021 virtual awards gala is on November 18, 2021. Meet St. Lawrence College's seven Premier's Awards nominees, representing the contributions SLC alumni make to our province.
Apprenticeship Category
Melissa Phelan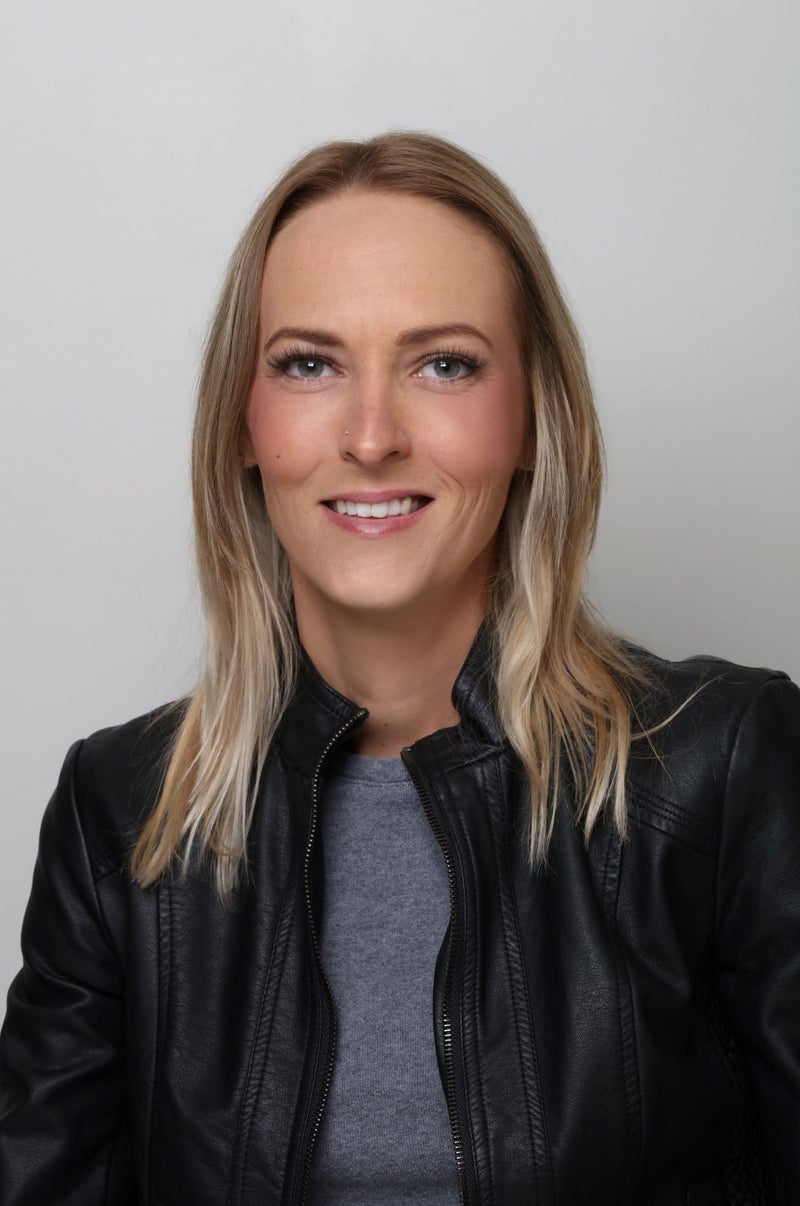 Entrepreneur, Self-employed
Welding & Fabrication Technician, 2016
Welder Apprenticeship Level III, 2015
Welder Apprenticeship Level II, 2015
Welder Apprenticeship Level I, 2014
Melissa Phelan is a highly skilled welder and robotics weld programmer who has become a vocal advocate for women entering the welding industry and the trades in general. Recognized as a woman to watch in the trades, Melissa is both a talented welder and technician and a leading voice within the Canadian manufacturing sector. Using social media and online forums as a force for positive change, Melissa is a confident millennial woman who uses her skills and experience to encourage, inform, and inspire the next generation of women in the trades.
Business
Karyn Robarts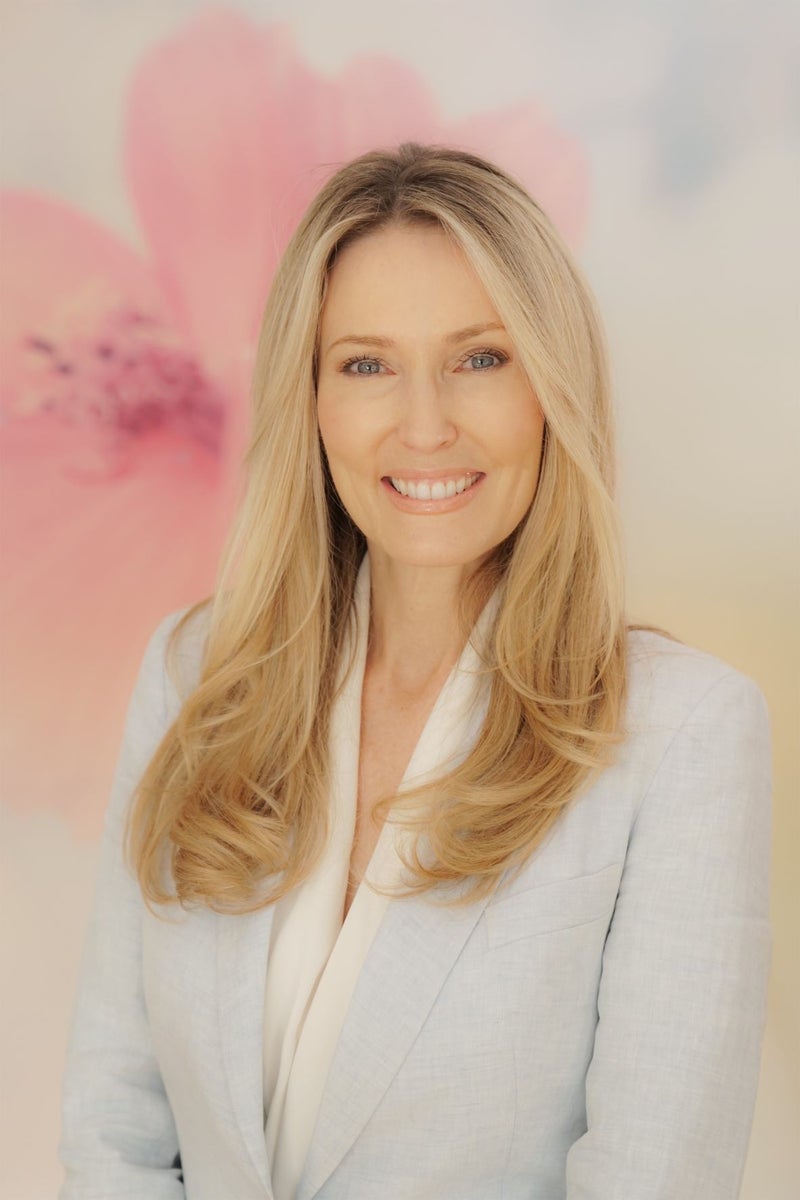 Founder and Partner, Robarts Spaces
Founder, The Family Learning House
Founder, Our Learning House
Founder, Day by Day Character Education
Fashion Merchandising, 1987
Named one of the 100 most influential design professionals in China by Architectural Digest, Karyn Robarts embodies a head for business, a heart for children, and an eye for beauty. In addition to the 1000+ projects her architectural and design firm has managed from its headquarters in China, she has shown an extraordinary commitment to education, establishing five schools - four Montessori and one educating orphans with disabilities - and was the creator of a children's character education program delivered to 100,000 preschoolers in 300+ schools in China. Karyn is designing a better future.
Community Services
Robyne Hanley-Dafoe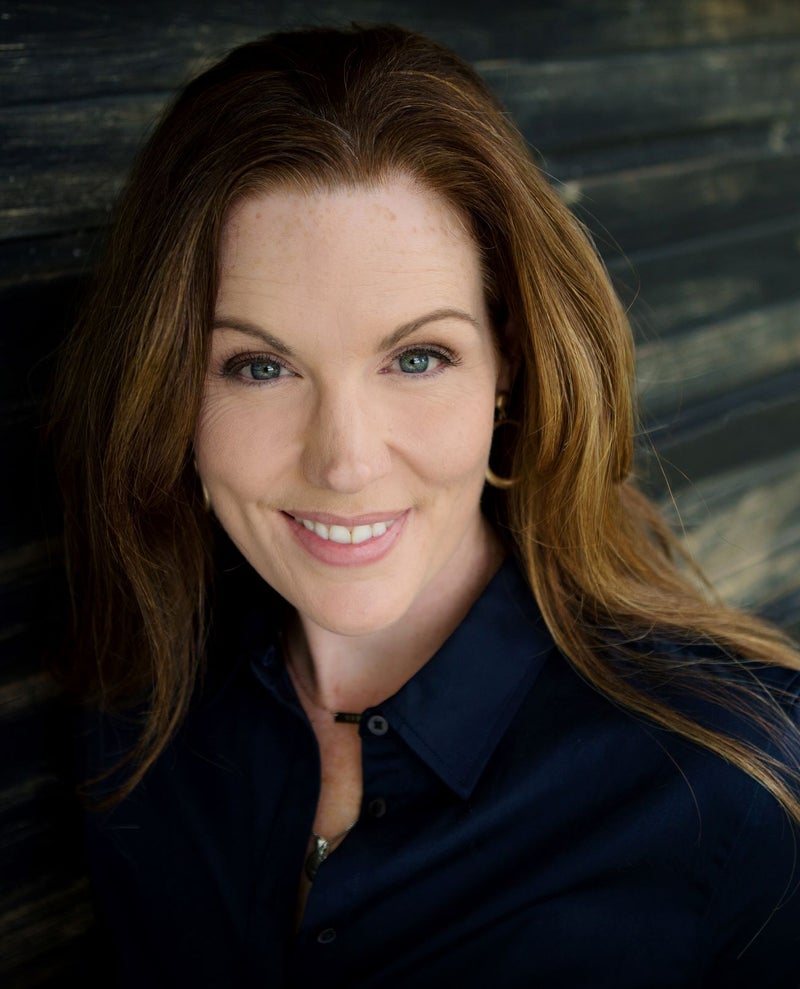 Founder and CEO, Robyne HD Inc.
Senior Educational Developer, Trent University
Adjunct Faculty, School of Education
Behavioural Science Technology, 2000
Addiction Treatment and Prevention Worker, 2000
An award-winning psychology and education instructor, author, researcher, international speaker, and philanthropist, Dr. Robyne Hanley-Dafoe motivates people to become "resiliency rock stars," offering practical strategies to cultivate resiliency and move through life's inevitable challenges. Using her own struggles and challenges to fuel her life's work, Robyne has harnessed her gifts as an educational leader to make an everyday impact on people's lives around the world. Named Canada's Most Requested Speaker in 2020, Robyne has become a highly sought-after expert during the COVID-19 pandemic, and in 2021 published her first book, Calm Within the Storm: A Pathway to Everyday Resiliency.
Creative Arts and Design
Bernard Clark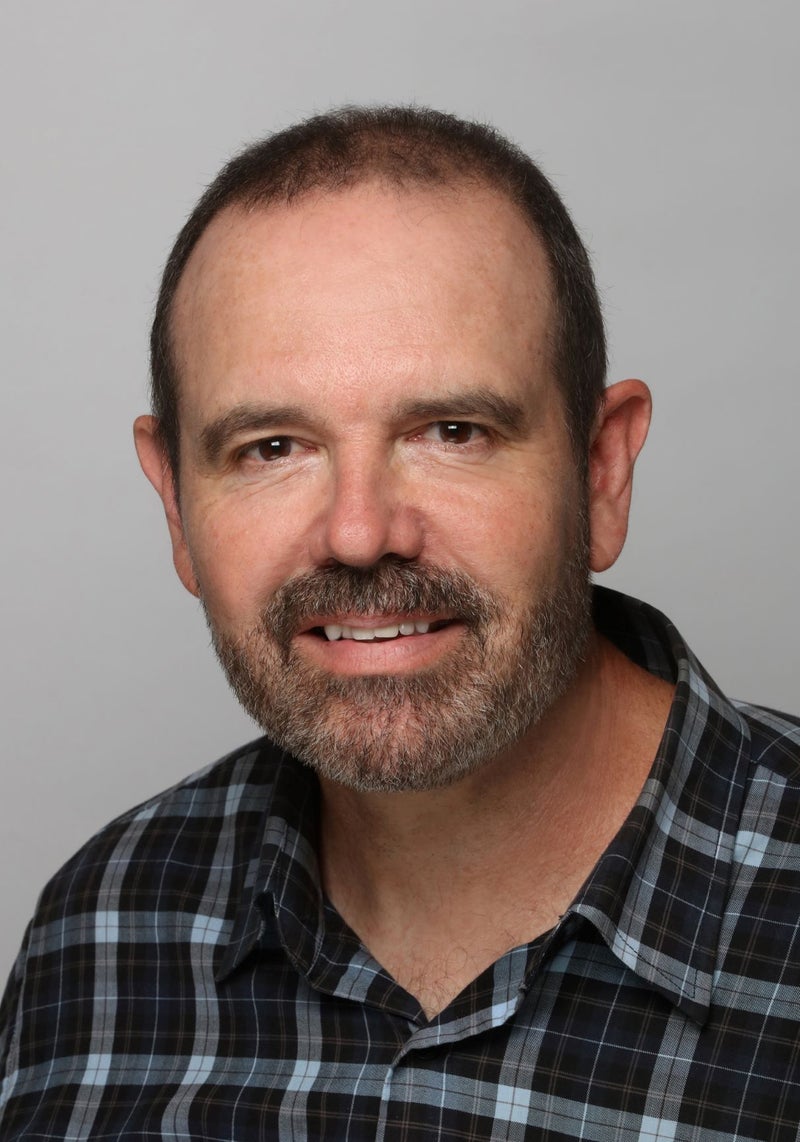 Photographer and Owner, Bernard Clark Photographer
Visual and Creative Arts – Fine Arts, 1985
Photography, 1985
Capturing a subject's true likeness and understanding who they are, or "sitter's psychology," is the essence of photography. And for The Tragically Hip guitarist, Rob Baker, Bernard Clark is a natural. "It is a mysterious and elusive quality for virtually all photographers, but it just seems to come naturally to Bernard, as if it were in his artistic DNA."
That DNA has fueled a 35-year career, capturing the essence of President Jimmy Carter, Margaret Atwood, and The Tragically Hip. Add to that a Juno Award, two books, and solo and group exhibitions. Bernard's work captures the range of the human experience.
Health Sciences
Christine Bruce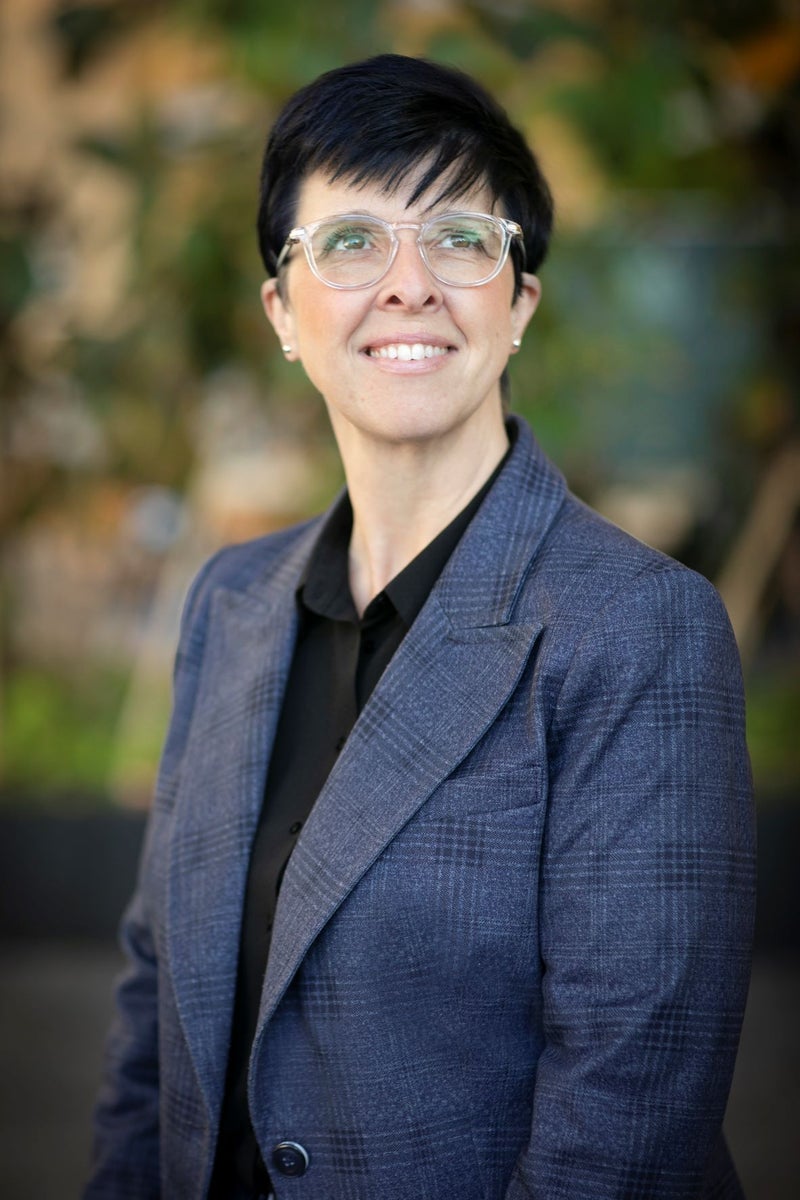 Senior Director, Laboratory Medicine Program, University Health Network
Medical Laboratory Technology, 1997
Christine leads with both her head and her heart. She is a 'how to handle COVID' thought leader who led her team to be the first hospital in Ontario to test for COVID and the first in the province to test saliva. She is an innovator in her field, the first to adopt new technology and opportunities while staying committed to her teams, and ensuring welcoming, integrated workplaces. She is a champion and active voice for the Medical Laboratory testing sector, shaping practices across the country and ensuring laboratory professionals are sustainable and well represented in the health care sector.
Recent Graduate
Clayton MacKinnon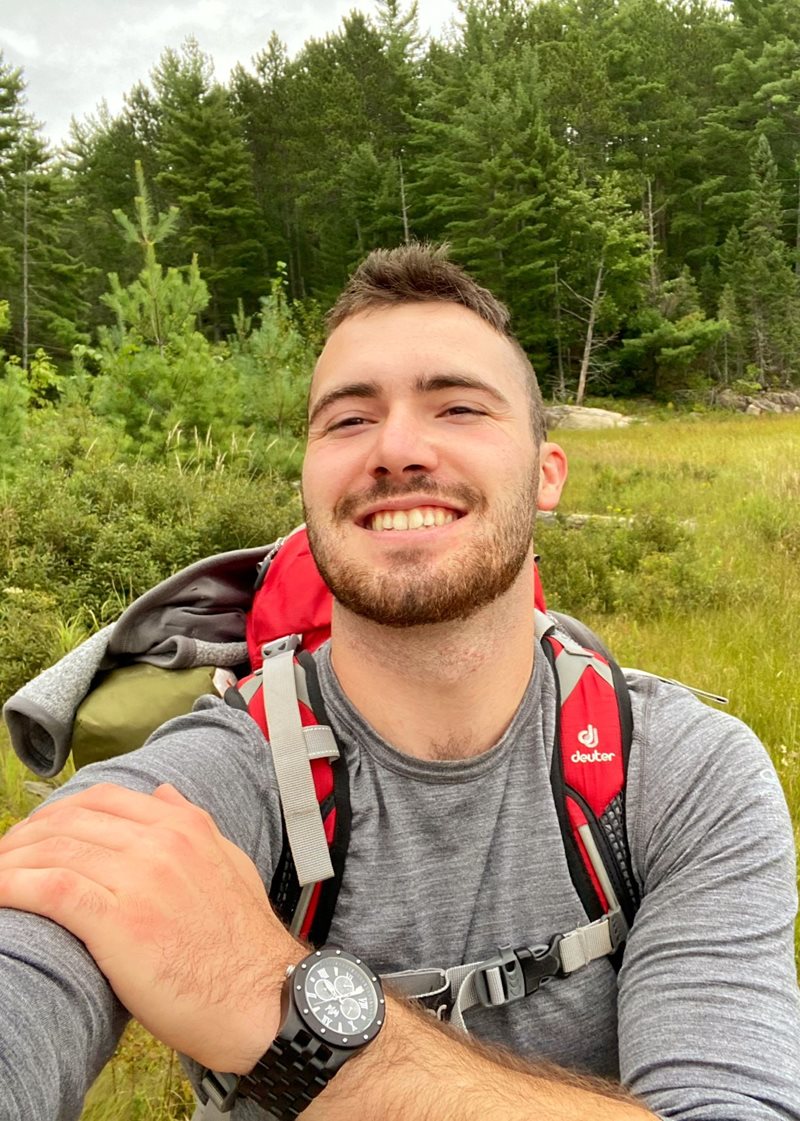 Digital Marketing Specialist, Banff Centre for the Arts and Creativity
Visual and Creative Arts - Fine Arts, 2017
An outdoor enthusiast, sought-after digital marketing specialist, and dedicated volunteer, Clayton MacKinnon has translated his creative arts education and personal experiences into an early career full of passion, commitment, creativity, and social justice. He weaves entrepreneurial ventures with volunteer positions, supports marginalized communities, promotes tourism and local pride, and lends his talent in support of fellow artists and social justice champions. Through his "Paddle Ontario Project," which started while he was in college, he has travelled 4,877km across Ontario, raising awareness of our splendid landscape with his hand-painted canoe and his Mini Cooper.
Technology
Fernando Ferrer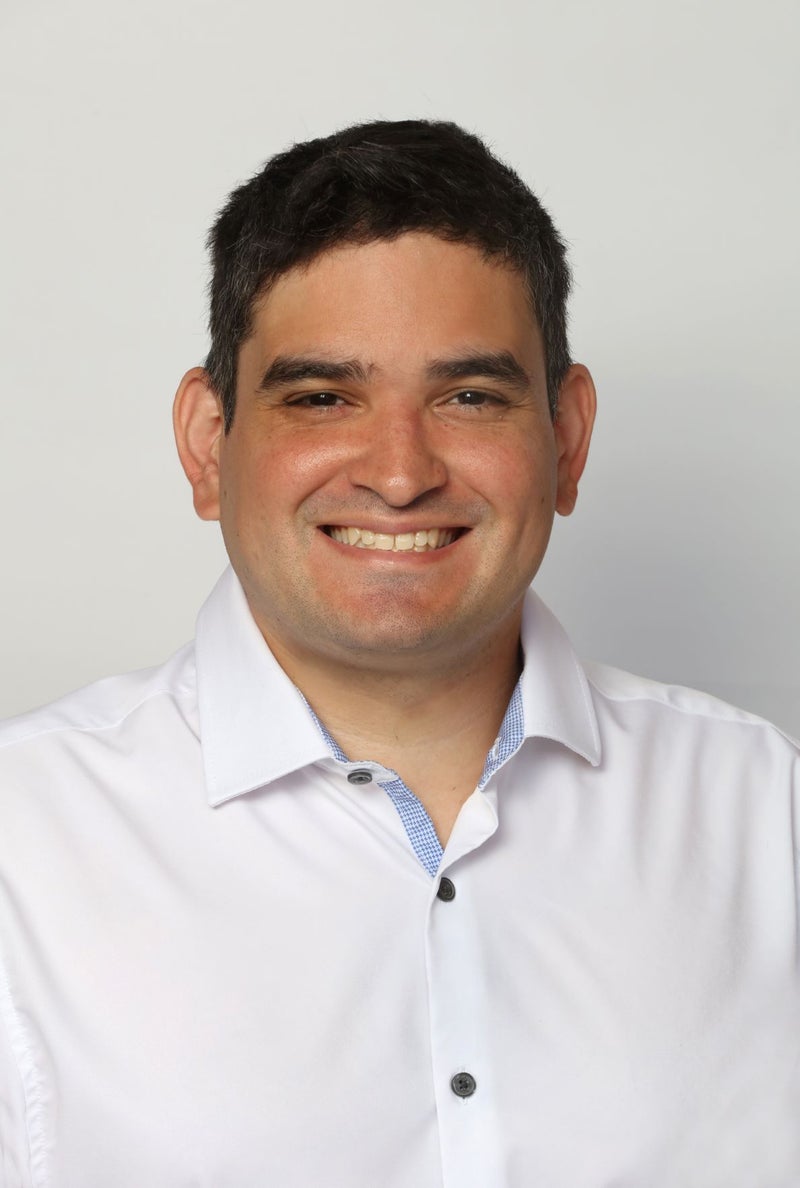 Founder and Director, Immutable Data
Director, NobleProg Canada East
Senior Data Architect, DroneDeploy
Technical Advisor, EQX Investments
Technical Advisor, Continuum Ventures
Computer Programmer Analyst, 2008
An emerging tech talent recognized internationally, Fernando Ferrer is making a name for himself as a big data architect with nerves of steel as he develops businesses across sectors and consults with companies worldwide, while still finding time to mentor young talent. Marrying extraordinary technical skills with a collaborative nature and business mindset, he works with organizations like the US Army, Amazon and the US Olympic Committee to develop technological solutions including health care platforms, sports analytics programs, and fintech. He was also a founding member of a successful health care analytics company acquired by a multibillion-dollar conglomerate.
As colleges focused on managing the wide-ranging challenges associated with the COVID-19 pandemic, Colleges Ontario made the difficult decision to cancel the Premier's Awards nomination process and gala in 2020.
The Premier's Awards celebrate the achievements of Ontario college graduates in the province and throughout the world. It's a gala award ceremony in celebration of the graduates of Ontario's 24 Colleges. The 2019 Premier's Awards in Toronto on Monday, December 2 at the Sheraton Centre Toronto Hotel includes five St. Lawrence College grads, representing all our grads and the contributions they make to our province.
Business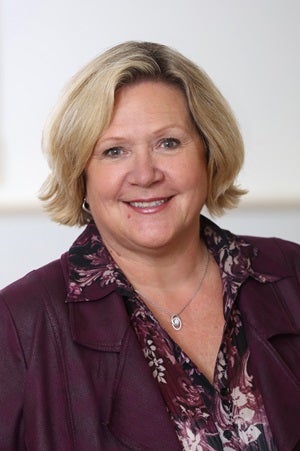 Business – Advertising & Public Relations, 1984
Empire Life, Vice-President Corporate Services and Chief Communications Officer
Julie Tompkins is a master communicator who brings a journalist's curiousity, a publicist's enthusiasm and a marketer's strategy to her role as a VP of one of Canada's top insurance firms. With almost 1,000 employees spread over seven provinces, she has held diverse portfolios as VP - overseeing investor, regulatory, employee, customer and community relations - while never losing sight of the unifying power of storytelling to connect audiences and ideas. In her rise from radio copywriter to Corporate VP, she has never lost touch with the college student whose mission was to be fully engaged.
Community Services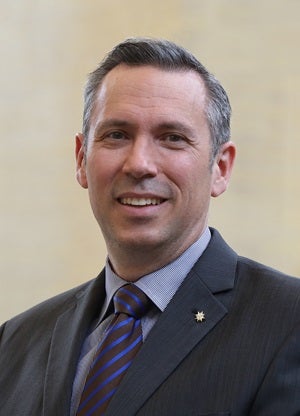 Business Administration – Management, 1992
Director, Parliamentary Affairs, Senate of Canada
Patrick Cousineau likes to say that if he's doing his job properly, you will not find him in a Google search. A lifetime of work in the background of politics means he is focused on making things happen and solving problems from behind the scenes. And while his work has had a national impact - serving as Deputy Chief of Staff and Director of Parliamentary Affairs to the Cabinet Minister in three federal ministries and now the Senate - it is the seamless melding of competing interests, expertise and vision that is his 'day at the office' on Parliament Hill.
Creative Arts and Design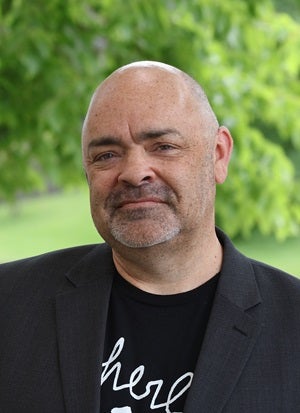 Graphic Design, 1989
Creative Director, Greenmelon Inc.
Author
Business Owner, Greenmelon Inc.
Public Speaker

In his 30-year career as a graphic designer, Robert Smith has demonstrated creativity without boundaries. An award-winning designer behind such iconic images as the Farm Boy brand, he is also an author and an advocate. His design work has won over 100 awards, and his expertise has made him a sought-after judge in design competitions nationally and internationally. But he counts his advocacy for the creative process - teaching, mentoring, speaking, and as a founding member of the Registered Graphic Design association - that is his legacy. His motto of `pencils over pixels' encourages others to find their creative inspiration.
Technology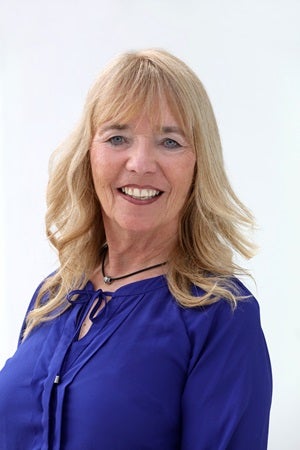 Animal Care Technology, 1975
President, LifeStream Animal Bloodbank Inc.
Since starting her company only 15 years ago, Sandra Powell has become the best friend of man's best friend. Lifestream Animal Bloodbank is the only facility in Ontario - and one of only two in Canada - to provide blood and plasma for transfusions to treat canines with life-threatening needs. A lifetime career as a research and laboratory technologist - with a focus on bleeding disorders in dogs - inspired her to provide the lifeline to dogs in need. Today she sets up doggie blood clinics across the province to provide blood and plasma to veterinarians in Canada and around the world.
Recent Graduate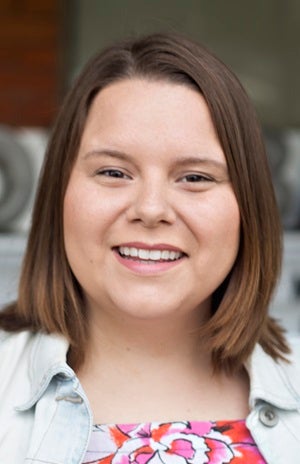 Music Theatre – Performance, 2015
Artistic Producer, Waycik Productions
Producer, Queer and Present Danger
Box Office Supervisor, Young People's Theatre
Susan Waycik is a one-of-a-kind voice of a nation. She is creating opportunities to showcase the talents of LGBTQ+ comedians and actors because she saw a need for safe spaces for comics and audiences and decided to create it. According to a Toronto entertainment lifestyle publication, just four years out of college, she is at "the top of the Queer Comedy scene and becoming one of the best independent producers in Toronto, Susan has become a beacon for everyone who works with and around her. Her rise is nothing short of meteoric, and shows no signs of stopping."
Read more about our 2019 Premier's Award Nominees on Voyageur Digital.
The Premier's Awards celebrate the achievements of Ontario college graduates in the province and throughout the world. It's a gala award ceremony in celebration of the graduates of Ontario's 24 Colleges. The 2018 Premier's Awards in Toronto on Monday, November 26 at the Sheraton Centre Toronto Hotel includes two St. Lawrence College grads, representing all our grads and the contributions they make to our province.
Technology
Kelly Bergeron
Computer Programmer Analyst, 2004
Executive Director, Cornwall Innovation Centre
Cornwall Chapter Lead, Canada Learning Code

Kelly Bergeron is used to inhabiting two worlds. On the one hand, she's a programmer who lives and breathes technology. On the other, she has worked for numerous charitable organizations, even starting her own. Sometimes they collide - like when she passed on an invitation to meet Bill Gates in DC as a volunteer in his Global Poverty Project, in order to interview for a position with Salesforce. But more often, they have blended, like when she left Silicon Valley to return to her hometown to teach kids to code. Now she is at the helm of an innovation centre.
Recent Graduate
Myles Doak
Business – Marketing, 2014
Founder, Summer Skates
Founder, Big Balls Golf
Founder, Umbrella Marketing

Not many people can say they have successfully presented to the Dragons' Den, but Myles has done so twice before his 25th birthday. His second round was a request from the Dragons' Den for him to return with his Big Balls Golf. Myles Doak is the founder of three companies and holds the patent for his inventive nod to hockey.
His Summer Skates sports sandals made with hockey laces yielded a global license for the NHLPA & inspired Instagram posts with NHL greats. His marketing company gives small businesses the tools to thrive on social media and educate them.
The Premier's Awards celebrate the achievements of Ontario college graduates in the province and throughout the world. It's a gala award ceremony and in celebration of the graduates of Ontario's 24 Colleges. The 2017 Premier's Awards in Toronto on November 27, 2017 included two St. Lawrence College grads, representing all our grads and the contributions they make to our province. Below is a listing of our nominees by category:
Health Sciences
Patrick Hickey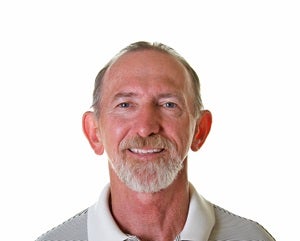 Diploma Nursing 1976
Clinical Associate Professor (College of Nursing)
Faculty Principal (Capstone Scholars Program)
University of South Carolina
The New York Times described Patrick Hickey as "a cross between Florence Nightingale and Indiana Jones" and while the description is apt, it misses the point somewhat. For Patrick, the personal is also the professional. Adventurer, philanthropist, social justice advocate, author, mentor, and, most importantly, nurse and teacher, are all words that describe him, but there is no boundary between them. His adventuresome nature informs his teaching and mentoring, while his philanthropy and advocacy are the natural outcome of his role as a nurse
For the last five years, Patrick has run six medical mission clinics in rural Nicaragua, taking 30-75 undergraduate students with him on a yearly basis.
As the first nurse in the world to have completed the 7 Summits - climbing the highest mountains on each continent, including Everest, - Patrick used the experience to raise funds for the establishment of three nursing scholarships and raise awareness of nursing shortages stateside.
When he became the Principal of the Capstone Program at USC, Patrick took his experience of mountaineering-while-heights-averse and challenged his students to identify and work on a Personal Challenge, just as he did. Today, he has gathered 15,000 challenges submitted by students over the last five years. His efforts in transformative learning with the 2000 Capstone Scholars in his charge have made him a sought-after speaker, and will form the basis of his second book: The Path to Student Success Starts with a Personal Challenge.
Recent Graduate
Fraser Radford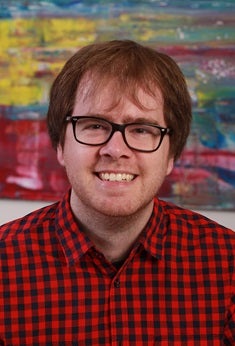 Fine Arts 2014
Visual Artist
Fraser Radford has already made a name for himself in the art world. In 2016 he was named one of the world's best Minimalist painters by the American Art Awards. In 2014, he saw a massive installation piece go on display at the Japanese embassy in Ottawa, and while still a student, apprenticed with one of the country's leading sculptors. His work has been exhibited in solo and group exhibitions across North America, and is held in private collections around the world. He continues to explore, and with his "No brushes allowed" workshops, encourages his fellow artists to join him
The Premier's Awards celebrate the achievements of Ontario college graduates in the province and throughout the world. It's a gala award ceremony and in celebration of the graduates of Ontario's 24 Colleges. The 2016 Premier's Awards in Toronto on November 21, 2016 includes three St. Lawrence College grads, representing all our grads and the contributions they make to our province. Below is a listing of our nominees in each category:
Business
Rich Donnelly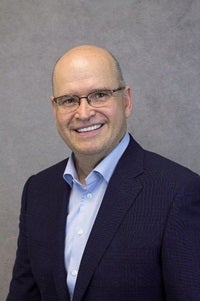 Animal Care Technology, 1980
President and Chief Operating Officer
Lloyd Inc. Human + Animal Health, Shenandoah, Iowa
Every day, over 600,000 dogs in the United States have Rich Donnelly and his team at Lloyd Inc., to thank for the treatment of their hypothyroidism. And, with FDA approval recently confirmed, and Health Canada approval pending, humans with the disease - approximately 6% of the world's population - will see similar relief. In a career that has crossed borders and species, Rich's focus on the benefits of research and its real-world application has turned around under-performing companies, and had a positive impact on patients - both human and animal.
Recent Graduate
Chief Reg Niganobe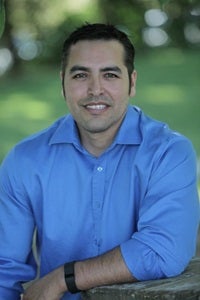 Social Service Worker, 2011
Chief, Mississauga First Nations
In March 2015, Chief Reg Niganobe of the Mississauga First Nation became only the third leader in the province to guide his band members to the ratification of their own Constitution. Members voted 91% in favour of the community-created Constitution, which will eventually replace the Indian Act, and is a key step towards self-government. As the youngest Chief in the band's history, he has overcome initial skepticism that his youth would be a disadvantage, and through his education as a Social Service Worker, he was able to understand and address the concerns of his band members about future self-government.
Technology
Ryan Baillargeon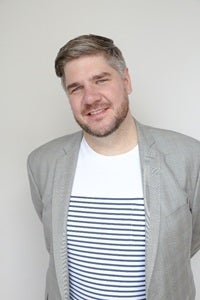 Computer Engineering Technology, 2002
Founder & CEO, Grassriots Inc.
Ryan Baillargeon has been at the very front lines on the birth of digital citizenship, and has put technology to work for countless causes around the globe. Whether it was the health advocacy of Cancer Day of Action, or the political activism of LeadNow, or the campaign to end China's dog meat festival, he has built the platforms which have turned the social web into a tool of social change. His passion for progressive causes has united with his technology skills, to create a unique full service agency for non-profits that is purely digital and exclusively online.
The Premier's Awards celebrate the achievements of Ontario college graduates in the province and throughout the world. It's a gala award ceremony and it's in celebration of the graduates of Ontario's 24 Colleges. The 2015 Premier's Awards in Toronto on November 16, 2015 includes five St. Lawrence College grads, representing all our grads and the contributions you make to our province. Below is a listing of our nominees in each category:
Business
James Robeson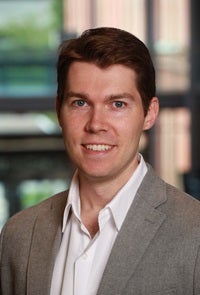 Business Administration, Marketing, 2008
CEO and Co-Founder, Piinpoint
Jim Robeson's idea to harness Big Data's power for affordable and user-friendly business location analytics is propelling his company, Piinpoint, from two people to 14, and they've only just begun. His tech startup has already landed such retail stalwarts as Tim Horton's and RioCan. A passion for entrepreneurship founded in his family's deli business, has morphed into the Next Big Thing for businesses big and small.
Health Sciences
Julia Scott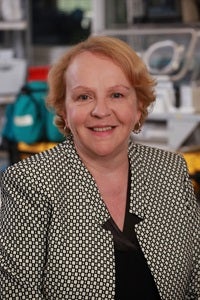 Nursing, 1976
VP Clinical Services & Chief Nursing Executive, Grey Bruce Health Services & Co-founder & Facilitator, Dorothy Wylie Health Leaders Institute
Julia Scott may oversee nursing at a six-site hospital in the sprawling Grey and Bruce counties, but she is equally proud of the work to which she dedicates her evenings and weekends. Since 2001, Julia and her co-founders at the Dorothy Wylie Health Leaders Institute have shaped the careers of over 2,400 health care professionals, and pioneered a nursing-leader ethos of "leadership is more than a title". The organization's two-part, seven-day institutes have been called "A National Treasure" by the Canadian Nurses Association, for its work in advancing leadership for nurses in all levels and roles across Canada.
Creative Arts & Design
Justin Tse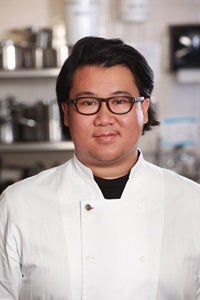 Culinary Management, 2010
Pastry Chef, Social & Executive Chef, Arctic Watch and Arctic Haven Wilderness Lodge
For seven months of the year Justin Tse is a pastry chef and self-confessed 'mad scientist' who pushes ingredients to their limits to create memorable culinary concoctions. But for five months of the year he heads 800 km north of the Arctic Circle as the executive chef of a wilderness lodge, where he brings fine dining to the lodge's intrepid adventurers. Whereas his day job requires an intimate knowledge of culinary chemistry, his 'summer job' requires he forage for purple saxifrage to make tea, and find a multitude of ways to catch, prepare and preserve the catch of the day.
Trades & Technology
Jack J. Collins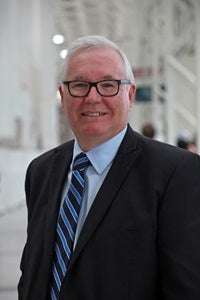 Environmental Engineering Technology, 1974
Chief Capital Officer, Metrolinx
Jack Collins is charged with bringing in the largest urban transit project in the country with the introduction of five light rail and rapid transit lines in the GTA, and an ambitious re-boot of GO Transit commuter service. With over $20 billion under his watchful eye, Jack returned to Canada after 28 years in the U.S. working on some of the continent's largest transit projects. When one media source pointed out he was the rare executive "with mud on his boots", it was a testament to his ability to combine high level operational control, with face-to-face community relations.
Recent Graduate
Chloe McCauley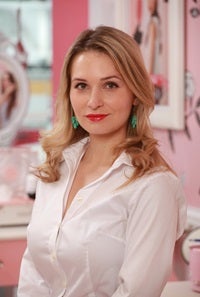 Esthetician, 2012
National Education and Services Manager, BeneFit Cosmetics, a division of LVMH (Louis Vuitton Moet Hennessy)
Chloe McCauley showed she could work at the highest levels when she simultaneously completed the fourth year of her university degree, while attending full-time at SLC in the Esthetics program. In just three short years since, she has parlayed a Gold Medal performance in Esthetics at Skills Canada into two national positions at the country's largest and most respected cosmetics companies, and today oversees the roll-out of a new retail spa concept for Canada, from luxury goods company LVMH. She has trained hundreds of estheticians and beauty advisors, and is a sought-after speaker and resource for beauty journalists and bloggers.
It's a gala award ceremony and it's in celebration of the graduates of Ontario's 24 Colleges. The 2014 Premier's Awards in Toronto on November 24, 2014 included six St. Lawrence College grads, representing all our grads and the contributions you make to our province. Below is a listing of our nominees in each of the six categories:
Business:
Dan Bergeron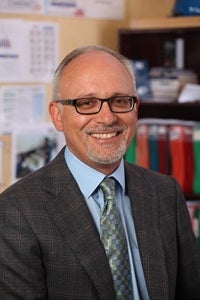 Micro Computing Engineering Technology, 1985
President & CEO SigmaPoint
Dan Bergeron started SigmaPoint Technologies in Cornwall 15 years ago with the idea that a company's culture could drive business. Today, he employs over 250 people, has over $70-million in sales, and has successfully re-shored manufacturing business back to Ontario by making quality and complexity the focus of his electronics manufacturing business. A recognized leader in Lean management, the story of how his company competes with low-cost offshore competitors has been shared in provincial, national and international publications, and his new manufacturing facility is becoming a must-visit destination for those who believe that Ontario can compete in the modern economy.
Health Sciences:
Mathew Morin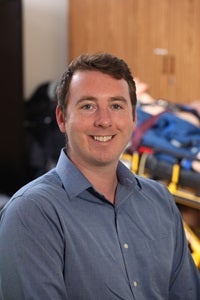 Paramedic, 2011
Instructor, John Abbott College, osteopath
Matthew Morin's career is relatively young, but if experience is measured in number of patients treated, he is wise beyond his years. In fact, his participation in a pilot project that put paramedics right into the hospital emergency department not only expanded the scope of paramedic care to include ordering of tests and continuation of treatment, but further deepened his commitment to the value his profession can provide to integrated health care management; a value he imparts to the student paramedics he now instructs as a paramedics professor at John Abbott College in Montreal.
Creative Arts:
Craig Sims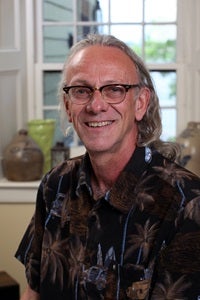 Civil Engineering Technology – Restoration, 1979
Heritage consultant
Craig Sims is a nationally recognized expert in heritage conservation and restoration. His work on the East, West and Centre Block of the Parliament buildings - including restoration of the stained glass in the Peace Tower Hall of Remembrance - has made him a sought-after expert for some of this country's most important and significant heritage buildings. His training as a civil engineering technician, coupled with his passion for history, means he is able to straddle the worlds of construction and conservation, ensuring that heritage preservation is a partner in progress and not an obstacle.
Trades and Technology:
John Manconi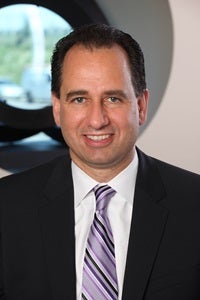 Civil Engineering Technology, 1987
OC Transpo General Manager

John Manconi was considered an unlikely choice when he moved from the City of Ottawa's Public Works department to head up OC Transpo in 2012. The transit operation was massive: 3,200 employees, making 100 million trips annually, transporting thousands of citizens every day. But within weeks of taking the helm, John moved beyond the 'working parts' to focus on the working people, turning around an organization mired in acrimonious labour relations and declining customer satisfaction. Today, OC Transpo not only has labour peace, but enjoys the highest customer service ratings in years; preparing for the next challenge, an LRT system.
Community Services:
Amanda Rose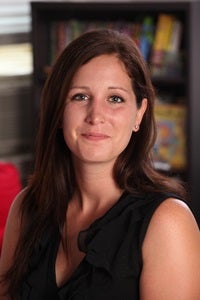 Child and Youth Worker, 2006
Manager, Canadian Programs, Save the Children Canada
Amanda Rose uses a child rights and Indigenous child rights lens to make a difference in the way the world treats children. She draws on 11 years' experience working with children and youth on matters of child rights violations, plus 6 years' experience teaching meaningful youth engagement, child rights and Indigenous child rights to post-secondary students and organizations. Amanda draws on her own Cree Metis heritage, and her own experience as a child-in-care, to amplify the voice of children, youth and families that experience hardships on the basis of their historical experience, orientation and cultural background.
Recent Graduate
Daniel Williston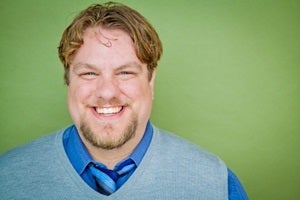 Music Theatre Performance, 2011
Actor, Singer, Dancer - Soulpepper Company
Singer, actor, dancer and multi-instrumentalist Daniel Williston has been on a hot streak ever since he graduated from St. Lawrence College only three years ago. He beat out over 800 other talented young Canadians to land a spot in the Soulpepper Academy year-long paid internship, and graduated to join one of the country's premier classical theatre companies. Straddling the two worlds of Music Theatre and the Classics, he has moved from Shakespeare to campy horror/musical, to beloved children's theatre without missing a beat, and had his work recognized in 2013 with a Dora Mavor Moore award for Best Ensemble.
Recent Graduate:
Alexandra Goth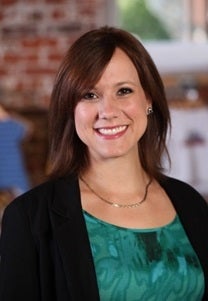 Business Administration – Marketing, 2008
COO, mini mioche
In just five years since graduation, Alexandra Goth has gone from intern to COO of mini mioche, an organic infant and children's wear company which has grown from just an idea to two retail outlets in Toronto's trendiest shopping districts, an international wholesale network and a vibrant online business. She has branched out into the design side of the Canadian-made eco-friendly line, putting her market research skills to work in determining what elements will sell, and learning the manufacturing process and pattern-making along the way.
Her operational duties have had her learn everything from accounting to manufacturing quality control – roles that have since been delegated to mini mioche's growing staff, which has grown five-fold in five years she has been with the company.
Technology:
Gordon Fraser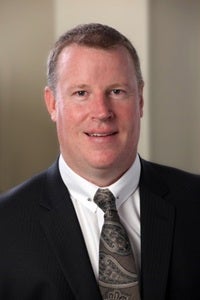 Instrumentation Engineering Technology, 1994
President, Responsible Energy Inc.

Everybody says 'there's got to be a better way' but few will put it all on the line to find it. Gordon Fraser's career as an Instrumentation Engineering Technician has meant asking that question on a regular basis, so when the problem was to seek an alternative to industrial waste in landfills, it was no surprise that when he couldn't find a solution, he decided to make his own. Five years of R&D later, his company, Responsible Energy Inc., has developed a patented process to convert any carbon-based waste into syngas – eliminating the need for landfills or incineration.
Health Science:

Kimberly Peterson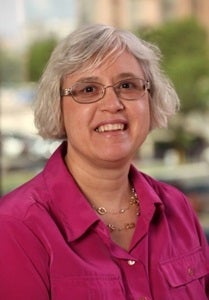 Diploma Nursing, 1982
Vice-President, Clinical Care, Champlain CCAC

Kimberly Peterson's work in improving patient care through quality, standards and assessments has had a consistent impact throughout her 31-year career. Her early work in creating clinical pathways broke down the silos within her hospital and created a tool that tracked a patient's progress to wellness. Kimberly's commitment to arming her fellow nurses with the tools to improve care now extends to home care. Her work to assure that thousands of patients in thousands of homes across Eastern Ontario receive the same quality of care as those in hospital are being adopted by others in this rapidly-growing sector.

Community Services:

Kristel Nicholas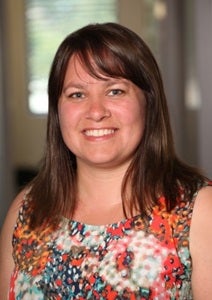 Social Service Worker – Gerontology, 1995
Educator and Support Coordinator, Alzheimer Society of Belleville, Hastings and Quinte

Kristel Nicholas knew very early that she would dedicate her life to working with the elderly. In a career that has spanned 18 years, she has used her creativity and commitment to find new and innovative ways to engage her clients in managing their condition, while making it look easy - and just as important - fun. True to her social worker roots, her focus has been on pro-social programs that engage the community and remove the stigma and isolation of Alzheimer's patients, while supporting the caregivers whose role carries its own emotional and physical toll.

Creative Arts & Design:
Robert Chitty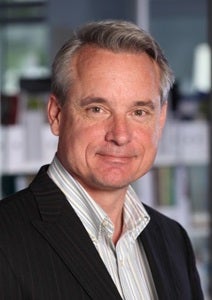 Graphic Design, 1985
Founding Partner, Gordon Group

Over the last 25 years Robert Chitty created and built one of the National Capital Region's leading marketing and communications firms. He did so by being ahead of his time – seeing design as communication and elevating his firm's role from that of 'producer' of visual imagery, to interpreter and communicator of his client's messages. His decades-long investment in relationships and building trust led to his newest venture as documentary film maker, capturing the lived history of the James Bay Cree for future generations. A time-travelling story-teller, he has used the tools of his trade to bring clarity to the complex.
Recent Graduate:
Ian Rowberry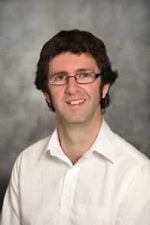 Energy Systems Engineering Technology (ESETT), 2010
Sustainability consultant
Ian Rowberry is passionate about sustainability. As a geography teacher in his native UK, he became increasingly concerned about the health of the planet, and when he moved to Canada and found his UK teaching credentials didn't move with him, he switched gears to 'walk his talk' and embarked on a career as an eco-evangelist. He volunteered at the Ecology Action Centre in Halifax for four months before he could convince them to hire him to manage their Steer Clear vehicle retirement program. And while a part of St. Lawrence College's ESETT program, he founded and was the driving force behind CSI – the Campus Sustainability Initiative – a grassroots group of students, staff, faculty and suppliers, dedicated to improving the College's environmental practices. His voluntarism and passion lead to his selection as a Garfield Weston Scholar – one of only 25 upper year college students selected in the country. Not only did he receive a full-ride scholarship while in his last year at the College, but the Garfield Weston Foundation also funded his project to give community seminars on achieving sustainability through personal choices.
While a student at SLC he joined the board of SWITCH – the local sustainability group – and through his activism and encouragement, more than quadrupled the number of student members. Upon graduation Ian was immediately hired as a solar designer for a Kingston alternative energy firm, and has remained active in community groups that reflect his values – including a community garden project, and a co-operative daycare initiative. He is currently at work investigating how the cooperative model could be used to fund energy alternatives for low-income Canadians.
Creative Arts: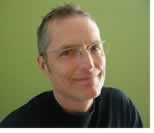 Kevin House
Visual and Creative Arts – Graphic Design, 1991
Owner, Kevin Creative
Canada may have mourned the loss of its horse in the 2012 Belmont Stakes, but we still had a Canadian presence at the course – the design of St. Lawrence College grad Kevin House.

Kevin's work – including the logo for the 144th running of the Belmont Stakes – includes illustrations for major U.S. magazines such as MotorTrend, logos for the Vancouver Winter Olympics bid package, and major retailers and corporations on both sides of the border. His secret weapon? A pencil. In a time of digital everything, Kevin House is a design craftsman who engages his clients in the process of creating memorable identities – through sketchbook and pencil. Going out on his own after many years with some of western Canada's most respected agencies, Kevin is known for what he calls 'visual explorations' – many pages of concept drawings that help clients visualize their end product before committing to the industry-standard digital tools. Often called an "illustrative designer", Kevin brings an illustrator's eye to his design work, and a designer's eye to his illustrations. "My illustration style could be described as a combination of clean line and design-influenced imagery with one foot firmly placed in the elegance of the past, often with a dash of humour. I almost always will have a type component in my work. I work digitally in Adobe Illustrator which allows me to create rich and colourful pieces that are small in file size yet infinitely scalable, which appeals to my practical design side."
He may refer to it as 'old school', but Kevin puts the art in graphic arts. He uses his drawing skills not just as a tool to be used to bring an idea to completion, but as an inclusive and accessible medium to bring clients along for the journey. His pencil sketches of a logo concept or editorial illustration engage the viewer to consider the many possibilities a concept can take. In that way, he fosters a deeper understanding between designer and client that makes the client feel part of and take ownership in the process. The result: a more harmonious and collaborative partnership. This process is not only appreciated by those in the non-design world, but by those within his industry who engage his company for illustration work. He is, in short, the illustrator that other designers hire.
Business:
Kevin Lalonde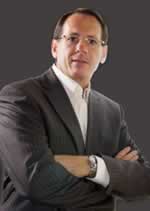 Business Administration - Marketing, 1983
President, Accelerate International
Kevin Lalonde is a global retail and sales executive with a track record of turning under-performing brands around. In 2007 as the COO of eXtra in Saudi Arabia (an electronics retailer) he lead employees to turn around its non-profitable business – resulting in becoming the #1 fastest growing retailer and among the top 25 fastest growing companies in Saudi Arabia in 2009 and 2010. He also created a positive work environment for employees, with eXtra recognized as the "Best Saudi Company to Work For" in 2012. He took another of his clients – Thai Indochine Trading Company – and developed and deployed a 5-yr business plan that doubled revenues by expanding distribution of products into Canada with national retailers, such as Wal-Mart and Loblaws (both former employers). Kevin moved from the supply side with Procter & Gamble upon graduating from SLC, to working for the country's largest consumer products retailers, before striking out on his own in the global retail marketplace.
Kevin Lalonde's innovations throughout his career have had major impact not only on his employers/clients, but on business processes globally. He consolidated the disparate services of Bell Canada into a one-stop-shop for retail customers. His simple innovation to print bar codes on the paper hearts donors signed when making a gift to Sick Kids at Loblaws, increased donations from $2,500 to $250,000. That barcode is now industry standard in cause-related marketing. His exposure and experience with marketing to Canada's multicultural community has easily transferred to his global business – most notably in the Middle East. And his ability to connect his Canadian contacts to his Middle Eastern clients has seen mutual growth in markets and expertise.
Trades and Technology:
Mike Jablonicky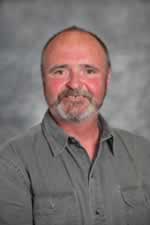 Construction/Electrical Maintenance Program, 1989
Operations Supervisor, Wolfe Island Wind Farm
Mike Jablonicky is at the forefront of the Wind Energy business, successfully – and simultaneously – overseeing the start-up of two of the province's biggest wind farms, and was the first person in the province from the sector to work with the Independent Energy Systems Operators, representing the province's first commercial wind farms. He got his feet wet in the business when he left a well-paying secure position as an industrial electrician to join a small start-up company bidding on the province's first commercial wind farm: Melancthon 1. His success there led to joining the company –now TransAlta – where he oversaw the installation of both Wolfe Island and Melancthon2. He has stayed on at Wolfe Island, and is credited as not only the first person in the province to run a modern wind farm with in-house maintenance, but to garner global attention as one of the best-run wind farms in the world.
As the lead electrician for the Province's first commercial wind farm (Melanchton 1, near Shelbourne, Ontario), Mike Jablonicky was at the ground floor as a brand new industry was being built. The negotiations and sharing of information between his office and provincial oversight bodies set in place the baseline for some of the first protocols between commercial operators and Independent Energy Systems Operators – protocols still in use today. Beyond his technical skills, he has also played an important role in increasing the understanding of the industry, choosing to move to Wolfe Island as a permanent resident at a time when the introduction of the 86 turbines was at its most contentious. He believed that people needed a person on the ground to talk to and express their concerns, and five years after moving to the island, he has played host to local, national and international guests who wish to learn more about the business.
Community Service:
Terri McDade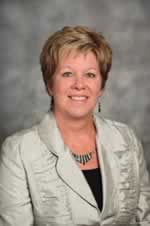 Child and Youth Worker, 1979
Dean, Faculty of Arts, St. Lawrence College
Terri McDade may be the Dean of Arts at St Lawrence College, but she is first and foremost, a Child and Youth Worker. In fact, that's how she introduces herself to students at the beginning of each year, which informs the way she approaches her professional and her community work. She has never stopped being someone who has a passion for helping young people reach their full potential – especially those marginalized by any number of issues. For 22 years she worked at the front lines, first with emotionally disturbed youth at a residential treatment facility, and then as an adolescent care worker in four area high schools. When she took her first role as a full time instructor at SLC, it was to contribute to the next generation of CYWs. She had no idea that only eight years later, she'd be the Dean, and a leading driver on some of the College's most important initiatives.
Terri is a skilled matchmaker who spends a good portion of her time matching people in need with people who can help. Whether its teacher/student, agency/volunteers or matching resources to a community, Terri doesn't see them as her achievement – it's everyone's. But there's no denying that when a student group developed a financial literacy program for their fellow college students, Terri saw an opportunity to connect them with the local Children's Aid Society to deliver this financial literacy program to Crown Wards in the Kingston area. The project is now acting as a blueprint for other jurisdictions. It's just a small example, but it explains why Terri is SLC's go-to resource to chair committees as diverse as Academic Policy, First Generation, Space Planning, and the College Management Committee. She's recognized not only for her effective leadership, but for her strong interpersonal skills gained through years of counselling experience that ensures voices are heard, but that the focus never leaves our students.