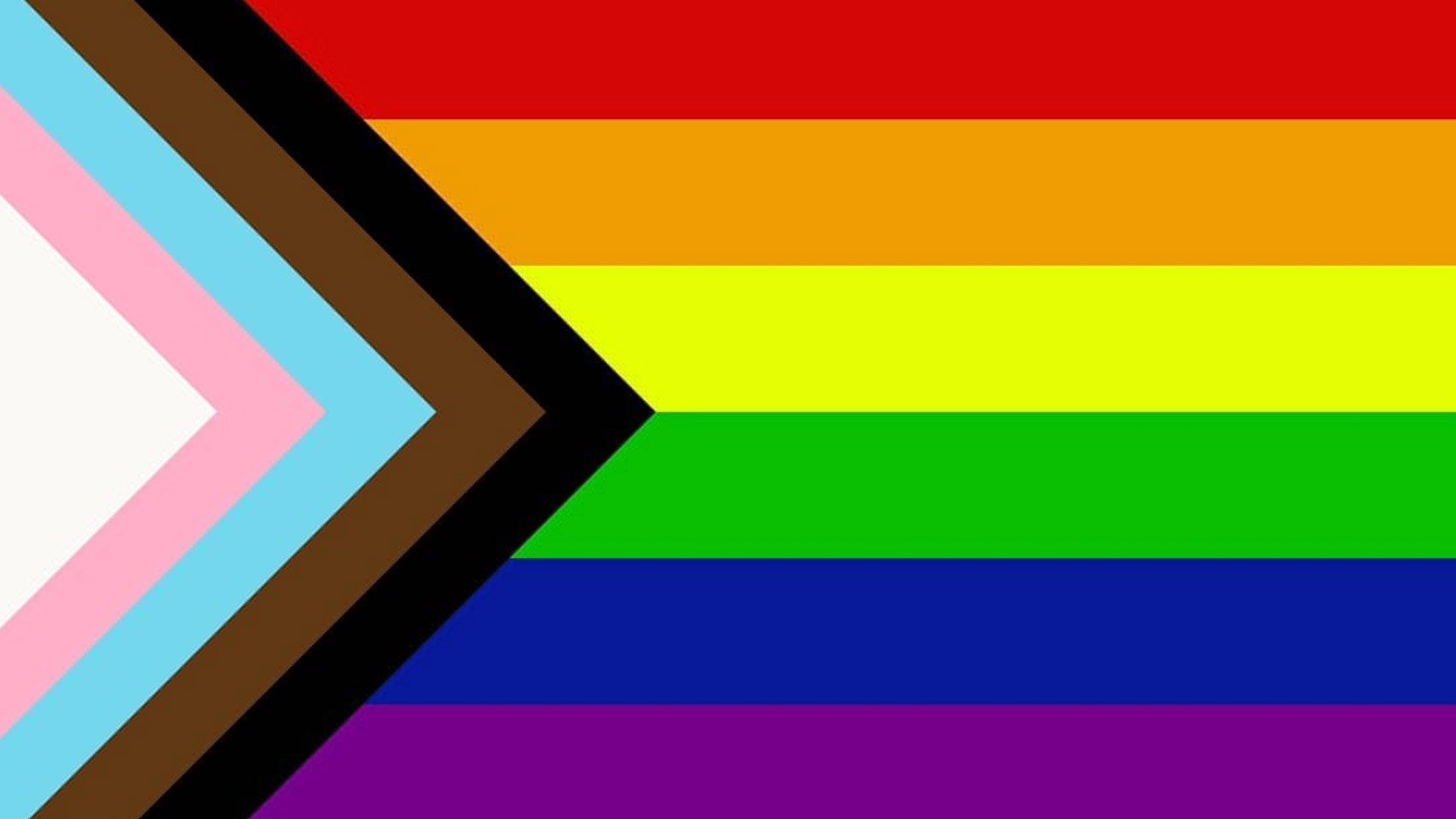 The Progress Pride Flag, designed by Daniel Quasar, will fly at SLC's campuses in Kingston, Brockville, and Cornwall for the month of June in recognition of Pride Month.
SLC Alliance
The SLC Alliance is an educational, social, and supportive group for members of the LGBTQQ2S+ community and their allies at St. Lawrence College. We are a mix of LGBTQQ2S+ community members and allies who all have a common goal of making St Lawrence College a safer place for everyone. We supply a safe space for students and faculty of the College to meet with other members of their community. We supply educational opportunities, social outlets, and support of the natural human need for emotional connection with others. In conjunction with other initiatives of SLC we help to foster a more positive and welcoming atmosphere for all people who learn, live, and work on our campuses.
Are you interested in joining the SLC Alliance or learning more about LGBTQQ2S+ resources at SLC? Please email pride@sl.on.ca
Resources
June is Pride Month and there's no better time to learn about issues that impact the LGBTQQ2S+ community. Even if you don't identify as someone within the LGBTQQ2S+ community, you can always be supportive by becoming an ally. Start with these resources from keep.meSAFE by guard.me.
The SLC Library has created a virtual display for Pride Month.
Positive Space Initiative
The goal of the Positive Space Initiative is to foster a sense of belonging and inclusion of LGBTQQ2S+ persons in every aspect of campus life by creating opportunities to increase awareness and engagement in our SLC community.

Positive Space Training

Positive Space is a 90-minute information session aimed at developing increased awareness, understanding, and acceptance of the issues of sexual identity and gender diversity at St. Lawrence College. It is available to all students, staff, and faculty. Additionally, it is a volunteer sticker campaign. After the training, Positive Space participants may choose to:

Display a Positive Space signifier:
A Positive Space signifier identifies the intention to create an accepting and supportive environment with respect to issues of sexual identity and gender diversity.
Display a Positive Space sticker in a visible place that you have control over, such as your office or workspace or laptop. If you share a workspace, please ensure that your office mate is also a participant in the program before affixing the sticker to the entrance to your shared space.
Participants may also add a Positive Space signifier to their email electronic signature.
Be a resource:
Act in a sensitive and compassionate manner towards the needs of the LGBTQQ2S+ community on campus.
Respect the confidentiality of those who contact you.
Maintain an up-to-date list of community resources.
Be an empathetic listener but not a counsellor. Know where to refer people who require more assistance.
Do not condone homophobic, transphobic, or heterosexist actions.
Be willing to explain to others what the Positive Space Campaign is and consider referring others to participate.
Positive Space Training for Students

The Positive Space Working Group will communicate more information about arranging training for students or courses at the start of the Fall 2021 semester.

Positive Space Working Group

Positive Space training is delivered by members of the Positive Space Working Group. This group is comprised of staff members of Student Wellness and Accessibility, Human Resources and Occupational Development, and the School of Contemporary Teaching and Learning who have been trained to deliver the workshop.

How do I participate?

To express your interest in completing Positive Space Training, please email Ashleigh McKeil amckeil@sl.on.ca and Jamie Edwards jcedwards@sl.on.ca.

For more information, please contact pride@sl.on.ca.
Pride at SLC Profiles
June is Pride Month and to promote awareness around the diversity of the SLC LGBTQQ2S+ community, the EDI + Belonging Task Force, HR/OD, and the Pride Affinity group have created these Pride at SLC profiles!
SLC's LGBTQQ2S+ employees and students participate and serve in numerous roles and play an integral part in the organization's decision-making and operations. The diversity of their expertise, heritage, and talents makes SLC stronger. Thanks to their hard work and dedication, we are continuing on our path to create sustainable spaces of belonging. Watch out for more profiles in the rest of June!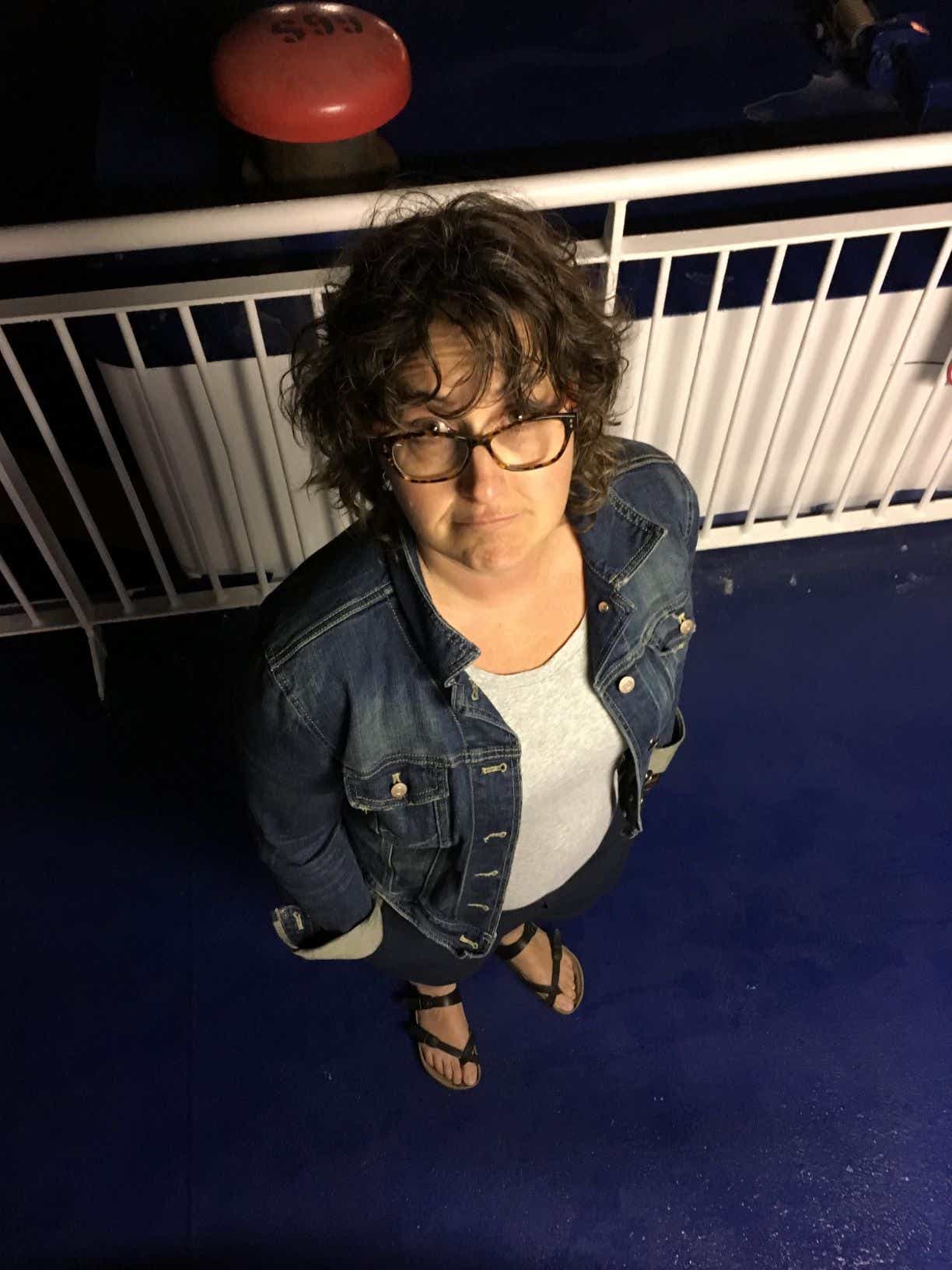 Leslie Casson (she/her)
Associate Dean, Justice Studies & Applied Arts
I've been an educator for over thirty years. Most of my teaching years were spent helping students improve their writing and communication skills; however, I also taught a bit of typing and drama to high-school students and have the emotional scars to prove it. I've also toured as a musician, spent a lot of time on tractors, published a children's book, recorded some CDs, and earned a few degrees. I tried team sports in my 40s but discovered I'm not that kind of lesbian. I'm a pretty good drummer, but a better writer. I had a spectacular mullet in the 80s, but still had no idea. I am a queer woman.
Kyle Christiansen (he/him)
Student Engagement & Experience Coordinator
Kyle started his journey at SLC as a student in the Fitness & Health Program in 2014. Soon after he graduated, he knew that he wanted to continue to be part of the SLC community. In 2016, Kyle began working for SLC is now the Student Engagement & Experience Coordinator for Student Services as well as a part-time professor in the General Arts & Science program. Outside of SLC, Kyle is an international presenter and speaker that advocates for diversity and combatting unconscious bias specifically within the fitness industry. "I was very young when I came out, and while it was not the easiest at times, I was fortunate enough to have a small supportive circle of friends. I constantly strive to ensure that I hold inclusive space for anyone that needs it. As an LGBTQQ2S+ mentor and ally it is my mission to ensure that I continue to ensure everyone feels accepted and that they belong."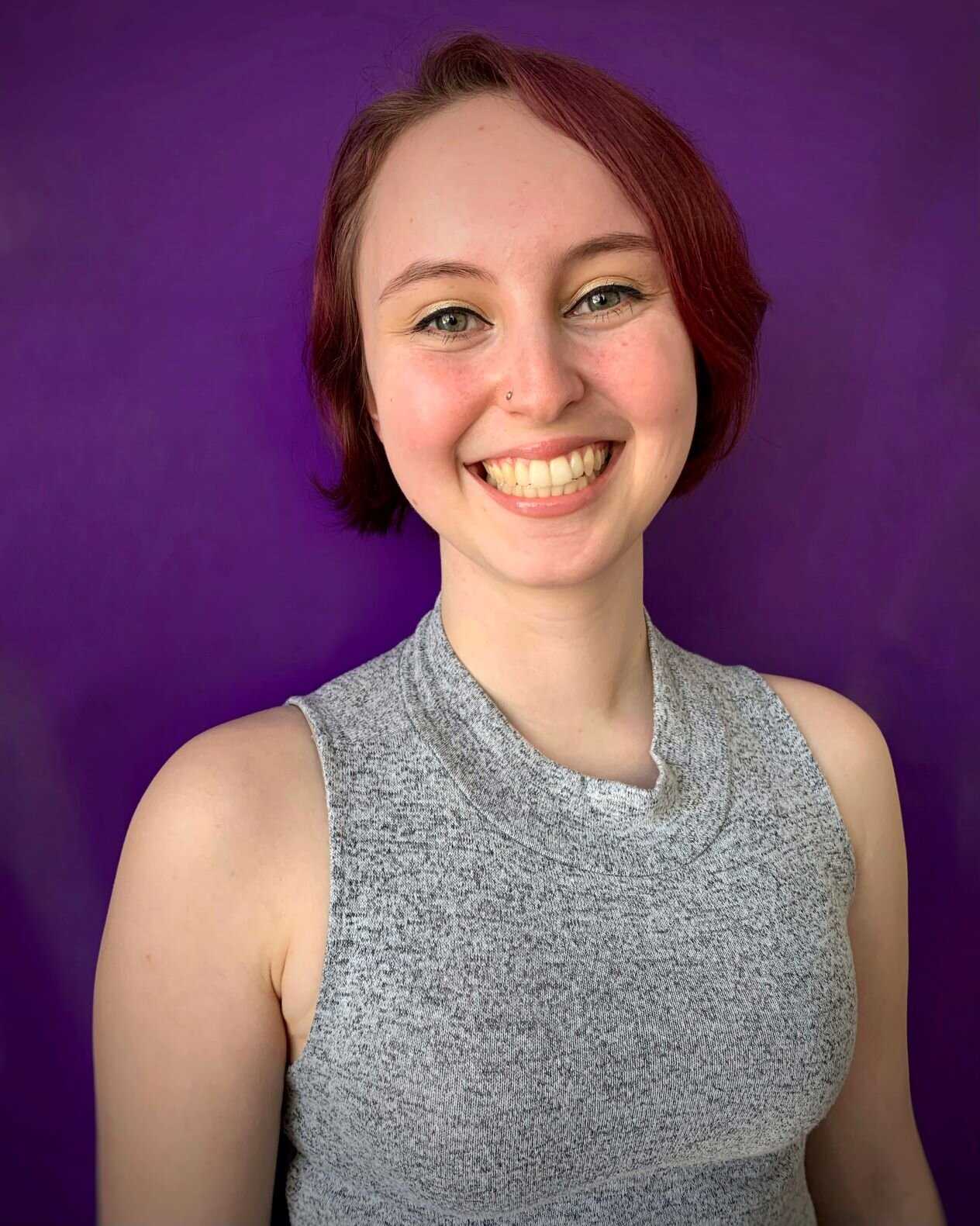 Katie Irvine (she/her)
Student, Musical Theatre Program, Brockville
I'm Katie Irvine! I'm entering my second year in the Music Theatre – Performance program at St. Lawrence College, and I am a bisexual woman. My journey of emergence into my queer identity was a long one (despite knowing I was not straight since around the age of 10), but I'm so proud to be celebrating my first-ever Pride out of the closet this year! As someone who has only been in relationships that appear straight-passing, it took a long time for me to feel comfortable coming out because I didn't want to appear as though I was appropriating queer culture or inserting myself into a space where I didn't belong. The biphobic microaggressions that I witnessed within the 2SLGBTQIA+ community itself, as well as my own internalized homophobia, certainly didn't help. However, I came to the realization that if I wanted to be my happiest and most authentic self, I needed to extend the same love I have for the 2SLGBTQIA+ community to myself. I also realized that my loving a man does not negate my bisexuality, and that my feelings are just as valid as any other queer person's! Now, I'm so proud of who I am. I wouldn't change a thing!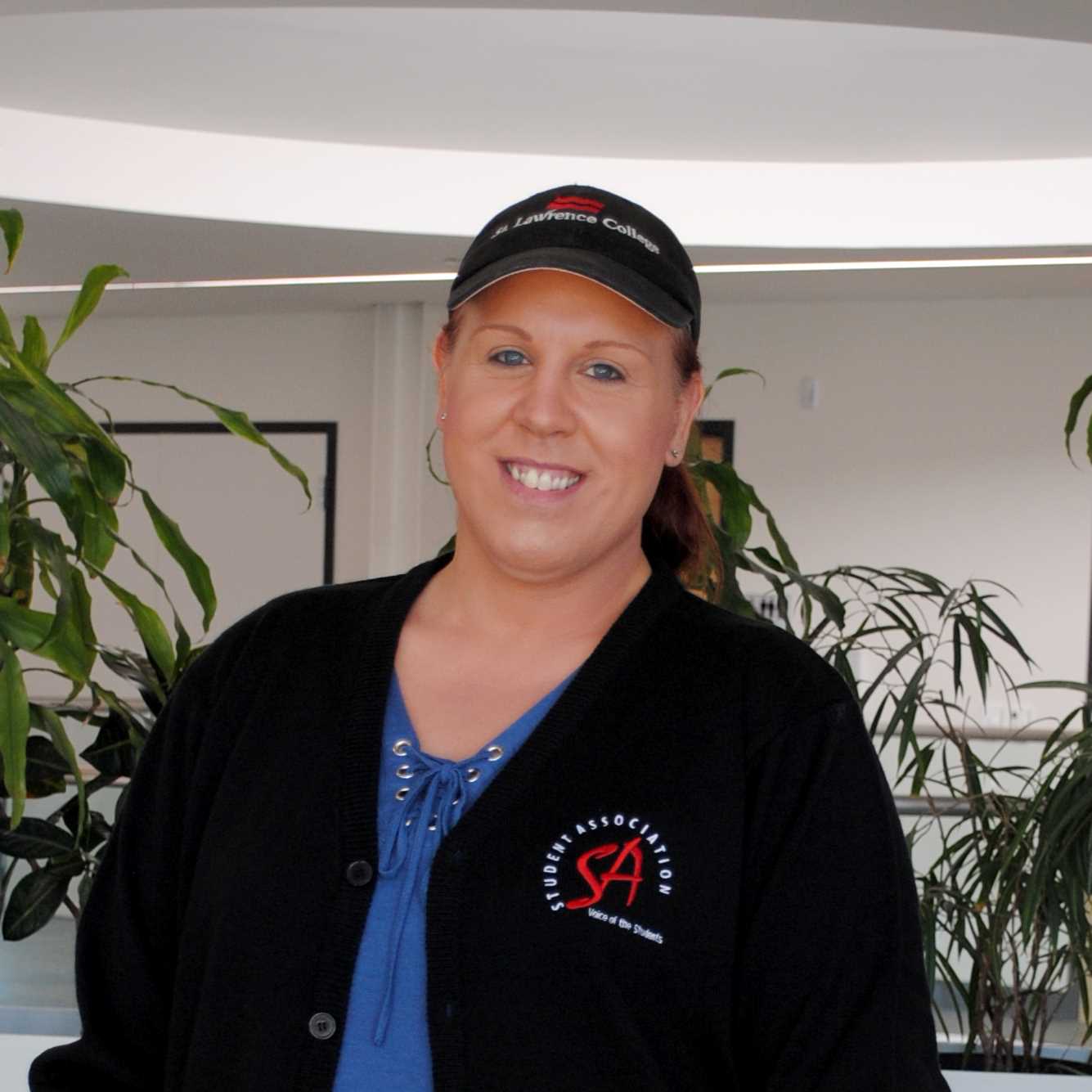 Terry McGinn (she/her)
Student Association President, Kingston Campus
For my whole life I've tried to be a good representative and advocate for the queer and trans communities. One of my proudest moments as an advocate was being the only out trans-identified member of a national youth summit at which issues facing Canadian youth were discussed and captured. This work informed the decisions and positions taken by the Canadian Secretary of State for Children and Youth during the creation of the Lisbon Declaration on Youth Policies and Programmes. I have worked with youth-focused community groups to help train student resource officers on ways to interact with queer and trans students in their schools. I have been fortunate enough to have had the opportunity to be a member of many organization boards, committees, and panels aimed at improving the lives and experiences of queer and trans youth. I continue to work hard to bring forward, and look for solutions to, the issues facing queer and trans youth in all my work at St. Lawrence College and in our communities.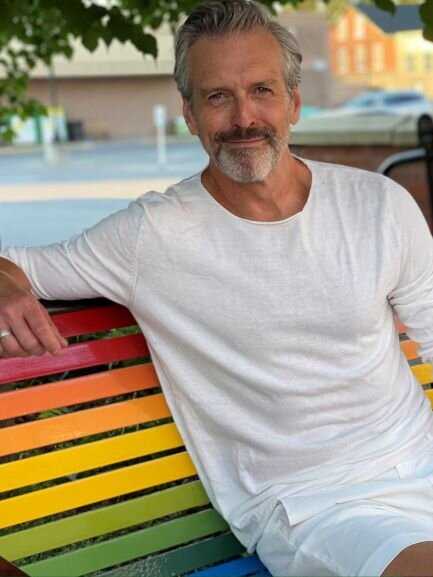 Ian Simpson (he/him)
Faculty in Brockville Musical Theatre Program
Ian has been a professional actor/singer for over 35 years and has worked at SLC since 2014.He has performed across Canada, the US, Mexico, Japan, and Taiwan. Of the many shows he has done over the years he is honoured to have played roles in musicals that highlight the LGBTQQ2S+ experience. he believes that discussing in class the importance of representation in Musical Theatre and hearing stories from diverse voices is imperative. Part of these discussions is examining musicals that represent the LGBTQQ2S+ community in positive ways and in the future he looks forward to more musicals and plays written by, and about, this wonderful community. "I came out in 1984 when I was a student at Queen's and felt lucky to have had supportive friends and family. I know that this isn't the case for everyone and I strive to be an ally and mentor to anyone who may be struggling" For 23 years Ian has split his time between his home in Canada and the San Francisco Bay Area with his partner, Rich.