Mandate
Through a consultative and collaborative process, members of the EDI Taskforce will utilize an intersectional equity lens to establish and implement a College framework and recommendations for equity, diversity, and inclusion to address the needs of the tri-campus SLC community, internal and external.
WORK PLAN
The EDI roadmap guides the work of the EDI and Belonging Task Force and is an outline for organizing and implementing our strategic planning process. The roadmap is informed by best practices and is a plan that will provide a foundation for building equity and inclusion into all of the College's programs and services and empower all members of the SLC community to be champions of diversity.
Terms of Reference
Members
Ekta Singh, Senior Advisor, Belonging, Diversity, & Inclusion at St. Lawrence College
The chair is responsible for coordinating the SLC 'Belonging' Task Force to gather information relevant to advancing the value of 'Belonging' at SLC. This role reports to the Vice President of Human Resources & Organizational Development for day-to-day issues, however, has accountability to the President and College Executive Team for regular updates and recommendations about the development of a College-wide EDI plan.
Raven Bedford (Student, Kingston)
Terry McGinn (Staff/SA, Kingston)
Richard Webster (Staff, Kingston)
Christina Chrysler (Faculty, Brockville)
Newton Duarte (International student, Kingston)
Sara Craig (Faculty/union, Brockville)
Jessica Jeong (Faculty, Kingston)
Krista Videchak (Staff, Kingston)
Ining Chao (Admin, Kingston)
Shanika Turner (Staff, Kingston)
Shirley Chaisson (Staff, Cornwall)
Allison Taylor (Faculty, Cornwall)
Muhammad Owais Aziz (Faculty, Cornwall)
Robert Rittwage (Faculty, Kingston)
Emrys De Souza (Student, Kingston)
Wendy Whitehead (Faculty, Kingston)
Alejandra Perez (Staff, Kinston)
Executive Sponsor: Christopher Garnett
Communications Representative: Julie Einarson
Christopher Garnett, Vice-President, Human Resources & Organizational Development
Glenn Vollebregt, President & CEO, St. Lawrence College
The College executive sponsors are committed to being active champions of equity, diversity, and inclusion on our campuses and in our communities. To this end, the sponsors commit to supporting and prioritizing the work of EDI + Belonging task force and commit to demonstrating accountability for progress over time.
Get to know SLC Change Agents
Interviews with EDI + Belonging Task Force Members, who are considered change agents of the College. Change agents are individuals or groups that undertake the task of initiating and managing change in an organization.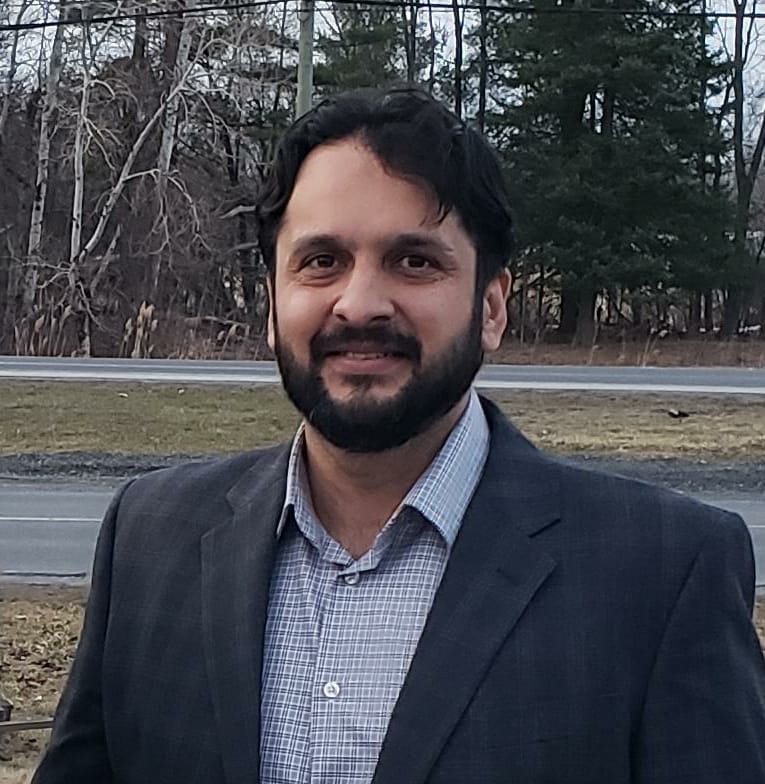 Dr. Muhammad Owais Aziz (he/him) is Professor of Health Sciences at St. Lawrence College, Cornwall.
Tell us about your background and interest in equity, inclusion, and belonging.
I have the experience of living in multiple countries and I have friends and family spread around the globe, I truly believe that all humans are the same, and no one should have superiority over others. I always take a stand and advocate for my patients and students. Now I feel compelled to bring a positive change on the campus as I believe that the environment we create in the campus will impact society as a whole. I see this as an opportunity to become voice of my students and colleagues in bringing a positive change at SLC.
I love to share that I am a Muslim, and we will be celebrating our month of Ramadhan starting from mid of April to mid of May according to the lunar calendar. During this month, healthy Muslims around the globe will fast from Dawn to Dusk. Ramadhan helps in developing empathy towards the less blessed people. So, according to UNHCR during Ramadhan around 200 Billion to 1 Trillion dollars of donations from the Muslim community circulate globally. Additionally, Muslims worship late in night and have to wake up early for starting the fast, which can really deprive them of sleep. So, we may observe a decline in attendance and performance of Muslim students, and they may miss 5-10 minutes of class to attend the prayers.
Why did you join the EDI + Belonging Task Force?
A few years back, I moved to Cornwall, Ontario and we have decided to raise our children in this town. One of the reasons for choosing Cornwall is that the city of Cornwall is a unique land where within a diameter of 50 km people belonging to multiple civilizations are residing. So, I want to build bridges between them and choose my leadership motto as "breaking the silos and building the bridges". This is the motto which led me to join the task force.
What are some key initiatives that you want your colleagues to be aware of?
I am a part of the research analysis working group and we have been analyzing the various data sets from our initiatives in January and February such as the Census and the Courageous Conversation focus groups. There are many teams which are working on different chunks of data, and it has been an eye-opening experience to see and learn about the different experiences of members of the SLC community. Please continue to follow the EDI website for more updates.
What is the role of the SLC community when it comes to fostering Belonging at SLC?
To foster Belonging at SLC, I believe that everyone has to play their role. Honestly, I am observing the positive change in the culture of SLC. People are making intentional decisions to discuss difficult topics. Students are coming together, people are listening to each other, people are less fearful to disclose their identities. Additionally, the engagement and adaptation of college leadership is phenomenal, which makes me believe that the recommendations will speed up this positive change.
Ultimately, this is well aligned with the College's strategic goals and indicators of success. When our campus community feels like they belong, their engagement will increase. Simultaneously, it will ensure the success of all students and will give an opportunity to underrepresented groups to feel "more seen" without fear of being stereotyped. It is our shared responsibility to reduce the overt and systemic barriers in our community.
I would like to take this opportunity to acknowledge how the Cornwall campus leadership team has made me feel a strong sense of belonging, especially in recognizing my religious commitments. I was fearful to share these aspects of my identity, but the response was very positive and understanding. I want to share my experience so that everyone should feel comfortable and open in disclosing their religious accommodation needs with their supervisor or professors! Ramadhan Mubarak!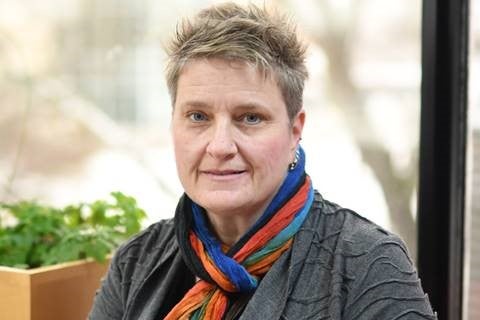 Allison Taylor (she/her) is the Coordinator of the Career/College Prep program at St. Lawrence College's Cornwall campus.
Why did you join the EDI + Belonging Task Force?
I was excited for the opportunity to participate in the EDI/Belonging Task Force, as I believe we have much work to do to create a true community of Belonging at SLC. That said, I also believe that the foundation of SLC's culture is our dedication to our students and to each other. So, we are building from a good place; we just need to get better.
Will you share your perspective on the Task Force's work? Why is it important?
As I help lifelong learners navigate pathways to education, I see first-hand the diversity of our communities and the effects that systemic barriers of all sorts can have on our collective ability to achieve our goals. I believe strongly in education that acknowledges and respects the individual contexts of our students' lives. We must approach each class and each student with humility and flexibility in order to foster trust and community. It is never too late for a fresh start, but not everybody's journey starts and ends in the same place or progresses at the same pace. "Students First" must be our lived reality, every day at SLC.
What are some key initiatives that you want your colleagues to be aware of?
Currently, the Task Force is analyzing the information received from the SLC community in January and February through both the Courageous Conversations series and the Equity Census. We plan to present the results of these analyses in early May. Then, based on our findings, the Task Force will be generating specific, implementable, and accountable recommendations to improve Belonging across our institution.
In the meantime, the Task Force working groups are continuing to gather information and resources to inform and improve the incorporation of EDI principles into all aspects of College life.
What is the role of the SLC community when it comes to fostering Belonging at SLC?
To truly belong, we all need to see ourselves and our communities represented and respected in every corner of SLC: students, staff, faculty, and administration. Only then can we bring our most authentic, creative, and committed selves to participate in building the future we envision.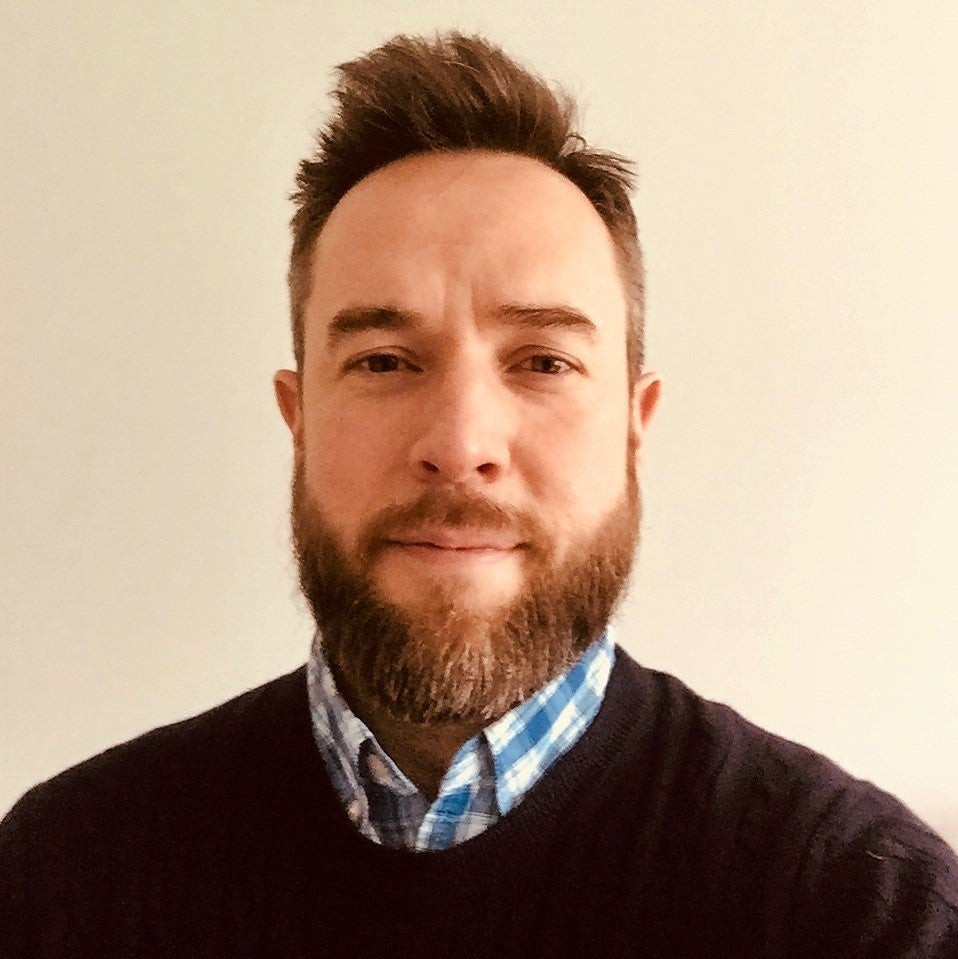 Richard Webster (he/him/his) is the Internationalization Lead at St. Lawrence College, as well as a part-time faculty member.
Tell us about your background and interest in equity, inclusion, and belonging.
For the past three years, I have been fortunate enough to be SLC's Internationalization Lead as well as a part-time faculty with the School of Business and School of Community Services. Prior to joining SLC, the majority of my career to date has had a focus on social policy for both provincial and municipal governments as well as arms-length agencies and international non-profits such as UNICEF. Ultimately my background has held a steady focus on impacting positive social change, particularly for those most marginalized.
Why did you join the EDI + Belonging Task Force?
As soon as I learned that SLC was moving in this direction and creating an EDI & Belonging Task Force, I knew I wanted to be a part of it in some way. This is an exciting time in SLC's history as we move forward on so many important initiatives. I'm also a proud member of the LGBTQ2S+ community and I believe that having that lived experience helps support my involvement in this work in meaningful ways, helps me to be more mindful of my own privilege, the intersectionality of my identities and creates an important opportunity to ensure space not only exists in our college community for ALL, particularly for designated equity groups, but that it is celebrated and simply becomes inherent in the SLC experience. We're on our way!
Will you share your perspective on the Task Force's work? Why is it important?
The intentional and authentic steps taking place to ensure that all members of our community belong is imperative to the success and sustainability of SLC, to our students' continued success, our employees' engagement and to the social and economic development of our communities. Not only does it make sense from a business perspective for the organization but, more importantly, from a moral perspective we have an obligation to our students, employees and campus communities to ensure we get this right. The sooner we equip one another with the knowledge, awareness, skills and tools to support this, the better off we'll be and the more sustainable, innovative and welcoming we'll be as an institution, as individual communities and as a region.
What are some key initiatives that you want your colleagues to be aware of?
There are many different exciting ways to be involved in this work whether through sharing your experiences and perspectives through our Courageous Conversations, the Equity Census and more and/or attending some of the upcoming professional development opportunities. For these and more, I recommend folks check out the Task Force's webpage on our beautiful new website!
What is the role of the SLC community when it comes to fostering Belonging at SLC?
While our brilliant Senior Advisor of EDI & Belonging, Ekta Singh, and my fellow Task Force members are doing a fantastic job so far, the whole SLC community has a shared responsibility to take intentional steps to ensure that everyone is included, that we all genuinely feel that we belong and that we all have the same access to opportunity.
My initial calls to action? To start, I'd say… be curious, ask questions, share resources and experiences, exercise empathy and support one another because we're all learning together.
Past initiatives
Meetings
The Belonging and EDI Task Force meets bi-weekly on Mondays. Find meeting agendas and minutes below by date.