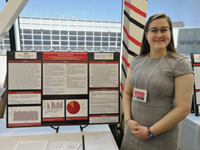 Kingston, Autism and Behavioural Science, 2020 and Honours Bachelor of Behavioural Psychology, 2019
Hailing from Newmarket, Ontario, Emma is a two-time graduate of SLC, Honours Bachelor of Behavioural Psychology (2019) and the Autism and Behavioural Science program (2020). For Emma, this year more than ever taught her about resiliency.

"Graduating during such an unprecedented time means that we had to deal with our plans being changed and having to be innovative in still reaching our goals," Emma said. "To me it really shows how resilient and adaptable we as students, and humans in general, can be."

Emma, and her classmates were working on completing field placements at various agencies in both Kingston and other locations in Ontario, when the campus shutdown and everyone had to unfortunately leave their placement sites and cut that experience short.

"We finished our semester online, so instead of doing field placement hours we instead participated in online "clinical conversations" which included discussing different topics in the field of autism and behavioural science each class, which was a great way to continue our learning," Emma said.

Emma had planned to start looking for work in her field, but the pandemic did change that due to closures of all non-essential workplaces changing the job market significantly. However, Emma plans to continue her education with a Master's degree and will be starting in September part-time.

Emma's works of inspiration for her fellow classmates:

"Choose kindness, love, and empathy on your path going forward. Show love and empathy to those who have had a different journey than your own – there is value in each one of our unique stories/journeys."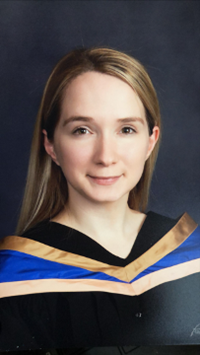 Brockville, Bachelor of Science in Nursing
For Dawn Yateman, who comes from Brockville and is the first in her family to attend college, the pandemic not only threw her final school year into disarray, she also had to navigate family life with a small child suddenly without school or childcare.

"I am one of many parents in the graduating class that had to quickly find a new approach to balance their academics and family life, Dawn said. "I had to complete my studies while also helping my child's schoolwork at home, as the public schools and childcare facilities were also closed. Studying for final exams became more difficult without the ability to study on campus. Our NCLEX study plan also changed as we could no longer study in groups."

The Class of 2020 had to navigate and adapt to alternative way of finishing their studies, and for Dawn, it has made for a very strong class, as they had so much uncertainty and obstacles, but nevertheless they overcame those odds and completed their studies. Many of Dawn's classmates went right into work on the frontlines during the pandemic.

"With all the added stress of this year, I am proud to be part of such an inspiring group of graduates," Dawn said. "We are such a strong class, we overcame a unique set of obstacles and still managed to complete our studies."

Dawn is grateful for the help she received from her faculty to reach the finish line, as they made sure everyone could complete their studies.

"My professors quickly organized ways for us to complete our clinical hours and final exams. Because of this, many were able to head into the nursing field and aid in the pandemic. Our professors have continued to support us beyond our academics. They have reached out to let us know that they are here for us as we study for our NCLEX (liscening) examinations. I am so thankful for all they have done and continue to do to support us."

Dawn's words of inspiration for her fellow graduates:

"In life many things don't go according to plan. If you fall, get back up. If you stumble, regain your balance. If you can't find the door of opportunity, build the door. Never give up. If anyone can accomplish the impossible, it's you."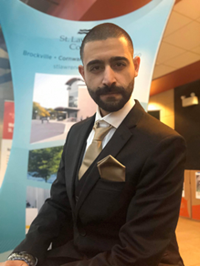 Cornwall, Business Administration
I am originally from the Niagara Region, and my hometown is Gaza City, Palestine. I am so grateful to represent my fellow graduates in this honor. In addition, I also was the Vice – Chair for the Board of Directors, and later, the Chair for the Board of Directors.

Like all students, I experienced the campus shut down in March, which affected all aspects of our studies. However, while this was a difficult time for all of us, we came together and completed the remainder of our semester online. Together, we worked hard to achieve and realize our goals, through the help of faculty, administration, and our fellow students.

St. Lawrence College helped me graduate and achieve my goals not only by providing me the education I need, but the supportive environment I need to thrive. While working fulltime, my professors adjusted my schedule and helped me hand in my tests and assignments in a way that facilitated my schooling.

To be a part of the 2020 graduates is a dream come true. But in a world post pandemic graduation, many of us are unsure of what to do now. But life is full of challenges, and if I've learned anything at my time at St. Lawrence College, is that persistence in the face of adversity is how we hone the skills necessary to succeed.
I am proud to stand beside you, and I If I can give you any advice, it is this, "life is a circle with many sharp corners". Keep pushing, always work towards your dreams, and even if the light at the end of the tunnel seems impossibly far, never give up on yourself.

Good luck future graduates, you will always have my support.