Overview
The General Arts & Science (Certificate) program offers a foundational year for students preparing for future study in a wide range of fields. For students in the Behavioural Psychology stream, core courses in communications, computers, and personal development are enhanced by courses in Introductory and Abnormal Psychol­ogy, Sociology, Interpersonal Skills, Interviewing & Counselling, Addictions, and Statistics. Graduates of the Behavioural Psychology stream are prepared for future study in the Honours Bachelor of Behavioural Psychology four-year applied degree program at St. Lawrence College.
If you are a current student selecting a course and need more information, click here.
General Arts & Science is a flexible program. Course sequence can change subject to student goals and class availability.
Program Details
Credential
Ontario College Certificate
2 semesters in 1 year (504 hours)

Program Highlights
This one-year post-secondary certificate prepares you with the prerequisites to apply for the Honours Bachelor of Behavioural Psychology degree program at St. Lawrence College
Students must complete all of the courses with an overall average of B (minimum GPA of 3.0), no failures. Please note, space in these particular courses is limited, so please apply early. Further­more, acceptance into the Honours Bachelor of Behavioural Psychology degree program is neither auto­matic nor guaranteed. Students must apply to the degree program prior to February 1 through www.ontariocolleges.ca in order to be eligible for admission.
Program Outline
2022-2023
This course is designed to help students develop and practice the communication skills needed to succeed in college and workforce environments. Emphasis is placed on improving foundational communication strategies-reading, writing, listening, and speaking—and on developing research and critical thinking skills.
Students explore in depth and improve their interpersonal skills. Students focus attention on personal growth to become aware of feelings, attitudes, values and self-concepts and use this awareness of themselves to improve communication skills and relationships with others.
This course provides a general overview of human interaction in Canadian society. Students will become familiar with a variety of factors which affect group behaviour, and individual behaviour within the group: factors such as cultural influences, socialization, norms, beliefs, and values. (3 hrs. per week)
Prerequisite: None.
The impact of psychoactive drugs on our society is examined in this course. Ananalysis of the use and impact of alcohol, psychoactive prescription medication,street drugs, over-the-counter drugs, caffeine, nicotine, and problem gambling isconducted. An overview of practical drug concepts, theories of drug abuse, healthpromotion and prevention and the Ontario addiction treatment system is covered.Students learn how to assess at-risk users and review evidence-based treatmentmodalities.
This course is designed for you to plan and implement effective stress managementstrategies in your personal lives. You will develop an informed understanding ofthe nature of stress and the stress response including causes, signs and symptoms,effects and impact. The course will then focus on the development of skills toreduce the negative impact of stress and to redirect inevitable stressors towardshealth and well-being. Students will analyse the impact of stress in their own livesand apply stress management strategies by designing, implementing and evaluatinga personal wellness plan.
(Winter only)
This course focuses on academic reading and writing and is designed to help students become objective, constructive critics of their own work. Students read expository models in order to examine how published authors put together a piece of writing so that it effectively conveys a well–planned message to a specific audience. Students emulate the techniques and strategies of these models by producing a series of discussion papers and a research paper. By evaluating one another's work-in-progress in a workshop setting, students develop their editorial skills. Students then use these sharpened critical skills to refine their own writing.

Prerequisite(s): COMM12 and COMM13, or equivalent.
This course reviews selected topics within the field of abnormal psychology and allows students to understand abnormal behaviour. Students explore current issues in the mental health field and course content considers the issues of diagnosis/classification, physical and psychological manifestations of abnormal behaviour, and the current range of psychological treatments.
(Winter only)
Effective listening and interviewing techniques are important parts of any helping profession. Contact with clients, families, colleagues, other professionals and the Social Service System are necessary to obtain and share relevant information, develop goals and problem solve. Appropriate and sensitive communication skills are the foundation for effective helping and supportive relationships. This course will enable you to become a more effective communicator and interviewer. You will have the opportunity to learn and apply basic skills within a general framework, and will recognize and assess your own skills for strengths and areas to improve.
(3 hrs. per week)
Prerequisite: None.
This course is intended to give an introduction to the use of statistical methods in psychological research. The course includes the use of descriptive statistical methods to summarize and present data, the application of inferential statistical processes to make decisions about populations from sample data, the use of correlational techniques to determine of two variables are related, and predictive strategies to make predictions from one variable to another.
This is an introductory computer course that familiarizes students with the functionality of internal college systems and the current version of Microsoft Word, Excel, and PowerPoint. It also explores the theory and concepts of computer hardware and software, with a hands-on introduction to the Windows operating system, file management techniques, and Internet browsers. This course allows students to navigate through the software applications and learn how to create effective documents, spreadsheets, and presentations.
Requirements
Admission Requirements
Ontario Secondary School Diploma (OSSD) with the majority of Grade 11 and 12 courses at the C, U or M level Including the following prerequisites:
Grade 12 English at the C or M level
Grade 11 Math C, U or M level
For OSSD equivalency options, see Admission Requirements.
This is a HIGHLY COMPETITIVE program. To be included in the competitive ranking, applications must be complete including all transcripts and proof of enrollment by February 1. Meeting minimum entrance requirements does not guarantee admission to the program. Please see the Highly Competitive Program Chart for more details.
If you are missing prerequisite courses, enroll in the Career/College Prep program, free for Ontario residents who are 19 years or older.
Fees
2022-2023
Tuition
Program Fees
Ancillary Fees
Total
CAD
Tuition
Program Fees
Ancillary Fees
Total
Fees are estimates only. Tuition is based on two semesters.
Kingston
Our Kingston campus has seen significant renovation over the past few years, including a brand new Student Life and Innovation Centre that houses a new gymnasium, fitness centre, pub, and more.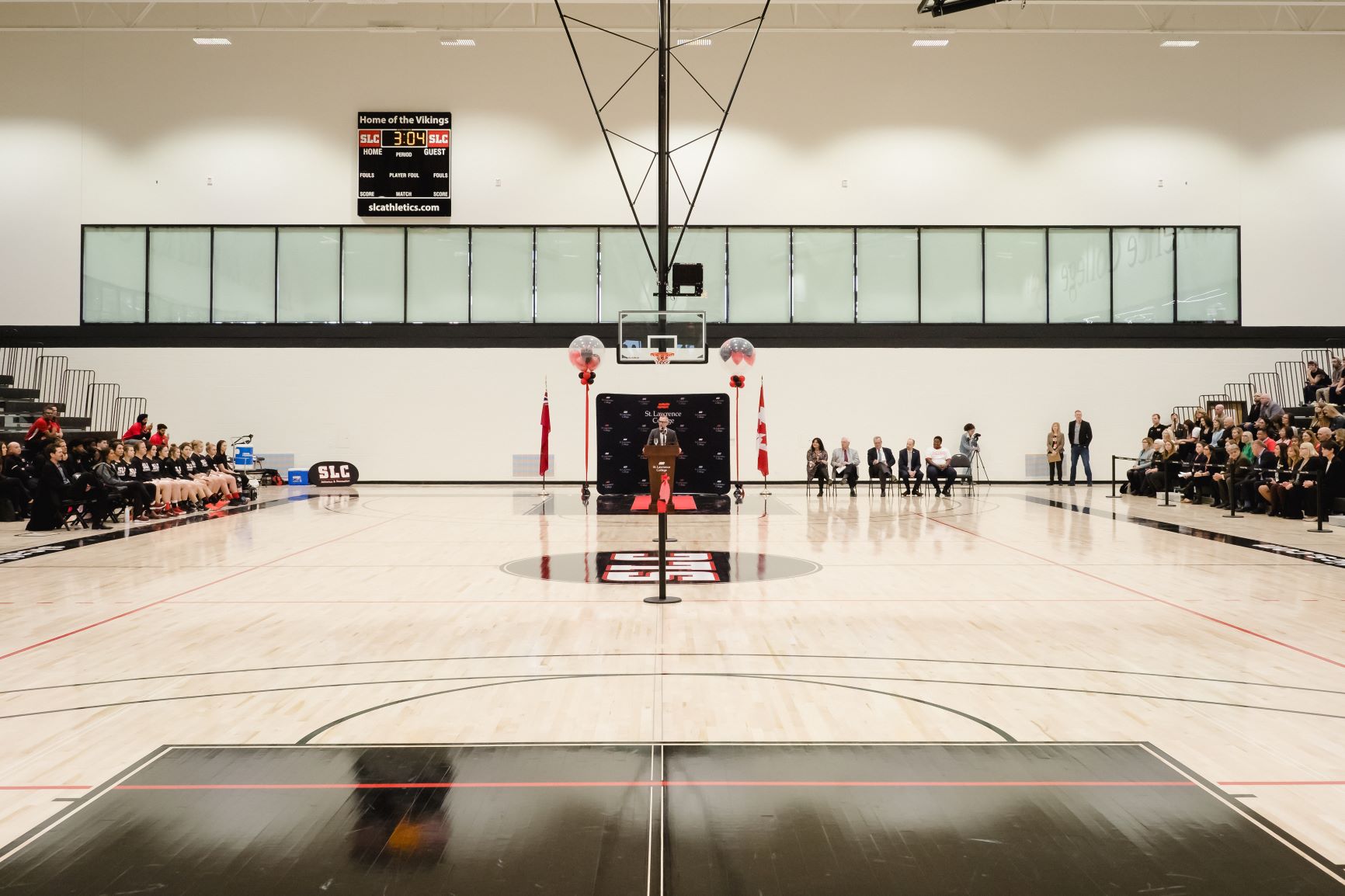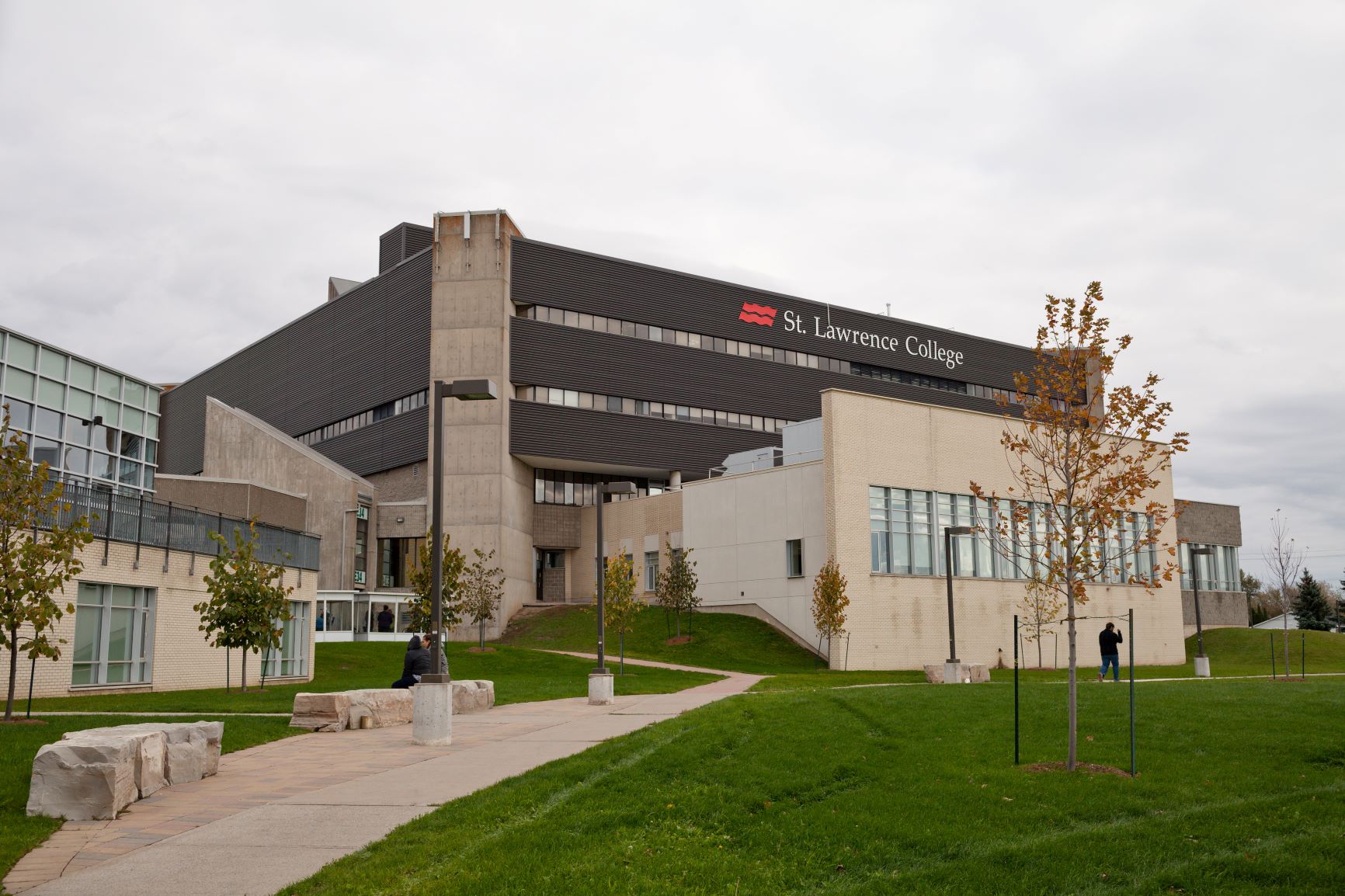 Kingston Campus
Other Information
Programs at St. Lawrence College are delivered using a variety of instruction modes. Courses may be offered in the classroom or lab, entirely online, or in a hybrid mode which combines classroom sessions with online learning activities. Program delivery can be run weekdays, weekends or evenings. Upon registration, each full-time student is provided a St. Lawrence College email account which is used to communicate important information about program or course events.
Classes may be scheduled any time between 8:30am - 8:30pm.
Program Contacts
Program Contact
Jim Elyot
jelyot@sl.on.ca
613.544.5400 ext.1904
Admissions Information
Contact a member of our recruitment team
ask@sl.on.ca
1.800.463.0752 and ask for Recruiting
International Students Contact
international@sl.on.ca
+1 (613) 544.5400 ext. 5514