Overview
This program introduces those with a passion for rug hooking to the many aspects of the art, in a current version of this pioneer craft. Combining a balance of theory, studio and application of skills, the Traditional Rug Hooking Certificate gives credibility to the artist for personal and professional development.
Certificate Objectives
At the end of this program, graduates will be able to:
Apply principles of artistic design and essential skills in fibre arts to create works for one's own enjoyment, for gallery or other exhibits, for sale or commission and/or Atemployment in the fibre arts field.
Work safely and effectively with a broad range of material and substances in the production of functional and/or non-functional rug hooking creations.
Critique one's artistic works and that of others to foster an awareness of creative expression and growth in rug hooking.
Communicate design and technical information effectively through artistic skills, language, and digital means to a variety of audiences.
Design and execute a professional exhibition of artistic creations for public galleries, displays, shows, and online platforms according to curatorial standards.
Visit the Lifelong Learning catalogue for course details and to register.
Program Outline
2022-2023
This course introduces students to the study of drawing and composition in a variety of mediums. Basic visual language, techniques and materials are used to introduce elements and principles of design. Highlighted is the practice of observational/representational drawing. Works of Canadian artists are examined for inspiration and personal development.
Beginners and those with some drawing experience will learn how to draw with step-by-step instructions. Learn professional pencil shading, blending and erasing techniques. There are twelve tutorials including still life, landscape, animals and portraiture. An informative discussion forum will provide you with a classroom environment to learn drawing techniques and artistic tips, while critiques will offer support, suggestions and improvements. At completion of this online course, you will have a portfolio of realistic detailed pencil drawings. You can view the instructor's work and list of supplies at www.RealisticDrawing.com/pencil. No textbook required. Software Required: Any computer device (PC, Mac, Tablet) with internet access and email. For sending drawings one of the following is recommended: digital camera, scanner, regular camera (you can convert the photos to digital) or send drawings by Canada Post.
This introductory course provides the foundational skills for the novice rug hookerto begin their artistic journey. Learn about the tools and selection of appropriatematerials. Develop the skills required in this art form, exploring fine flat hookingand finishing techniques.
Examining the properties, harmonies, and theory of the Twelve Hue Colour Wheel,students apply this knowledge in experimenting with various dyeing techniques.Procedures to promote health and safety in handling three types of acid dyes(Cushing, Majic Carpet, Pro Chem) are emphasized. Explore primitive dyeingtechniques. Assemble shared reference dye journals for future rug hookingprojects.
The elements and principles of good design will be demonstrated by hands-onexercises. Step by step procedures will be followed to allow the student to take theides from sketch to completed work. A meaningful, personal approach to designwill be encouraged. Design topics will change each time this traditional rughooking course is taught.
Rug Hooking Artists have been preoccupied with subject matter first, coloursecond, and texture third, but little has been done in non-representational work.This project-based course reflects the theoretical and practical knowledge gained inthe previous courses in this program. Students are challenged to work with colourand surface to express a mood and create a personal statement. Assemble aportfolio, resume and biography as well as mount a show for the public to attend.
Knowledge of the basic rug hooking technique is essential for this course. Students experiment with textures and alternate materials, different stitches and dimension, colour and dyeing to develop a small reference sampler and then a project of their own. Texture in this course does not refer to primitive rug hooking.
Over the years, specialized topics have developed in design and technique. Examples are Orientals, Pictorials, Primitives, and Geometries. In the design and execution of a specialty, students are challenged by subject matter and format, to research, in depth, and take an individualized approach to their project.
Requirements
Admission Requirements
Applicants to the program must hold an Ontario Secondary School Diploma (O.S.S.D.) or the equivalent or must qualify for mature student status (19 years of age or older).
Brockville
Our Brockville campus received a major facelift in 2018 and has a brand new library, complete with individual and group study space, a newly renovated cafeteria, student common lounges, and more.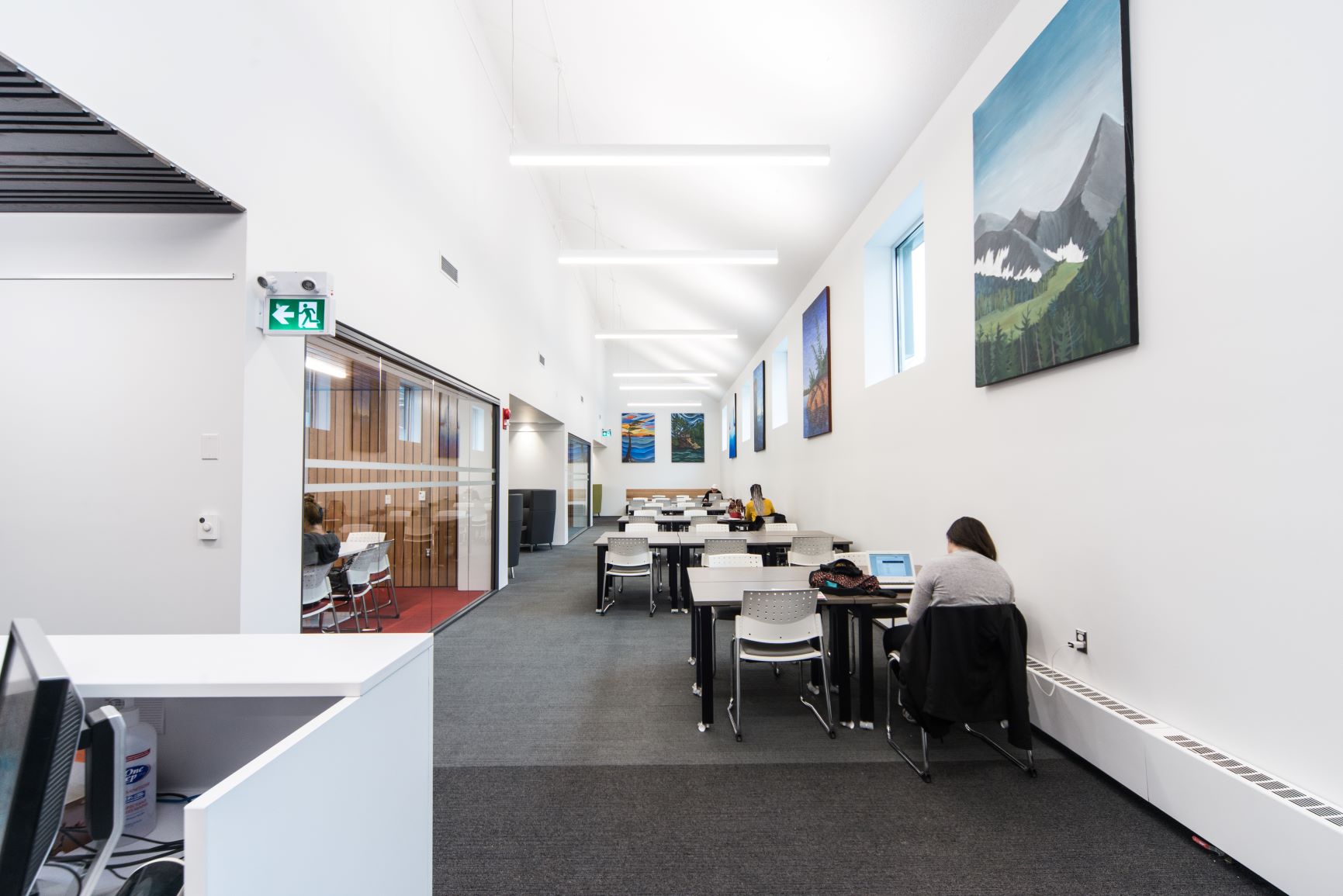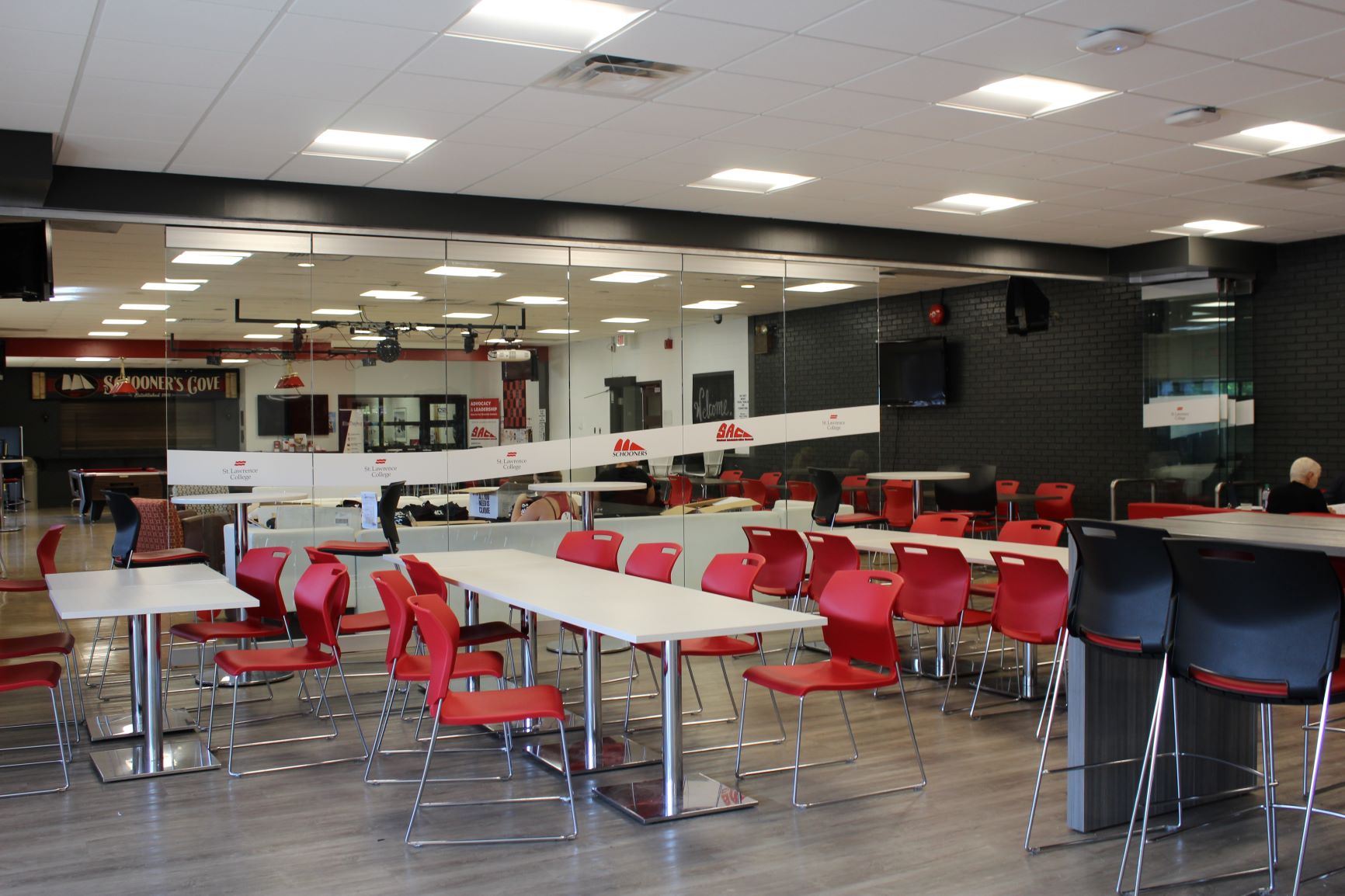 Brockville Campus